Latin American Poker Tour Peru Day 4: Ferri, the Accidental Player, Comes from Behind to Win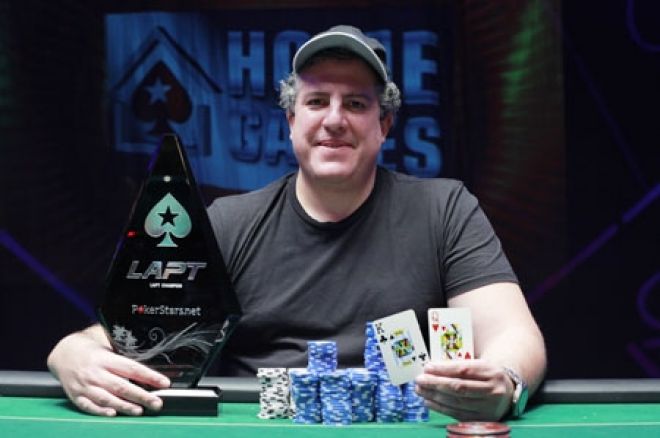 A wild final table at the 2011 PokerStars.net Latin American Poker Tour ended triumphantly for Peruvian Kemal Ferri. He began Day 4 in seventh place among the eight players returning for the final table, with just 16 big blinds. Yet Ferri, who never intended to play the tournament, rode some timely cards and aggressive play to victory.
The story of Kerri's entry into the tournament is an odd one. He was apparently put into the tournament by a regular high-roller of the Atlantic City Casino in Lima after the high-roller was comped into the tournament by casino staff as a perk for being such a great customer. The high-roller couldn't play, so he offered to put Ferri into the tournament.
Ferri stayed under the radar for most of the first three days as players like Daniel Ospina and Samar Hodali amassed massive stacks and most of the attention. Ospina, however, was unlucky early in Day 4. His pocket kings were out-turned by Pablo Gonzales' ace-jack, and from that moment Ospina never recovered. After starting Day 4 with the chip lead, Ospina finished in seventh place. His co-leader, Samar Hodali, seemed card-dead all day and finished fifth.
The failures of Ospina and Hodali left openings for other players to pick up the slack. Ferri took full advantage by cutting Pablo Gonzales down to size with pocket aces against Gonzales' top pair of kings. Then the short-stacked Ospina open-shoved the button with
– right into a second pair of aces for Ferri. Ospina didn't get there despite flopping an open-ended straight draw.
From there, Ferri played carefully but aggressively. The only misstep he made was in a pot against Raul Pino in which Pino got three streets of value from a pair of sevens,
on a seven-high flop, against Ferri's pocket sixes. Once play moved to four-handed with the elimination of Hodali, Ferri became aggressive. He successfully tallied the last three eliminations by out-flipping Michel Barham, taking out a desperately short-stacked Gonzales with an unimproved ace, and then grinding down second-place finisher Pino over a tidy 45 minutes of heads-up play.
Ferri's winner's share was $207,400. He didn't say how much of that he'll keep and how much he will return to the high-roller who put him into the tournament, but it's a great score either way.
2011 LAPT Peru Results

| Place | Player | Prize |
| --- | --- | --- |
| 1 | Kemal Ferri | $207,400 |
| 2 | Raul Pino | $120,000 |
| 3 | Pablo Gonzales | $73,540 |
| 4 | Michel Barham | $54,180 |
| 5 | Samar Hodali | $38,700 |
| 6 | Leonardo Zepeda | $30,960 |
| 7 | Daniel Ospina | $23,220 |
| 8 | Karlo Lopez | $15,480 |
Follow us on Twitter for up-to-the-minute news.
*Photo courtesy of PokerStarsBlog photographer Carlos Monti