Latin American Poker Tour Peru Day 2: Ospina On Top for Second Day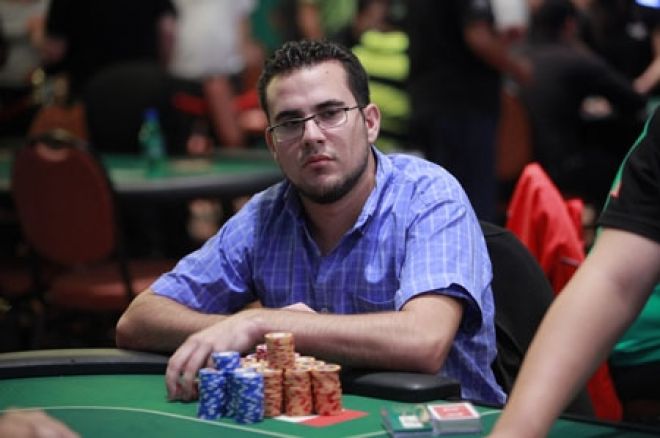 At the start of Day 2 of the 2011 PokerStars.net Latin American Poker Tour Peru Main Event, Daniel Ospina was the chip leader with 264,200 — almost 100,000 more than second-place player Lisandro Gallo. The end of Day 2 looks strikingly similar. Ospina has bagged the most chips for the second day in a row — 1,140,000. The next closest player, Pablo Gonzales, has 657,000.
It wasn't simple for Ospina to take the lead. He began the day trending slightly downward while players like Derek Lerner, Joao "Jack Bauer" Neto, and Pablo Gonzales overtook him. But Lerner appeared to get steamed by Bauer, who was ultimately undone by reckless aggression, and Gonzales seemed content to sit on his stack. In the second half of the day, Ospina exercised patience, pouncing when he could, and applying a massive amount of pressure to his opponents when he found himself on a table loaded with chips late in the day.
Play began on a somber note with the announcement that Andre Akkari would not return to play his six-figure stack because his father had just died. Akkari's stack was blinded off all day and he squeaked into the money, finishing in 43rd place. Roberto Brenes was not so fortunate. He wound up as the bubble boy when he made an aggressive play with
against the hyper-aggressive Bauer and ran into pocket jacks.
Gonzales was the beneficiary of a big hand against the hyper-aggressive Neto after flopping a set of sevens. Neto, playing loose and fast with
, flopped an inside straight draw and then tried to move Gonzales off his hand for all his chips. Gonzales obviously wasn't about to release and rode that massive double-up to the second-place stack. That was the hand that ultimately proved to be Neto's undoing. He eventually went out in 31st place.
For now, however, the second-biggest story in Peru is Ospina. He's got a massive lead on the field as play heads into Day 3 and has plenty of MTT experience to ride that lead all the way to the final table when play resumes at noon local time (1700 GMT) on Saturday.
Follow us on Twitter for up-to-the-minute news.
*Photo courtesy of PokerStarsBlog photographer Carlos Monti