The Nightly Turbo: Epic Poker League, World Poker Tour Ireland, and More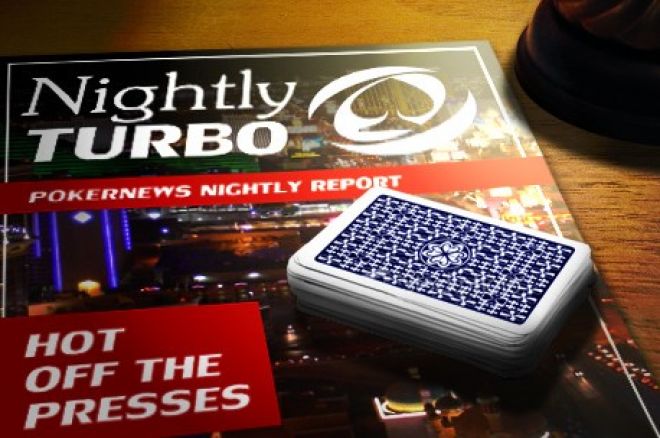 If you're looking for the top poker news stories of the day, then you've come to the right place. We're bringing you and Epic Poker League update, news on the World Poker Tour Ireland stop, and more. Get your poker news fill and then get back to Shark Week. Yes, you're that easy to figure out.
In Case You Missed It
The World Series of Poker isn't the only poker series going on in Las Vegas during the summer. Caesars Palace and the Golden Nugget run events that coincide with the WSOP and are on the radars of well-known pros and amateurs alike.
The PokerStars.net Asia Pacific Poker Tour added Melbourne, Australia, to its list of stops for its fifth season. We caught up with some players to get their thoughts on the move.
Epic Poker League
As the first event of the Epic Poker League nears closer, more and more information is being released including the final list of Season One qualifiers, Season Two qualification requirements, and tournament structures.
On Tuesday, we got a glimpse of a few other things. What the Epic Poker League champion's ring and commissioner's coins look like. The ring is a bit reminiscent of our high school class ring minus the bling we added to ours. We like it though — not too gaudy.
Another tidbit of news you should be made aware of is about the charity poker tournament that takes place August 7. The buy-in for the event is $240 and has $100 rebuys for the first four levels and an add-on at the end of the fourth. The event will benefit Operation USA and the residents of Joplin, Missouri, and 100 percent of the prize pool will be donated.
Brad Garrett will host the charity event and Zappos has contributed $2,500 cash to the first-place prize package, as well as $100 gift cards to all participating players. First place in the event will get the aforementioned $2,500, a $1,500 Epic Poker ProAm seat and a champion's bracelet made by Good Art Hollywood. Second and third places will receive a $1,500 Epic Poker ProAm seat and there are a variety of prizes up for grabs for fourth through ninth places.
To find out more about the charity event and the Epic Poker League check out EpicPoker.com.
Home of the Leprechauns
The World Poker Tour announced that it would be adding a stop in Ireland in 2012. The WPT Ireland will take place Jan. 5 through 8. The €2,500 buy-in event will be sponsored by PKR and will incorporate the Irish Poker Championships that was formerly held in Galway.
"We are excited to be join with our partner PKR.com to bring the World Poker Tour to Ireland for the very first time. The history and heritage of poker in the Emerald Isle make it a tremendous tour stop and the beautiful City West Hotel and all of its top-notch accommodations will make this a memorable event," said Adam Pliska, president of the World Poker Tour.
WPT Ireland, which will be held at City West Hotel, is the first event of a three-year deal with the WPT.
"We are delighted to partner with the World Poker Tour to bring an event to Ireland for the very first time. Dublin will be a fantastic tour stop and we think the combination of high quality poker and the Irish spirit of fun will draw players from all over the world," said Simon Prodger, marketing director for PKR.

Find out more at UK.PokerNews.com.
Get Your Vote On
Voting for the second annual British Poker Awards is open, and just because you aren't going to make it to London for the awards or the Poker In the Park festival, it doesn't mean your opinion doesn't matter.
Categories include Best International Player, Best Cash Player, Best Tournament Player, and Best Social Media User, among others. Phil Ivey may have disappeared lately, but he's nominated for Best International Player. It's not going to be easy for the man with the infamous stare, however. He's going up against, among others, the Seiborg (Erik Seidel) and Jason Mercier (#whenwillitend).
Sam Trickett and Richard Ashby each have three nominations, while JP Kelly, Roland de Wolfe, and Jake Cody have each nabbed two.
The nominees were decided by the committee which was made up of members from PokerNews.com and Bluff Europe, as well as, the Voice of Poker, Jesse May.

Cast your vote at TheBritishPokerAwards.com.
More Support
On Monday, Rep. Michael Grimm (R-NY) released a statement backing the newly formed coalition for online poker, FairPlayUSA.
"I applaud the efforts of FairPlayUSA for launching its coalition to combat illegal gambling. As a former FBI agent, I fully support the efforts to create a strong regulatory framework for legal online poker and to crack down on illegal sites, many of whom have ties to organized crime. With many adult online poker players in my District of Staten Island and Brooklyn, I support their right to continue playing; however, I agree that it must be in a law-abiding forum that provides protections for America's consumers and children. Together we must fight for the return of quality, good paying jobs to the United States and a strong regulatory framework for legal poker will contribute to that goal.
"I am confident FairPlayUSA will be successful by aligning with former Governor and Secretary of Homeland Security, Tom Ridge, to help expand the coalition's membership and that their efforts will compliment my legislative goal of regulating online poker."
Find out more about the grassroots campaign at FairPlayUSA.com.
Welcome to Tallinn
The PokerStars European Poker Tour kicked off its eighth season in Tallinn, Estonia, on Tuesday. Didn't get the chance to make it to Tallinn this year? Check out Sarah Grant's tour of the city. It's as close as we can get from behind this computer screen.
Follow us on Twitter and like us on Facebook for up-to-the-minute news.