PokerNews Op-Ed: Sports and Poker Don't Mix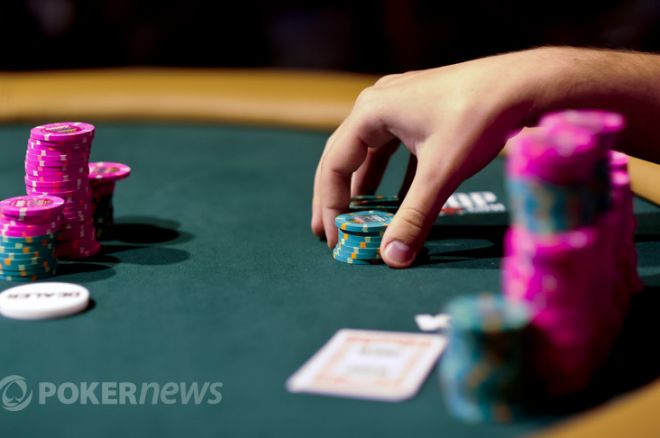 Late last week, ESPN New York's Wallace Matthews reported that Major League Baseball was investigating Alex Rodriguez for taking part in "illegal, underground poker games." According to RadarOnline.com, cocaine was openly used and a fight broke out at one of these "illegal, underground poker games" when a player was stuck and refused to pay. There were rumors swirling that A-Rod could face suspension, until several sites, including ESPN, reported that the New York Yankees slugger would not be suspended at this time. Instead, he'll receive a stern warning from league officials as he continues to rehab his right knee in Miami, Florida.
Ironically, while everyone is angry at A-Rod for his foray on the felt, his fellow teammate and team captain Derek Jeter was filmed sitting at a poker table with his agent Casey Close in HBO Sports' Derek Jeter 3K. (photo courtesy of Yahoo! Sports). The golden-boy hasn't taken any heat, however, and we're sure the table is purely for decoration.
From a poker fan's perspective, this is a non-issue. A-Rod has earned buckets of money playing baseball and has every right to sit down at the felt to play a little poker with his fellow A-listers (Tobey Maguire, Ben Affleck, Leonardo DiCaprio and Matt Damon) rumored to have been involved in the games. A friendly game of hold'em between a few millionaires should have no effect on MLB, but because his league is tired of A-Rod's off-the-field issues and disdains everything associated with gambling, this story swelled out of control. The Yankees have warned A-Rod in the past to avoid underground poker clubs in New York, and two years ago, after Selena Roberts and David Epstein of Sports Illustrated broke the story, he admitted to using steroids from 2001 to 2003.
Even with his checkered past, though, A-Rod is not the lone catalyst of this issue. Had it been any other star (Albert Puljos, Joe Mauer, Jose Reyes, Roy Halladay) the MLB would have still reacted the the same way, because the MLB is deathly afraid of gambling. To most people, poker is an enjoyable, recreational activity where friends can throw back a few beers and toss around a few bucks. To MLB, poker is the White Rabbit, waiting to pull everyone who plays down the rabbit hole where they will start betting on and fixing games.
We are nearly a century removed from the 1919 Chicago Black Sox Scandal, wherein eight players on the White Sox were paid to fix the World Series against the Cincinnati Reds. All eight players were banned for life, including "Shoeless" Joe Jackson, whom the other players later admitted did no wrong. Pete Rose was undoubtedly one of the greatest hitters of all time, but his affair with sports betting landed him a lifetime ban, as well. In his autobiography, My Prison Without Bars, Rose admitted to betting on games while he was both a player and a manager for the aforementioned Reds.
Beyond sports betting, card playing has directly affected MLB, as well. According to Sports Illustrated, during the 1999 National League Championship Series, New York Mets outfielders Rickey Henderson and Bobby Bonilla went into the clubhouse to play cards during the last three innings of the game, in protest of manager Bobby Valentine. Henderson and Bonilla later denied the accusation, although one unnamed teammate told Sports Illustrated, "Guys who saw (the card game) wanted to take a bat to their heads after the game."
The MLB isn't the only major American sport that constantly battles gambling issues. During his playing days, Michael Jordan once took a day trip to Atlantic City the night before an Eastern Conference Finals game against the New York Knicks. He never bet on sports, but the NBA league officials weren't keen about their star player hanging in the pit. Two decades later, the league suspended Washington Wizards guard Gilbert Arenas for 50 games after he pulled a gun on teammate Javaris Crittenton during a debt dispute in the locker room. Crittenton allegedly beat Arenas out of a good chunk of change while playing cards on the team plane, and the controversy cost Arenas more than half of an NBA season.
This summer, during the World Series of Poker, Boston Celtics forward Paul Pierce wasn't comfortable doing an interview with our video team during one of the preliminary events because he didn't want to be associated with gambling. He was more sedate during the Main Event with the ESPN cameras rolling around, but you could tell that – event during a lockout - he didn't want to ruffle any feathers.
The NFL wouldn't even allow its players to participate in a charity poker event earlier this year. Adrian Peterson, Larry Fitzgerald, Vernon Davis, Larry Johnson and Roy Williams were among the players barred from participating in the "Raise Your Hand for Africa" charity poker event held at the Golden Nugget Casino in February. The NFL didn't comment on the decision, nor did it issue a press release, rather it avoided the situation completely, distancing itself from anything gambling related.
The illegitimacy of poker, and the MLB's gambling fears are justifiable. What A-Rod did is far from criminal because tons of Americans play in home poker games every day. A-Rod isn't your typical American however – nor should he be treated as such – and poker will forever be described as a form of gambling, rather than a skill game. The Yankees invested over $300 million in A-Rod, and, as a superstar in the MLB, he is expected to keep his nose clean. Both front offices have the right to be upset with A-Rod's habitual conduct, as harmless as it may seem to the poker community, and I am surprised that they didn't take action. With so much money invested in the four major professional sports in the United States, the respective commissioners will do everything they can to prevent players from following that White Rabbit.
No matter what the executives do though, poker is something that will always be present in the sporting world. Players have so much time during cross-country flights, and there are only so many songs to listen to and movies to watch. When asked if gambling restrictions should be put on NBA teams after the Arenas incident, Los Angeles Lakers head coach Phil Jackson told ESPN he was, "Not in favor of that at all." He added that playing card games is a "great release" for the players. The Zen Master is probably right, but when there's even a chance that something like the Arenas debacle could happen, wouldn't it be wise to just shut it down? Or even to put a cap on the games? There is so much value in these players that it seems smart to limit their ability to screw it up.
Even the NHL, who partnered up with PokerStars in 2009 for a charity shootout tournament, has a hazy past filled with rumblings that Wayne Gretzky's wife bet games while he was in the league. They still host their end-of-the-year awards show in Las Vegas, though.
Professional sports and gambling go together like oil and water – no league will ever be comfortable with its players betting in any form. A-Rod escaped with just a warning this time, but if he is caught on the felt again in the near future I expect the MLB to bring the hammer down.