Five Thoughts: DiVita's Drama, Rainey Runs, Kelly Crushes, Borgata Booms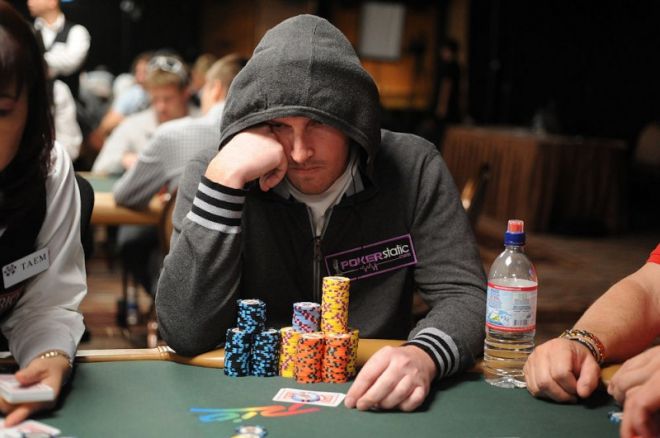 Michael DiVita wants his money back, Nick Rainey may take yours, Dan "djk123" Kelly won bracelet number three, and the World Poker Tour Borgata Open smashed a record. It was one of those crazy weeks in the poker world.
1. The Michael DiVita drama is a doozy
I was tempted to tackle the Michael DiVita drama last week but decided to wait until more information surfaced. Well, both DiVita and the Epic Poker Leagues's (EPL) Standards and Ethics committee chairman Stephen Martin spoke to PokerNews and confirmed what I already suspected: DiVita, despite having a checkered past, deserves to be paid $20,000.
Martin's argument against reimbursing DiVita is that the winners of Pro/Am events don't win a $20,000 prize; they win a $20,000 seat to another tournament. No one is eligible to cash in on a seat. In DiVita's case however, he was never going to be able to play because of the Standards and Ethics committee's decision to completely diminishing the value of his seat. Thus, without getting into the sex offenders vs. poker police argument, and just looking at this from a pure fair vs. foul standpoint, DiVita deserves the money.
When the words "registered sex offender" come into play, though, everything changes. Having grown up in New Jersey, I know the story of Megan Kanka and how it led to the creation of "Megan's Law", which requires authorities to publicize information about known sex offenders. These are serious crimes. That being said, DiVita was a free man when he registered for the tournament, and is nearly 20 years removed from his three-year prison sentence. He has nothing to hide, and his explanation on TwoPlusTwo is far from ludicrous.
The EPL is right to have a Standards and Ethics committee — it's progressive for poker — but at the same time they have to be careful with what they do. Unlike professional sporting leagues like the NFL, the EPL isn't the only game in town nor does it have the last say in all matters. The Nevada Gaming Commission can bring the hammer down on the EPL, and if DiVita's claims of intimidation and unethical treatment have any weight, then this will continue to be an issue for months.
2. NickRaineyisathief.com may be the greatest URL in history
On Sept. 15, NickRaineyisathief.com launched, informing the entire world that, well, Nick Rainy is a thief. Pretty simple.
According to the site, Rainey allegedly sold shares for the 2011 World Series of Poker Main Event, then took his talents to Vancouver, BC, Canada, instead of actually playing. When his investors tried to contact him and get their money back, Rainey didn't respond, ignoring calls, texts, and Skype messages. When his investors tried to find him, he deleted his blog, made his Facebook profile private, and deleted numerous Twitter accounts. This wasn't Rainey's first rodeo either — the website details three other scams, one of which was a fake fundraiser for a children's hospital in Oakland, California.
Rainey's actions are disgusting and inexcusable, but he isn't the first nor will he be the last player to back out of a stake. The unregulated marketplace is dangerous place because so many people have blind trust in both buyers and sellers. It's amazing how someone like Max Katz can confidently invest in so many blank faces. Of course, Katz has had success (he had a good chunk of Galen Hall's PCA win), but that doesn't make the proposition any safer.
Without the concept of backing, many major tournaments would suffer. It's very important in the poker community because it keeps money flowing, allowing more players to enter events that they normally wouldn't be able to play. Because of this, backing will never disappear, so be careful when making your next investment. You don't want Nick Rainey running off with your money.
3. It's easy as 1-2-3 for Dan Kelly
Dan "djk123" Kelly won his third career PokerStars World Championship of Online Poker bracelet Friday, shipping the $100 8-Game Mixed event. He almost made two final tables in the same night but finished tenth in the $200 No-Limit Hold'em with Rebuys event. Kelly's two previous bracelets came in 2009 when he won High Roller H.O.R.S.E. and Razz events.
Kelly is without a doubt one of the best tournament players in the world. To add to his extensive online poker résumé, in just two years of eligibility, Kelly has nine WSOP cashes, two final tables, and a bracelet which came in the 2009 $25,000 Six-Handed No-Limit Hold'em event ($1,315,518).
To me, Kelly is a young Erik Seidel. He's quiet, calculating, deadly at the poker table, and has a sneaky sense of humor. While Seidel uses Twitter to unleash his wit, Kelly uses his wardrobe, sporting anecdotal T-shirts including this one with the "Words With Friends" logo. Classic.
Kelly would surely love to have a career like Seidel's, and if the trend continues, that's not an impossible feat.
4.WPT Borgata Breaking Records
Hold your Jersey Shore jokes for a moment because the World Poker Tour Borgata Poker Open amassed a field of 1,313 players this weekend, making it the largest WPT field in history. This is a 26 percent increase from last year's field of 1,054 runners at Borgata, the previous record-holder. Jeff Madsen is your chip leader going into Day 2 with 216,925 chips, and received a $5,000 prize for being atop the leaderboard.
You have to give Matt Savage and the WPT style points for their innovative ways. By making Borgata a re-entry event, they made it more enticing for players who are willing to fire two bullets to go to Atlantic City and play. According to the WPT Live Blog, 143 players re-entered (including Madsen), which added $429,000 to the prize pool.
That's a nice chunk of change.
The WSOP-C recently announced that its main events will also sport a re-entry format. Hopefully, this will spike popularity like it did at the Borgata and stimulate growth for the poker economy.
5. PokerNews Weekly keeps you informed
Need a weekly recap of the events in the poker world? Look no further, because or very own Kristy Arnett and Sarah Grant have you covered.
Follow us on Twitter for up-to-the-minute news.