Sounding Off: Seidel Heater, PokerStars WCOOP & Roster Cuts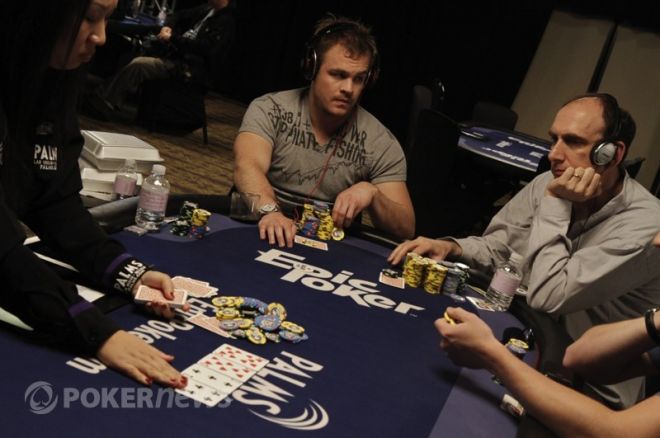 There have been plenty of story lines to "sound off" on lately. Everything from roster cuts to Team PokerStars Pro, Erik Seidel final tabling his second Epic Poker League Main Event, and the passing of a beloved poker player.
Seidel Final-Tables Second Straight EPL Event: I'm a big fan of Hall of Fames, especially when they induct new members into their ranks. Obviously, the Poker Hall of Fame (PHoF) is full of greats who have performed well in the past. To me, being in the PHoF means you've hit your peak and are subsequently recognized for your outstanding accomplishments. If this were the case, then Erik Seidel would be making a mockery of the system.
Inducted into the PHoF in 2010, Seidel continues to use 2011 as his personal playground, already making it his career year. On Friday, Seidel made his second Epic Poker League Main Event final table in a row and ultimately finished in fourth place for $184,100. That brought his 2011 winnings to an astounding $6,445,168. Keep in mind that Seidel's lifetime earnings up until that point were $10,170,914. In a single year, Seidel has earned more than half as much as he has in the previous 22 years combined — and there are still three months to go!
I'm going to say it because it needs to be said — Erik Seidel is the best poker player in the world. Phil Ivey is great, but he is absent. I won't claim that Seidel is the best of all time (though I think an argument could be made), but he is clearly the hottest player on the planet. I mean, come on, ten final tables so far this year with four first-place wins. What amazes me most — he made the PHoF a year before all of this success. He has nothing to prove, yet he continues to shine. Simply put, Seidel is the man, and I am in awe.
"MONSTER_DONG" Performs: I'm not sure why, but I have never been more excited for an online poker series than I am for this year's World Championship of Online Poker (WCOOP). Black Friday took away my online poker options, so I imagine the opportunity to live vicariously through many of the pros is what captured my attention.
With 62 events on the schedule, I was thrilled to see well-known Australian pro Jonathan "MONSTER_DONG" Karamalikis take down Event #6 $200 No-Limit Hold'em Turbo w/ Re-buys ($500K Guaranteed). If you know online poker, you've no doubt heard of Karamalikis, a (former?) Full Tilt Red Pro. It is interesting that he is the only pro I ever knocked out when I used to play online, and earned the famous "I Knocked Out a Pro" t-shirt.
Karamalikis outlasted 1,589 players to claim the top prize of $179,565.13, and a pro winning a bracelet that early on in the WCOOP was a great way to get things started. I'm hoping another big-name pro can find success, preferably one who left the United States in to continue an online poker career.
Online Cash Games Thriving: If you've been reading the Online Railbird Reports from the past few weeks, you've discovered that the online cash games are the best they've been since Black Friday. Viktor "Isildur1" Blom and Ilari "Ilari FIN" Sahamies have been driving the action, each having million-dollar swings as of late. Not only that, but Sahamies managed to win the largest pot ever tracked on PokerStars worth a respectable $421,000.
The high-stakes online cash games may not be on the level they were on Full Tilt, but it is apparent that PokerStars has accomplished its long-time goal of cultivating a high-stakes following. Traditionally known as the site for tournaments, PokerStars continues to attract some of the biggest cash players in the world. It really is an exciting time, and I'm pleased to see PokerStars being rewarded for treating its players right. Come what may, Stars has conducted itself in a respectful manner and positioned itself to survive the Black Friday fallout.
Phillips, McEvoy, & Chen Cut by PokerStars: Earlier this week, we noticed a few names were conspicuously absent from the Team PokerStars roster: Dennis Phillips, Tom McEvoy, and Bill Chen. There has been no official word from PokerStars, and an e-mail sent to Phillips seeking comment has thus far gone unanswered. Nevertheless, it seems the reports are credible and Team PokerStars is three players light from this time last week.
I can't say the cuts came as much of a surprise. The events of Black Friday took away the online poker market in the U.S., so having a Team Pro (USA) was not exactly cost effective. Greg Raymer's departure at the beginning of the year was a sign that PokerStars was looking to restructure its U.S. team, so these most recent releases weren't unprecedented.
I understand why PokerStars parted ways with these players, but I will add that I'm sad to see them go. Phillips is one of the nicest guys I've met on the tournament circuit and is the epitome of your "Average Joe" poker player. Not only did he serve as an excellent poker ambassador, he used his time as a sponsored pro to showcase his poker chops by following up his third-place finish in 2008 ($4,517,773) with a 45th-place finish in 2009 ($178,857); a third-place finish in the 2010 NBC National Heads Up Championship ($125,000); and yet another Main Event cash in this year's WSOP (557th for $21295). Likewise, 1983 WSOP Main Event Champion and future Hall-of-Famer McEvoy was a consummate professional, while Chen sported the Stars patch with pride in all of his deep tournament runs.
I'm sure all three men have positioned themselves well for life after sponsorship, but that doesn't change the fact that the actions of the U.S. government have sent three more of its citizens to the unemployment line.
Thuy Doan Passes: By far the most disconcerting news of the week was the passing of 25-year-old Thuy Doan, who succumbed to cancer after two long years.
I never had the opportunity to meet Doan other than covering her in a few tournaments, but I've been following her story for over two years. For me, she brought out best in the poker world, which was evidenced by the support she received from some of the top professionals like Barry Greenstein, Eli Elezra, and Bertrand "ElkY" Grospellier. She became a symbol that transcended the game and showed there is a big difference between being all-in for your "tournament" life and fighting for your actual life. Many players, myself included, take the game too seriously at times, and Doan's plight, as unfortunate as it was, helped bring perspective to poker.
To use a song from Billy Joel's 1977 pop-rock album — "Only the Good Die Young," and never was that more applicable than in Doan's case. Rest in peace, Thuy. You will be missed.
Stay up to date on all the latest news by following us on Twitter and liking us on Facebook.