Five Thoughts: A Somber Start to September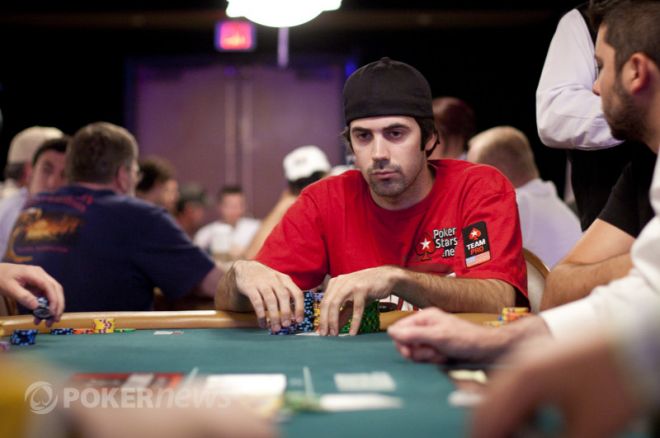 During the past week, EPT Barcelona ended, the 2011 World Championship of Online Poker (WCOOP) began, and the Epic Poker League completed its second Pro/Am. Sadly, these three major tournament series did not headline the week that was because of the tragic death of Thuy Doan. Diagnosed with cancer in 2009, Doan passed away on Sunday, Sept. 4. The outpouring of sentiments from the poker community was overwhelming.
1. RIP Thuy Doan
I didn't know Doan well enough to do her any justice, so thanks to Twitter I've compiled reactions from the poker community.
Barry Greenstein: I never found anyone who didn't like Thuy Doan. She died of cancer today at the age of 25. I wanted her to keep battling even though she told me she only wished for the nightmare to be over.
Joe Stapleton: Apparently Thuy Doan is no longer with us. We'll miss you, Thuy. We should all strive to be more like you. You are a hero.
Vanessa Selbst: My heart goes out to @RealThuyDoan's family. She was a very friendly, smart, and courageous girl and her passing is a tragedy.
Phil Galfond: Haven't mentioned @RealThuyDoan's passing yet because I'm at a loss for words. Today is a very sad day. Rest in peace, Thuy.
Peter Jetten: Very sad, @RealThuyDoan passed last night after battling cancer for the last two years. Rest in peace Thuy, you will be missed.
Dan Fleyshman: Just got goosebumps when I heard that @RealThuyDoan passed away. She was so positive, never complained through her battle with cancer.
Doyle Brunson: Wish I had taken more time to know Thuy Doan better. Everybody has nice things to say about her. That speaks well for such a short life.
2. Not being able to play the WCOOP sucks
PokerStars kicked off the 2011 World Championship of Online Poker this past weekend, and if you're an American like me, you can't play. Bummer, right? To make things worse, players who were fortunate enough to move abroad to play have been incessantly tweeting about it. Fortunately we're not in the boat alone, the Global Poker Index's number one player in the world Jason Mercier isn't playing either. Despite the fact that he's traveling in Europe, the poker superstar tweeted, "To everyone that is asking… No I will not be playing WCOOP this year. :/"
#whenwillitend
The WCOOP will roll on without the red, white and blue, with 62 events running over the span of three weeks. The final day features the $5,000 NLHE Two-Day Main Event, and a $10,000 High Roller 8-Game Two-Day event. There have already been a couple of notable winners, including Aussie Jonathan "Monster_Dong" Karamalikis who shipped Event 6 for nearly $180,000, and Brit Ashley "DYBYDX" Mason banked $430,000 for winning Event 2. Even though I am immeasurably jealous, I'd like to wish all of the participants the best of luck.
3. I want Durrrr to train me, but I don't have $6,500
Our very own Kristy Arnett spoke with Brandon Adams this past week about his website Expert Insight. The site offers both economics and poker training from notables like Steven Levitt (author of Freakonomics), Nobel Prize winning economist Gary Becker, Patrik Antonius, and Tom "durrrr" Dwan. According to Arnett's piece, Antonius charges $6,000 per hour while Dwan charges the most of any trainer, asking for $6,500 per hour. More affordable poker coaches include Ben Sulsky ($1,500/hour), Matt Hawrilenko ($1,200/hour), Cole South ($1,000/hour), and Andrew Robl ($1,000/hour).
As Arnett noted on her podcast Strategy With Kristy, having a coach is paramount if you're going to improve your game. There's no doubt that these are some of the best players in the world, but there are only a few people who are going to be able to afford paying four figures for coaching. Adams himself admits that there are more people looking for coaching in economics than poker, and that he's asked some of the coaches to reduce their rates or at least make them negotiable. Imagine the volume of requests someone like Dwan would receive if he reduced his rate — it would be astronomical. At a time when online poker is sparse in America, it's a great idea for these players to team up with Adams to make some money on the side. The problem is, like online poker itself — their market for coaching is in danger.
4. Are you ready for some football?
Thursday marks the beginning of the 2011 NFL season, and it's a match-up between the past two Super Bowl Champions: the New Orleans Saints and Green Bay Packers. Sports betting is prominent within the poker community, and over the past few weeks many players and media members alike have been drafting their fantasy football teams and tweaking their line-ups. Likewise, players will be placing individual bets throughout the season on over/unders, the spreads, the money lines and much more. It's safe to say that the excitement is building.
This season, like the last, we will be bringing you picks each week with our Pigskin Diaries. I don't profess to be a seer, nor can I predict the future, but over the last five years I've had winning seasons. If anything, I hope to entertain you, give advice, help you with your fantasy team, and retain my paycheck. The first installment will be coming your way Friday (after the first game), so I figured I'd give my first pick right now. Both the Saints and Packers have explosive offenses, but only one defense can be trusted on natural grass. You guessed it, I'm laying four points with the Pack.
5. Winning!
Martin Schleich took down the EPT Barcelona Main Event. Check out his exit interview:
Follow us on Twitter for up-to-the-minute news.