Preparing for the 2011 World Series of Poker November Nine: Badih Bounahra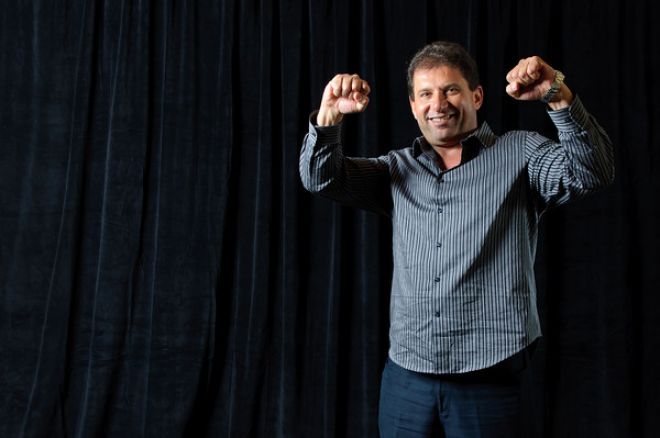 Each year, the World Series of Poker proves itself a worldwide affair as it attracts the best poker players from every corner of the world. The 2011 WSOP was no different as approximately 100 countries were represented, including Belize. That is the home of November Niner Badih Bounahra, who became the first player from Belize to make the Main Event final table.
Bounahra, who was born in Lebanon, is a successful businessman in Belize City, where he owns a grocery store and is part owner of the poker room in the Princess Casino. Reminiscent of Costa Rica's Humberto Brenes, Bounahra is a jovial, boisterous character who managed to hit a Day-6 heater, which ultimately put him in contention for the gold bracelet. In fact, he was the short stack at the final-table bubble and managed to chip up to 19,700,000, putting himself sixth in chips.
Making the final table is by far the biggest accomplishment for the 49-year-old veteran, although he has eight other cashes dating back to 2007. His most notable was a victory in the 2008 Latin American Poker Tour San Jose $1,020 No Limit Hold'em Second Chance for $30,054, and his only other WSOP cash came back in 2008 when he finished 51st in a $2,000 no-limit hold'em event for $7,582.
PokerNews recently sat down with Bounahra to get his take on making the November Nine, including his roller coaster run, what he has been doing to prepare, and what he'll do with the money.
Since making the November Nine, have you done any traveling, be it for tournaments or leisure?
I have played several tournaments in Belize, but outside Belize I haven't played any tournaments yet.
Do you plan on traveling to play in any tournaments?
I'm debating to go to the WSOP Europe. I'm not sure yet, but I have been doing some traveling to Florida, like four or five times I went back and forth to Florida.
How does it feel to be the first person from Belize to ever make the WSOP final table?
It feels great to make the final of the Main Event of the World Series and to be the first Belizean. Really and truly the Belize poker scene, they're supporting me a lot. I didn't expect that much support. Everyone's speaking about poker here, everybody's speaking about the final table, talking about November, going to Las Vegas, it's huge here in Belize.
I understand you run a poker room in Belize, can you tell me a little bit about that?
I'm a part owner of poker room at the Princess Hotel and Casino, but also I'm the managing director. We have been playing all kinds of poker and have been getting a lot of new people that want to play poker. So it really has been good for the poker room too.
You had an up-and-down ride on your way to the final table. Were there any big hands that stick out in your mind that were crucial to your success?
I had
on Day 6. I moved all-in from middle position for 425,000 and then I ran into kings on the button. He called me, and like usual, I walk away from the table, pretty much when I'm all-in. The flop came
, the guy in Seat 1 Bryan Devonshire] was saying, "Oh, bad flop, bad flop." The turn was a
, he said he turned a full house, but then a
came on the river and the pot was over, so I came to the table. I looked at the flop and saw what I had!
Why do you walk away from the table?
I don't like to watch when I'm all-in.
Is there a reason for that?
No, I just don't like to watch it. I go to my supporters.
Speaking of your supporters, who will you be bringing to Las Vegas in November?
My list has about 250 people right now and it's growing by the day. Like soccer, boxing, basketball, and NFL athletes, I will be getting there three days early, so the party starts up before.
Are you doing anything to prepare for the final table, like studying videos and digging up information on your opponents?
I do that. I'm taking a day or two of the week to sit down and watch the videos. I write down some notes, put myself in position, and you know, preparing at home. I'll probably do it more intense just before the end of October.
When you were down to ten-handed, you were the short stack and slowly chipped up. Can you tell us what it was like sweating the final-table bubble?
Actually, when we got down to 12-handed, I put my mind up that I'm going to make the final table in November. Obviously I did final table, with ten players it was back and forth short handed. I made a couple of moves to pick up blinds so I could survive another round. Then, after 70-something hands, I got kings and that's when I doubled up against John Hewitt. That was it.
After that double, you seemed to have momentum on your side. Do you think you'll be able to carry that into November?
I'll try my best. Everybody wants to be number one for at least a year. It's anybody's game. Everybody at the final table is a good player. The chip difference is not that huge of an amount like years before, so anybody that gets a good hand or gets a good double up can win.
Have you done anything with the money you've received so far?
Not yet, I'm waiting for November. Ten percent will be for a yacht, and 90 percent will go into the market.
Have you talked to any of your fellow November Niners lately? Did you have the chance to cultivate any relationships?
We all became friends the day after we made the November Nine. I haven't spoken to any of them, but I'm sure come the end of October we'll all be there and have the chance to spend a week together. They're all friendly guys, they're all wonderful guys, and they are all good poker players.
If you could choose one player to face in heads-up play, who would it be?
Matt Giannetti. We became friends because we were the short stacks for 80 percent of the time at the final table.
Speaking of Giannetti, he won the World Poker Tour Main Event in Malta. Is that kind of intimidating headed into November?
Absolutely not. I am friends with everybody. I fear none of them, but I respect all of them. They did not get there by chance.
What is more important to you, the money or the Main Event bracelet?
Of course the money is important, we're talking about a lot of money, but the bracelet is important too. You've got to take it step by step. I'm not playing for sixth place or fifth place or fourth place, I'm going to play my game for first like every other player. Like I said, the money's great, but the bracelet comes with the most money.
To learn more on Bounahra, be sure to check out the video below, which was made the day after the November Nine was set:
Stay up to date on all the latest news by following us on Twitter and liking us on Facebook.