42nd Street: Drama in Overdrive as Main Event Nears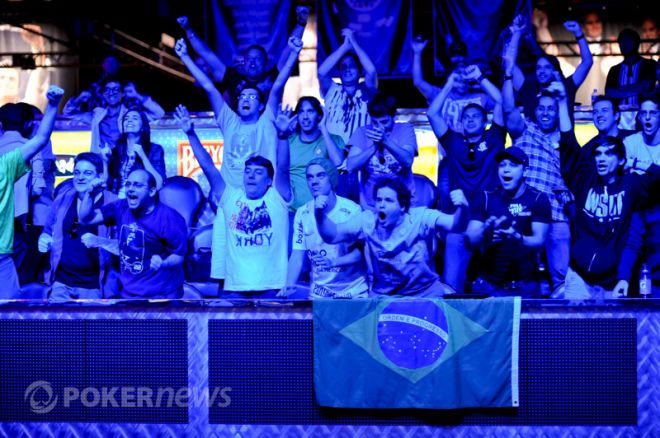 Five weeks into poker's big show, the clock is ticking on the summer many were counting on to save their uncertain poker careers. Tension is rising as each all-in puts players one step closer to their last shot, a deep run, their last bracelet hope, and maybe their last hand as professional poker player. Maybe what everyone needs is an intermission. Most players get a bit of break between the Ladies event and the $50,000 Players' Championship to catch their breath and watch some July 4 fireworks before the Main Event. But everyone knows, the biggest drama always comes after the intermission. [/I]
FTP: Full Time Performance
Clearly Full Tilt Poker was a little insulted that the poker world was moving on from Phil Ivey's big opening musical number. Even an exciting Lederer-eating-sushi-caught-on -camera interlude couldn't recapture the interest of the audience. But Full Tilt Poker losing its operating license sure did the trick. And with the FTP drama at an all-time high and players' confidence in seeing their money again at an all-time low, Tilt upped the volume even further by announcing (or leaking, choose your word) that the company is being sold, to an investor with real money. Unlike your standard musical comedy, we have no clue how this one ends. Guess that's why the audience is hooked.
Grinder Gets Scooped
Michael "the Grinder" Mizrachi, superman of last year's Series, locked up his second career bracelet in the $2,500 Omaha/Stud Split event. At least in the minds of the media (and probably in his own mind as well). He was all but posing for winner's photos when he had about a third of the chips in play 10-handed. He crushed his way through the final table, making it to heads up with 3:1 chip lead. But no one told his opponent, Owais Ahmed, that it was Grinder's bracelet. Ahmed put up a fight and turned the tables on Mizrachi, grinding his way to the lead and then to his first gold bracelet. Not what ESPN would have picked, but a big finish worthy of a musical number all the same.
Lellouche - French for Bubble
It's difficult to feel particularly bad for poker players with $1.6 million in lifetime tournament earnings, stakes in successful companies, and the ability to play poker online in their home countries. But we might make an exception for Anthony Lellouche. He's bubbled three final tables this summer. He finished 10th in a no-limit hold'em event, then ninth in the stud hi-lo championship and Omaha/stud hi-lo events. We wouldn't really blame him if he punched a wall after yet another near miss.
Mouse, Jackal, Elephant, Lion, and Lamb
Tell Hellmuth's stereotypes of poker to move over. There's a new animal in town. Ben Lamb is good at PLO. Very, very good. While he and Jason Mercier argue over which one is most beloved by the poker gods, there is no arguing that Lamb knows his way around four hole cards. He finished second in the $3k PLO event because he was saving his victory for the $10k PLO Championship a week later. Add a 12th-place finish in the $10k No Limit Six Max Championship, and Lamb is currently in the lead for WSOP Player of the Year and a solid favorite for a guy you don't want to play.
Vamooooo!!!!
In case the audience needed some waking up, the composers of the 2011 Series inserted a Brazilian bracelet win into the slow-grind part of the summer. Ain't no rail like a Brazilian rail. The Brazilians give the Brits a run for their money when it comes to national pride. Andre Akkari was down 3:1 heads-up against Nachman Berlin when the latest $1,500 No Limit Hold'em event hit its hard stop for the night. But he came back the next day to take over the tournament, delight a cheering audience, and deafen the rest of the Amazon Room by winning Brazil's second bracelet and first since 2008.
Third Time's the Triple Draw Charm
Lenny Martin. Not a name you're likely to know, unless you're a big fan of 2-7 triple-draw tournaments. If you are, then you might have a Martin poster on your wall (and you may want to look into some therapy.) After three WSOP limit 2-7 triple draw final tables, Martin finally gets to mount a bracelet on his wall. The old-school pro defeated a star-studded line up this year to win the gold after finishing sixth in last year's event and second in 2007. Martin beat Justin Bonomo in a tough heads-up match after outlasting David Bach, Eli Elezra, and Jason Mercier. It's always more fun to hit on the third draw. Well, at least more dramatic, which is what the WSOP is all about.
Follow us on Twitter for up-to-the-minute news.