See Double this Weekend in the PokerStars Double Vision Sunday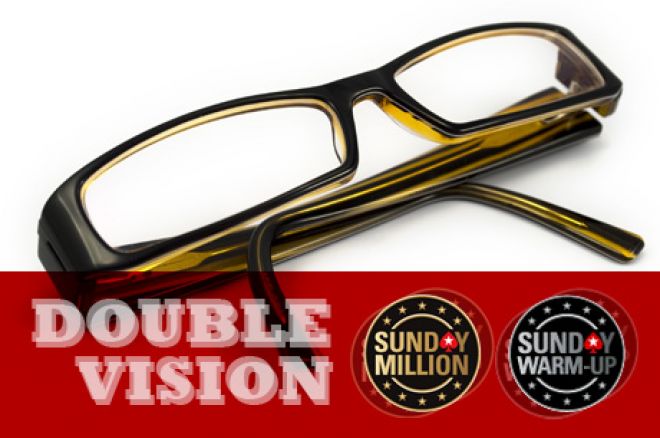 Download PokerStars and have two extra chances at poker glory as PokerStars introduces the Double Vision Sunday.
Rarely does a single week go by when PokerStars doesn't come up with an exciting new promotion to get players rushing to their computers and frantically clicking at the prospect of becoming the latest star of poker. This weekend is no different as PokerStars launches the exciting Double Vision Sunday.
Twice the Action
The PokerStars Sunday Warm-Up and the Sunday Million are two of the most significant online tournaments that any player can have on his or her poker resume and both usually eclipse their giant guarantees every week. This Sunday, Oct. 16, players will have double the chance to become a Sunday Warm-Up or Sunday Million champion as PokerStars hosts not one, but two of each of these prestigious tournaments on the same day!
Twice the Guarantees
Players may think that PokerStars will be lowering the guarantees in these events to hold two of the same tournaments on the same day. Think again. Not only will these tournaments run twice but the guarantees will also run twice. This means there will be two Sunday Warm-Up events with a $500,000 guarantee and two Sunday Million events with the trademark $1 million guarantee!
Twice the Play
The first Sunday Warm-Up and Sunday Million will run at their usual times of 1100 EDT (1600 BST) and 1430 EDT (1930 BST) respectively, and the second bonus events will both run half an hour after the original tournaments. This means players have four chances to claim their share of the $3 million in guarantees during this weekend's Double Vision Sunday!
Regular Sunday Warm-Up: 1100 EDT (1600 BST)
Bonus Double Vision Sunday Warm-Up: 1130 EDT (1630 BST)
Regular Sunday Million: 1430 EDT (1930 BST)
Bonus Double Vision Sunday Million: 1500 EDT (2000 BST)
Players would be crazy to miss out on all the extra juicy action on Sunday, so if you don't already have a PokerStars account sign up through PokerNews and receive our 100% up to $600 first-deposit bonus by using the marketing code "POKERNEWS.COM" and the bonus code "STARS600."