2011 World Poker Tour Venice Day 2: Piazza Behind the Largest Stack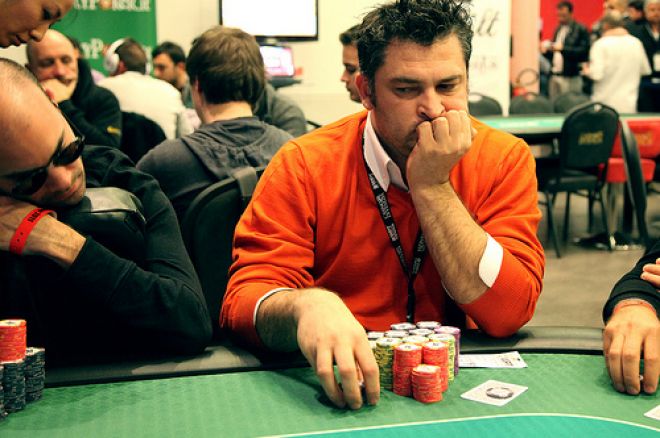 When Day 2 of the 2011 World Poker Tour Venice began, 95 players, from the starting field of 213 took their seats. More than half of them hit the rail during play Thursday, leaving 40 players remaining when things wrapped up for the night. Leading the way was Wanny Piazza with 373,500 in chips.
Although just four 90-minute levels of play were on the slate for Day 2, Piazza increased his stack well after entering the day fourth in chips. There wasn't much chronicled action with Piazza, but during the last level of the night he was seen by the WPT Live Update Team three-betting preflop after an open to 4,200 and a flat-call by Ronnie Bardah in the cutoff seat. Piazza had made it 14,300 to go from the small blind and everyone folded. After his opponents tossed in their hands, Piazza tabled
, for the acclaimed "worst hand in poker," as he raked in the chips.
Speaking of Bardah, he, too, had a solid day on the felt. He came into the day with 103,200 and ended with around the same amount.
On one key pot, with the blinds at 500/1,000/100, Bardah opened to 2,400 from the hijack seat. Alessandro Fasolis three-bet to 5,300 on the button and play folded back to Bardah. He four-bet to 13,900, but that didn't scare off Fasolis, who put in a five-bet to 26,000. Bardah took his time and then reraised all-in. Fasolis called and tabled
. Bardah held the better,
. From there, the
board kept Bardah in the lead and sent Fasolis out the door.
2011 WPT Seminole Hard Rock Showdown champion, and Bardah's travel partner, Taylor von Kriegenbergh was another one on the list of Day 2 successors. In Level 13, with the blinds at 1,000/2,000/300, von Kriegenbergh found himself in a three-way all-in pot with
. His opponents, Kristijonas Andrulis and Vincenzo Natale, held
and
, respectively.
Even though he was in a very pinched spot with his holding, von Kriegenbergh came out on top in the battle after the flop, turn and river ran out
. From there, he went on to finish the day with 326,900 in chips. Andrulis finished the day short; however, Natale was eliminated.
A few of the other notable players who will be advancing to Day 3 and joining Piazza, Bardah and von Kriegenbergh in action are Marvin Rettenmaier, Steve O'Dwyer, Dario Alioto and Arnaud Mattern. Another former WPT champion, Roberto Romanello, also finished with chips and he'll be back for Day 3 as well.
Some players who were eliminated on the day were Roger Hairabedian, Alessio Isaia, Dominik Nitsche, Mustapha Kanit and Salvatore Bonavena.
Bonavena was eliminated after getting all of his money in on a
flop holding pocket tens against the Alejandro Sanchez's
. The turn
gave Sanchez his flush and the river
finished things off to eliminate Bonavena.
Day 3 will take place on Thursday starting at 1300 CET (0600 PST). With 40 players left and the top 27 getting paid, the money bubble should break and be the big story on Day 3. First place is over $250,000 and you won't want to miss the end-of-day recap. Be sure to tune right back into PokerNews to read all about the day's happenings.
*Photo courtesy of the World Poker Tour.
Follow PokerNews on Twitter for up-to-the-minute news.