Patriot Poker Players Use Game to Raise Awareness for Military Charities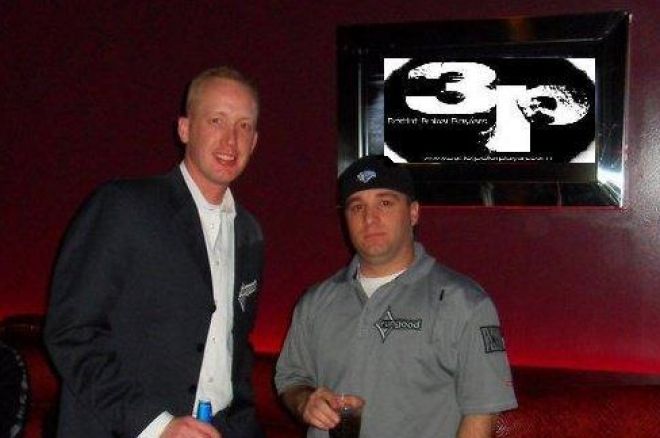 In April, Tom "durrrr" Dwan, Phil Hellmuth, Annie Duke, and Huck Seed embarked on a USO Tour, becoming the first poker players to visit troops in the Middle East through an engagement arranged by the Poker Players Alliance. A precedent between poker and the military was established, and now a select group of military servicemen have banded together to use poker as a vehicle to help raise awareness and funds for charitable causes. They have created the Patriot Poker Players (3P) group.
"Patriot Poker Players are not just poker players, we are a team of military members who take our game from the frontlines to the poker felt to raise money for charities and raise awareness through our presence and interactions with the public. 3P's come from all over the world to participate in no limit hold'em tournaments, and aim to cash and contribute 10 percent of the team's earnings to the charity of 3P's choice. 3P members also volunteer time with communities. Patriot Poker Players are committed to 3P's mission and maintaining an absolutely positive and professional attitude."
The idea to form 3P came when three men, Todd Fuerst, Tim Montjoy and Matt Mason decided to spend their R&R from their deployment in Afghanistan by traveling to Daytona, Florida, to play in a televised Heartland Poker Tour event. The idea of playing for a charity appealed to all three, so they decided to form a group of military players who would do just that. On Aug. 23, 2011, Fuerst came up with the 3P name, and Montjoy came up with their motto a few days later: "From the Frontlines to the Felt."
Since then, many players have joined the 3P ranks including Johnny Ferrell, Rich Brooks, Richard Kirby, Mike Ward, and Jason Cruchy, all either serving in the armed forces or who have a military background. These men and others who join them at various events use a notion that has been deeply rooted in their character. As their page explain: "Members of the Patriot Poker Team use the same concept that they use in the military on the poker table, the concept of teamwork . . . Through poker, we aim to establish a solid team that will contribute millions of dollars to charities, volunteering countless hours, raising awareness, and improving our communities."
PokerNews recently had the opportunity to catch up with the founders of 3P — some on deployment — to talk about their organization and their plans for the future:
What was the hardest part about getting 3P off the ground?
"Starting any new business endeavor is an overall challenge itself," Fuerst said. "I think being deployed and focusing on our mission here in Afghanistan and then finding the time to conduct business, document our ideas, and share them across the other side of the globe has been difficult. The support that 3P has gained is a sincere reward that shows we have something special here and is a mission we will passionately continue to serve."
Montjoy continued, "One of the most challenging aspects of getting 3P rolling is finding the right charity to affiliate ourselves with. Not only do we want to display the correct image by linking up with the right charity, but actually finding a charity that wants to work with a group of military poker players, is tough by itself."
What charities does 3P support and work with?
"Right now, we have verbal commitments to officially represent/affiliate with Fueled by the Fallen and American Military Family, Mason said. "Once we have a formal business plan and legal entity setup, we will ink those relationships for a duration that is mutually agreeable."
What has been the general reaction to 3P so far in the poker community?
"The thing about the 'poker community' is it's pretty generous…you always hear stories of players, events, and circuits donating to various charities and causes. Taking this concept to the next level with a formal, military-focused, team concept supports the fundamental premise of 'power in numbers' — the poker world has recognized that and has had nothing but words of praise and support for our mission," Mason said.
How do you recruit members to 3P?
"We spread the overall mission/vision of 3P via social media and word of mouth, which has been instrumental in bringing a lot of us together," Montjoy said. "When players, dealers, staff, and other media start noticing an 'army' or 'legion' wearing 3P gear, those questions and answers will motivate everyone to want to know more."
What has been your favorite moment since the establishment of 3P?
"My favorite moment along this endeavor has been when I woke up one morning and saw the message on Facebook from Dennis Phillips; up to that point, I had sent out numerous messages to a lot of folks with very limited feedback," Montjoy said. "Since the day that Mr. Phillips messaged me (very positive feedback and support), we have had a number of folks show support."
Fuerst continued, "I personally have enjoyed the entire experience. My heart is passionate about what 3P is and is becoming. For me every new moment, every new supporter, every dollar/hour to charity, we are changing something for a better purpose and that is something that we can all be proud of."
Where do you see 3P five years from now?
"If we do this right, and I don't see any reason why we can't or won't, I think 3P can play a significant role in transforming the perception of poker," Mason said. "Right now, the game has evolved and boomed into something that scares a lot of people, on multiple levels — mainly due to its roots and the stigma attached to it. The online controversies and corruption obviously haven't helped, but I think we can help people realize there is a lot more 'good' possible from the game, and the industry, if people allow it. Once this mission, our team, and our charitable affiliations really gain momentum and start contributing, on and off the felt, I think we can be at the forefront for some really powerful and productive change in the industry.
In three to five years, I envision 3P, not only be a group of military poker players playing for charity, but we will be a powerful brand within the poker community. A clothing and poker accessory line is in the works; should be up and running by June 2012."
3P is already planning an excursion to the 2012 World Series of Poker, compiling a list of individuals with military backgrounds who're interested in playing for a great cause. Those interested in learning more about 3P can check out the Facebook page and follow them on Twitter.
Get all the latest PokerNews updates on your social media outlets. Follow us on Twitter and like us on Facebook today!