2012 Aussie Millions Day 9: Middleton Wins Event #5; Rettenmaier Leads Event #6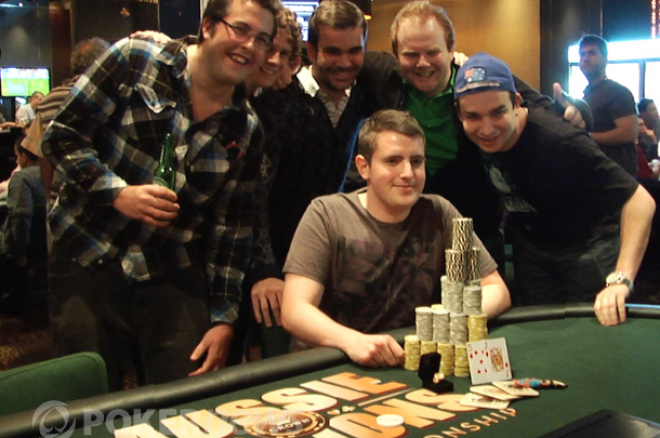 A new winner was crowned on Friday at the 2012 Aussie Millions Poker Championship in Melbourne, Australia. Seasoned pro Tom Middleton captured the Event #5: $1,100 No-Limit Hold'em Six Handed title. Also, an absolutely stacked final table was set in Event #6: $1,100 No-Limit Hold'em w/ Rebuys. It includes 2010 Aussie Millions Main Event winner Tyron Krost, Dan "djk123" Kelly, Jim "Mr_BigQueso" Collopy, Jonathan Karamalikis; and Marvin Rettenmaier.
Here's a look at the action from Day 9 of the 2012 Aussie Millions Poker Championship:
Event #5: $1,100 No-Limit Hold'em Six Handed
The remaining 18 players of Event #5: $1,100 No-Limit Hold'em Six Handed returned to play to a winner on Friday. The action, fast paced from the start, saw Tayna Puppa fall on the very first hand, followed by Greg Tucker moments later.
The next six all-ins produced eliminations, but then the short-stacks began to fight back. Stefan Jedlicka held on as chip leader for much of Day 1 and continued with a very healthy stack on Day 2 until he lost three races in a row to fall in eighth. Darren Kramer, Jeremy Cleaver, Tomi Aalto, and Brian Roberts all suffered similar fates, dropping just short of the final table and big money.
The final seven players came together on one table and lined up as follows before the official final table was set after Xin Zhao's elimination:
| Seat | Player | Chip Counts |
| --- | --- | --- |
| 1 | Peter Skouteris | 503,000 |
| 2 | Joel Dodds | 392,000 |
| 3 | Craig Cockburn | 979,000 |
| 4 | Tom Middleton | 857,000 |
| 5 | Ben Lingenfelder | 257,000 |
| 6 | Kosta Mamaliadis | 409,000 |
| 7 | Xin Zhao | 576,000 |
Tom "hitthehole" Middleton took less than two hours to dismantle the final table and claim the 2012 Aussie Millions $1,000 No-Limit Hold'em Six Handed title and AUD$84,200. He found big hands, made great calls, and knocked out every one of his five opponents at the final table.
In the final hand, he eliminated Joel Dodds after flopping two-pair to Dodd's open-ended straight draw. Middleton's two-pair held up and Dodds was gracious in defeat, despite the heckling by Middleton's British friends on the rail. Middleton took care of Ben Lingenfelder, Kosta Mamaliadis, Craig Cockburn and Peter Skouteris in unstoppable fashion.
Here's how much they all earned for their fine effort over the last two days:
Final Table Payouts

| Place | Player | Prize (AUD) |
| --- | --- | --- |
| 1st | Tom Middleton | $84,200 |
| 2nd | Joel Dodds | $58,135 |
| 3rd | Peter Skouteris | $40,450 |
| 4th | Craig Cockburn | $30,800 |
| 5th | Kosta Mamaliadis | $23,100 |
| 6th | Ben Lingenfelder | $15,4000 |
Event #6: $1,100 No-Limit Hold'em with Rebuys
The $1,100 No Limit Hold'em Rebuy tournament attracted 92 players who accounted for 331 rebuys and created a massive AUD$423,000 prize pool. After a long first day, Marvin Rettenmaier leads the remaining ten players who are all gunning for the AUD$122,670 first-place prize.
The action started off at 1230 AEST (1730 PST) and players didn't hesitate getting their money in the pot. There were all-ins right and left, and Jim Collopy, Faraz Jaka and McLean Karr were among the first to fork over another AUD$1,000 for a rebuy. Isaac Baron had enough after only a couple of all-ins, calling it quits after his aces were cracked by pocket nines.
After the rebuy period, Toby Lewis was ahead with 19,000 in chips followed by Lithuanian Dominykas Karmazinas and EPT winner Mark Teltscher. Australian Grant Levy left the tournament soon after the rebuy period ended when he ran his kings into aces. Additionally, James Demspey and Joe "BigEgypt" Elpayaa couldn't recover from their short stacks and also headed for the rail rather quickly.
Randy Dorfman quickly took over the chip lead when he won a big pot against Eoghan O'Dea with
against
. Dorfman had flopped two pair against O'Dea who had top pair top kicker. Dorfman didn't enjoy his big stack for long because he got involved in a huge pot with Ashley Mason. After a preflop raising war, Dorfman and Mason got the chips into the middle with
and
respectively, and Mason ended up hitting a set of queens to eliminate Dorfman.
Collopy, who had to rebuy quite a few times, accumulated a big stack after eliminating Lewis. Collopy had flopped top two pair against Lewis who had the worst of it with a lower two pair. Around the same time, Salman Behbehani ran into aces with his pocket kings in a blind versus blind battle against Jarred Solomon. Solomon was cruising after that hand, though he didn't manage to reach the money. Likewise, the winner of this event in 2011, Oliver Speidel, made a run deep into the tournament but failed to cash.
Here's how Speidel's elimination went, as reported by the PokerNews Live Reporting Team:
Dan Kelly was under the gun and raised to 800. Speidel then moved all-in for 9,125, which cleared the field all the way back to Marvin Rettenmaier in the small blind. He asked for a count on Kelly, who had about 15,000 behind, and then moved all-in over the top. Kelly flashed and folded.

Showdown

Speidel, who defeated a field of 86 players last year in this very event to capture a $100,595 prize, found himself in big trouble and in desperate need of a ten. Unfortunately, it was not meant to be as the board ran out . Speidel, who finished runner up in the $1,100 NLHE Shootout earlier this week, was eliminated and Rettenmaier increased his stack to 33,000.
In 13th place, local player Billy Jordanou hit the rail after running his pocket sevens into Dan Kelly's
. The flop gave Kelly a king, bringing the field down to 12 players. Dominykas Karmazinas was the next to go when he ran into the pocket kings of Jonathan Karamalikis, who eclipsed the 100,000-chip mark after that hand. Meanwhile Mike Watson had taken over the chip lead from Michael Pedley after battling it out in a couple of hands.
German pro Manig Loeser was the unfortunate bubble boy after shoving all-in for just 5,900 chips and getting called by Michael Benvenuti's
. Loeser turned over
but couldn't hold up as Benvenuti made a flush.
Here is a look at the Event #6 Final Table:
2012 Aussie Millions Event #6 Final Table
| Seat | Player | Chip Counts |
| --- | --- | --- |
| 1 | Jonathan Karamalikis | 101,100 |
| 2 | Jim Collopy | 46,400 |
| 3 | Dan Kelly | 40,200 |
| 4 | Tyron Krost | 42,200 |
| 5 | Andrew Scarfe | 28,100 |
| 6 | Michael Benvenuti | 44,500 |
| 7 | Tony Sama | 39,300 |
| 8 | Mike Watson | 102,600 |
| 9 | Marvin Rettenmaier | 113,700 |
| 10 | Michael Pedley | 77,800 |
Play will resume on Saturday at 1600 AEST (2100 PST Friday) as the final 10 players will compete for the following:
| Place | Prize (AUD) |
| --- | --- |
| 1st | $122,670 |
| 2nd | $88,830 |
| 3rd | $57,105 |
| 4th | $40,185 |
| 5th | $29,610 |
| 6th | $25,380 |
| 7th | $21,150 |
| 8th | $16,920 |
| 9th | $12,690 |
| 10th | $8,460 |
Upcoming Events
The PokerNews Live Reporting Team will be on hand to bring you live updates from the Event #6 $1,100 NLHE w/ Rebuys final table, as well as the start of Event #7 $1,650 NLHE Bounties.
On Sunday, the 2012 Aussie Millions Poker Championship Main Event will kick off, as well as the $100,000 Challenge.
Stay up to date on all the latest news by following us on Twitter and liking us on Facebook.