Jonathan Duhamel Puts 2011 Behind Him, Crushes 2012 PCA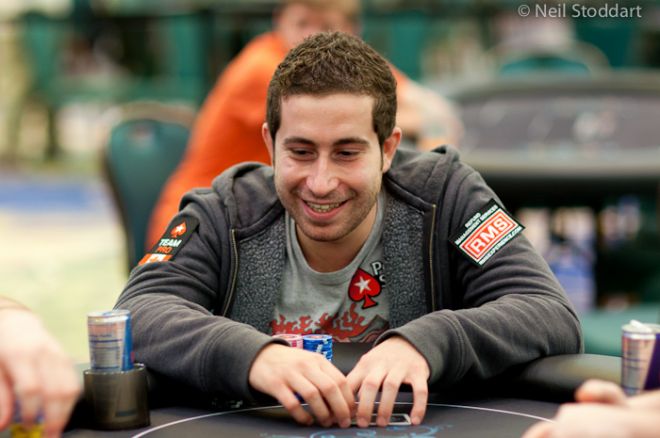 In late December, 2010 World Series of Poker Main Event champion Jonathan Duhamel was the victim of a home invasion during which two men assaulted him and stole his money, black Rolex watch and 2010 World Series of Poker Main Event bracelet. To make matters worse, his ex-girlfriend Bianca Rojas-Latraverse, was an accomplice. She was charged with five offenses, including conspiracy, and her interrogation led to the capture of the two suspected assailants, Jon Stephan Clark-Lemay and André Robert-Perron. According to court documents, Perron was wearing the Rolex at the time of his arrest.
What a brilliant idea that was.
All in all, the end of 2011 was absolutely brutal for Duhamel, and during Day 1 of the 2012 PokerStars Caribbean Adventure $100,000 Super High Roller Event, it didn't look like 2012 would be any better. At the end of Level 2, Duhamel was sitting in the big blind with
, facing an opening raise to 2,600 from Viktor "Isildur1" Blom, and a three-bet to 10,500 from Isaac Haxton in the small blind. Duhamel four-bet to 24,200, Blom folded, Haxton five-bet to 42,200, Duhamel moved all-in for 205,000, and Haxton called with — (drum roll please) —
. Two ladies. Ironic.
The queens held as the board ran
, and Duhamel was the first player eliminated from the first six-figure buy in tournament of the year. If ever there was a time for the #whenwillitend hashtag, it was then.
Could things really get any worse for Duhamel?
Of course, there are people who will never feel sympathy for Main Event championa, especially when they crush souls like this, because if you win the Main Event, then you've exhausted your luck, your good fortune and your run good. You're never ever allowed to complain about anything ever again, even if your house gets robbed and you're assaulted. Suck it up, Mr. Main Event winner. Wash your sorrows down with the millions of dollars you binked.
This thought process is obviously ridiculous, and reserved only for the most thoughtless trolls, but it still exists.
---PageBreak---
About a half an hour after he busted the Super High Roller, Duhamel re-entered, and that's when his remarkable heater began. Bill Perkins, who also re-entered the tournament, was moved to Duhamel's table and doubled Duhamel. Duhamel later busted Perkins, and after winning a handful of other big pots, he finished Day 1 fourth in chips.
Day 2 was more of the same. Duhamel started off slow, doubling David "Doc" Sands, but then Duhamel doubled through Scott Seiver and was one of the first players to cross the million-chip mark. He finished the day second in chips and had a ton of momentum going into the final table. Unfortunately, Duhamel couldn't get anything going at the final table. He treaded water until the play was four-handed and then was busted by the eventual winner, Viktor Blom.
Duhamel five-bet shoved for around 1.6 million with
on a
flop. Blom called, holding
, and made a flush when the
turned. Duhamel needed a jack or a seven to survive but was eliminated when the
completed the board. His fourth-place finish was good for $313,600.
Lost a huuuuge flip to Viktor to finish 4th...oh well good start to 2012 anyway, very happy with the way I played! Big year incoming

— Jonathan Duhamel (@JonathanDuhamel)
Duhamel quickly busted from the $10,000 Main Event the next day — an opponent's pocket queens cracked his pocket aces — so he hopped into a $5,000 no-limit hold'em turbo side event. A couple of hours later, he found himself at his second final table in as many days and busted in fifth place for $17,990.
The following day, he registered for another $5,000 no-limit hold'em side event, and finished Day 1 with half of the average chip stack. Sixteen of the remaining 22 players made the money on Day 2, and Duhamel captained the shortest stack after three quick eliminations. Then his boomswitch was turned on.
Doubled up KK vs JJ, then doubled up JJ vs 99, i now have 220k with average at 125! 19 players still in

— Jonathan Duhamel (@JonathanDuhamel)
Three hours later, Duhamel was at his third final table of the PCA. It was certainly a tough one, featuring fellow Team PokerStars Pro and WSOP Main Event champion Pius Heinz, Jason Mercier, Owen Crowe, and Keven Stammen. Duhamel bested them all though, banking $239,830 for the win.
The next event Duhamel was scheduled to play crush, was the $25,000 High Roller event.
"It's karma," he said, smiling after Day 2 of the tournament. He had just finished writing "1,530,000" on his chip bag, and was once again second in chips heading into a final table — his fourth of the trip.
Duhamel eliminated three players at that final table, including Day 2 chip leader Jason Koon, and entered heads-up play against Leonid Bilokur with a hefty chip lead. He was unable to put the nail in the coffin, however, and Bilokur fought all the way back, regaining the lead and eventually defeating Duhamel.
Duhamel was very unhappy with how he played, and it was more than 12 hours before he finally tweeted this:
Also sorry for no tweet yesterday, was really pissed I didnt won it, but I guess I cant complain, amazing 2 weeks in the Bahamas!!! #rollin

— Jonathan Duhamel (@JonathanDuhamel)
What Duhamel did in the Bahamas was incredible. He absolutely crushed, and the numbers speak for themselves.
| Event | Finish | Prize |
| --- | --- | --- |
| $100,000 Super High Roller | 4th | $313,600 |
| $5,000 No-Limit Hold'em Turbo | 5th | $17,990 |
| $5,000 No-Limit Hold'em | 1st | $239,830 |
| $25,000 High Roller | 2nd | $634,550 |
| Total | | $1,205,970 |
That two-week total of over $1.2 million would've been good for 50th on the 2011 money list. Again, incredible.
We can't be sure if karma is at play here — it's an age-old argument that, like any religious discussion, rarely leads to anything fruitful — but it's hard to ignore. A little over a month ago, Duhamel was betrayed, bloodied, and beaten. Now, he's a million dollars richer, and, according to the Montreal Gazette, his attackers are receiving the punishment they deserve. Rojas-Latraverse, the worst of them, was denied bail alongside Clark-Lemay, and the two remain in jail until their trial.
Justice is hard to find in poker. There are countless times when we get our money in good, only to get sucked out by an opponent who has no business winning. But this was about more than a poker hand. Or a single tournament for that matter. This was about someone who was violated, rising up after a traumatic series of events, getting back on his horse, and absolutely crushing. Jonathan Duhamel is a genuine, kind, and good person — anyone who has ever interacted with him will attest to this — and to see him succeed was overly satisfying.
Good things may not always happen to good people, but in this case they did. In this case, maybe Duhamel was right. Maybe it was karma.
For news, updates, and more follow PokerNews on Twitter and Facebook.