2010 World Series of Poker Champion Jonathan Duhamel Victim of Home Invasion (UPDATED)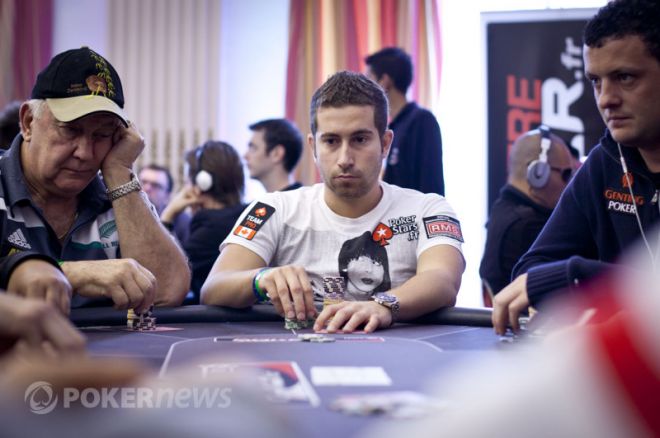 2010 World Series of Poker Champion Jonathan Duhamel was the victim of a home invasion Wednesday morning in Boucherville, Quebec, Canada, according to CyberPresse.ca. Although police did not identify Duhamel as the victim, CyberPresse reports that Duhamel's agent confirmed the news.
According to CyberPresse, two men entered Duhamel's home shortly before 9:15 a.m., and attacked him.
Mark David, a police spokesman, said, "We are not talking about kidnapping, but of aggression. He was a victim of assault. He was wounded."
The Winnipeg Free Press reports that Duhamel was taken treated at a hospital and released.
Whether or not Duhamel was targeted because of his 2010 WSOP win is one of the questions investigators are attempting to answer as they reconstruct the crime scene. "We still have many questions. Why is it that the suspects chose that residence? What was the motive? Did they want this man? Did they want the property," David told CyberPresse.
No arrests have been made, and Duhamel has not spoken to the media so as not to taint the police investigation.
Updated 12/22 8:40 a.m PST: PokerNews spoke with Duhamel's agent, Yves Bouchard, who confirmed that the 2010 World Series of Poker Main Event bracelet was among the items taken from Duhamel's home.
Updated 12/22 9:20 a.m PST: Police in Longueuil, Que., told PokerNews that along with Duhamel's 2010 WSOP bracelet, there were "a number of" 500-euro bills taken from the residence. The total amount of money taken from the property isn't known at this time, but authorities are telling residents to be on the lookout for bills of that denomination. "They are pretty rare so we are letting people know that if they get in contact with people trying to trade in some 500-euro bills to be careful and to contact us," a spokesperson told PokerNews.
The two robbers also escaped with a black Rolex watch engraved with Duhamel's name and the date of his WSOP victory.
Duhamel was meeting with police investigators as of 9:00 PST. Anyone with information regarding the break-in can call the Longueuil police's confidential line at 450-463-7211.
Updated 12/22 3:00 p.m. PST: Jonathan Duhamel released an official statement Thursday thanking family, friends, media, and fans for support. In the statement, he recounts the invasion, saying, "...two men broke into my house and I was physically assaulted and robbed. After being threatened with death and have given everything I had, I was bound and beaten repeatedly in the face and body before my attackers leave. I am pleased to confirm that I have not suffered any major injuries."
Duhamel also describes what was taken from his home, again confirming the 2010 WSOP bracelet and a black Rolex were taken, and asks if anyone has any information to contact the police.
He will be spending the holidays with family and friends and hopes "to return to the tables soon" and "represent Quebec on the international scene by bringing another title to Quebec in the near future."
Read the full statement at PrincePoker.com.
Updated 12/23 11:25 a.m. PST: Jonathan Duhamel is offering $10,000 to anyone with information that leads to the recovery of his 2010 World Series of Poker Main Event bracelet and Rolex watch, as well as the arrest of the thieves. Find out more at PrincePoker.com.
PokerNews will stay on top of this breaking news story and will bring you any new developments. Follow PokerNews on Twitter for up-to-the-minute news.