The Nightly Turbo: Doyle Crushing Cash Games, PokerStars Launches New Site, and More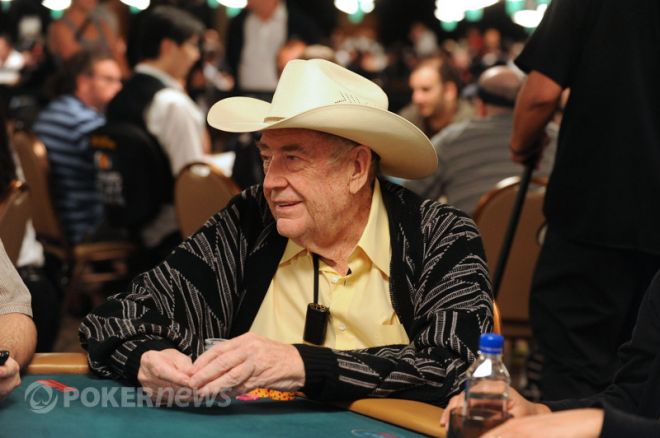 We hope you enjoyed your weekend even half as much as Adele enjoyed hers. But now it's time to get back to business. In this edition of the Nightly Turbo, we'll be covering Doyle Brunson's recent success in Las Vegas cash games, a new site launched by PokerStars, and more.
In Case You Missed It
How did Isaac Haxton get his start in poker? Find out that and more in part one of the latest Seat Open series.
Matt Juttelstad continued building his stack on Day 2 of the World Poker Tour Lucky Hearts Poker Open. Find out how Juttelstad kept his chip lead in our daily WPT recap.
Did you miss Sunday's World Poker Tour coverage on FSN? Read our WPT recap to get caught up.
The Epic Poker League still has one more event left in Season 1. Donnie Peters takes a look at the results thus far and which players are in contention to earn a seat in the $1,000,000 Championship Freeroll.
How did the Sunday Majors play out on PokerStars? Who took home the biggest win? Find out in the Sunday Briefing.
Dan Blakeman was the chip leader after Day 2 of the WSOP Circuit Harrah's Tunica $1,600 Main Event. Kurt Jewell, meanwhile, was looking to make some history.
Never Too Old to Quit
Doyle Brunson admitted last year that traveling the tournament circuit is becoming too much of a grind at his age. But the 78-year-old legend is still crushing the Las Vegas cash games as if he was still in his twenties.
Brunson recently wrote in his blog that he's been playing lengthy sessions over the past few weeks at Aria and the Bellagio. The high volume has apparently paid off, too, as Brunson said he'd won 14 of the last 15 days as of Friday, Feb. 10.
"Poker is going strong in Vegas," Brunson wrote. "There are two or three medium stake poker games every day. The games aren't nearly as high as they were before Black Friday, but at least they are going every day. The games are $300/$600 at the Aria and $600/$1,200 at the Bellagio with the stakes going a little higher sometimes. There seems to be lots of players because there is usually a waiting list."
Brunson did mention one lousy beat: Doctors told him he had to lay off the Cheetos and Goldfish crackers for a while. If he's looking for a replacement snack to keep the heater running, we recommend apples.
Read Doyle's full blog at doylebrunson.com.
PokerStars Launches New Site
Poker players in Sweden and Finland received great news Monday when PokerStars launched a new site that will allow residents of those nations to play on the site tax-free. PokerStars.eu will continue to offer the same games and software as the dot-com site, but PokerStars' new Maltese gaming license will allow players in European markets to take advantage of the gambling-friendly tax laws of the European Union.
Until now, gamblers in Sweden and Finland were taxed high amounts on their online gambling winnings earned outside the EU. Poker players from those countries will now be able to play tax-free on the dot.eu site because Malta, a member of the EU, does not tax gambling winnings.
"Some markets treat European Union-licensed operators differently than other license-holders," said PokerStars head of business development Guy Templer. "Offering our online poker on www.pokerstars.eu with a Maltese license provides benefits to players in Sweden and Finland in particular and we are always striving to offer the best product possible to our players, wherever they are located."
Get the full story at PokerNews.com.
Iowa Pushes for Online Poker
Online poker is expected to be one of many topics discussed by Iowa lawmakers when they return to the Statehouse this week.
Sen. Jeff Danielson says he expects to receive a draft of legislation establishing regulatory perimeters for state-licensed casinos to offer online poker to Iowa residents. The outlook of online poker in the state improved when the Department of Justice changed its stance on the Wire Act of 1961, but Senate Majority Leader Mike Gronstal told The Gazette that it's "hard to tell" whether a bill could be approved by the end of the year.
"We have this messy circumstance where there's this gray market or black market online poker business going on," Gronstal said. "I think it's something worth exploring. I think there's a lot of potential side tracks for this bill to go down. But I think it probably makes sense for us to try to regulate this industry that's already going on."
The Gazette has more.
ESPN's Horowitz Gets a Promotion
On Monday, ESPN announced that Jamie Horowitz has been promoted to Vice President of Original Programming and Production at the network. Horowitz, who has supervised the production of ESPN's Emmy-nominated World Series of Poker coverage for the past five years, will now be responsible for all original programming at ESPN.
"My goal is to further ESPN's commitment to the highest quality sports programming and to work with the talented teams we have in place to enhance our content," said Horowitz, who created, developed and produced NBC's National Heads-Up Poker Championship before joining ESPN. "The sports business is an ever-shifting landscape and I am excited to have the opportunity to help strengthen this dynamic area of our business."
Horowitz will continue to oversee production of the WSOP broadcast. He will also continue production oversight over shows like ESPN2's First Take, SportsNation and Numbers Never Lie.
Read more at the ESPN Media Zone.
A Warehouse of Poker Knowledge
On Monday, PKR.com announced the launch of a new online poker encyclopedia that will provide access to a wide range of free poker content contributed by poker fans around the globe. The online poker room teamed up with a group of writers to set the framework for The Poker Wiki, but it is now up to poker players, bloggers and fans to write bios, update tournament results, and more.
"PKR has worked with a team of writers to get The Poker Wiki up and running, but from now on our involvement will be very hands-off," said PKR Media Manager Dan Grant. "The Poker Wiki's future is now in the hands of the poker community who we hope will pick up the baton and contribute content to help create the world's foremost repository for all things related to poker."
Check out the site at www.thepokerwiki.com.
Britain's Got Talent
The United Kingdom has seen dozens of poker superstars burst onto the scene of late, and our friends over at UK.PokerNews want to make sure none of them go unnoticed. Over the next few months, the site will feature interviews with British pros who have been dominating at the tables. The profiles will include hints, tips and poker strategy from some of the best poker players in the U.K.
Your name doesn't have to be Chris Moorman or Sam Trickett to be featured on the site, either. The UK.PokerNews team is also looking for successful players who have flown under the radar playing mid-stakes tournaments and cash games. "Whether you play 14 tables of $25/$50 pot-limit Omaha or are winning at no-limit hold'em with blinds of $0.01/$0.02 we want to hear from you," says UK.PokerNews Editor Matthew Pitt.
Check out UK.PokerNews.com for more information.
The Life of a Poker Pro
Ever wonder how poker players are perceived by the general public? Take a look at this gem created by poker player Daniel Didech: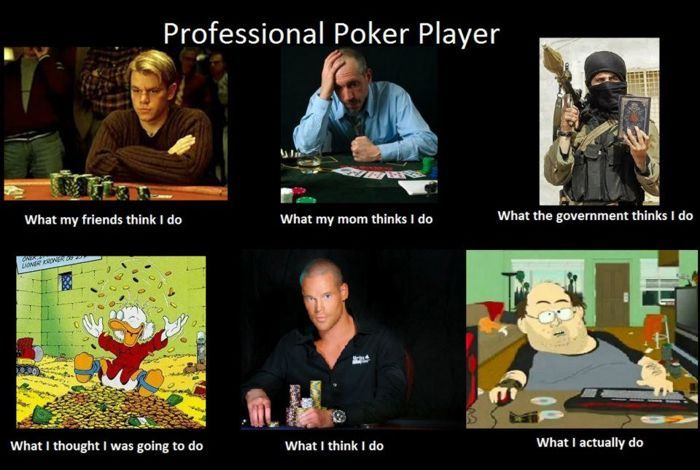 Didech posted this hilarious meme on his Facebook wall Sunday night. By Monday, it had gone viral with nearly 1,000 shares. Bravo, sir. Bravo.
Follow PokerNews on Twitter for up-to-the-minute news.