World Poker Tour on FSN: Season X Preview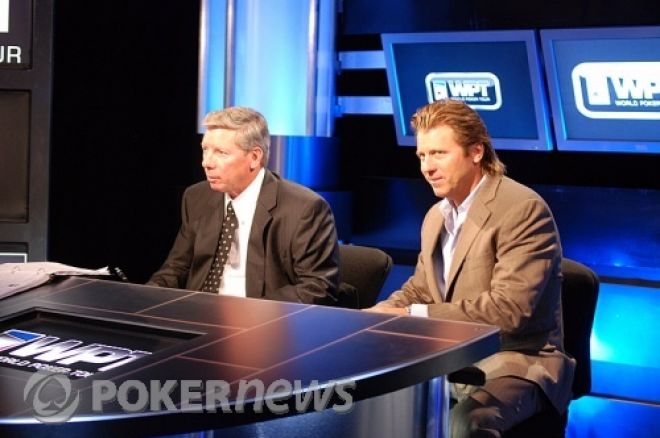 Fresh episodes of the World Poker Tour are back on television! This week, Fox Sports Network (FSN) aired the first episode of the WPT Season X but decided to do things a little differently. Instead of kicking off with the first tournament of the season, the WPT crew gathered together to take a look at their favorite moments of Season IX while also looking ahead at Season X.
Let's Get It Started: Anchor Kimberly Lansing, Raw Deal host Tony Dunst, sideline reporter Matt Savage, and commentators Mike Sexton and Vince Van Patten kicked off the broadcast seated around the emblematic WPT final table, engaged in a friendly poker game. They discussed a number of topics beginning with Season IX's Biggest Accomplishment.
According to Lansing, there were three players who stuck out in that department including three-time WPT champ Carlos Mortensen, who crossed the $6-million mark in WPT earnings; Erik Seidel cashing in his ninth straight WPT season; and Phil Ivey making his ninth WPT final table.
"For me, as much respect as I have for Ivey and Seidel, it was Carlos Mortensen crossing the $6-million mark. Nobody's come close to that return on investment," Sexton said.
"Carlos is amazing. He's tougher to read than a Chinese newspaper," Van Patten added before singing Ivey's praises. Dunst and Savage proceeded to make a case for Seidel, and even though a consensus wasn't reached, everyone seemed to agree that all three accomplishments were remarkable.
Final Tabling & Trash Talking: The conversation then turned to Mike Sexton's first WPT final table appearance, which happened at the Bay 101 Shooting Star during Season IX. "It felt great," Sexton said when asked. "Now that we go to WPT events from Day 1 to the final table, they let us play now . . . So now it's fun for me to get a chance to get in there and mix it up."
Next up was the debate on "Best Trash Talking of Season IX." Tony Dunst believed it was when Mike Matusow folded to Alan Sternberg after an unsuccessful bluff and Vivek Rajkumar got on him about it. Van Patten then came to Matusow's defense and pointed out that he did some trash talking of his own and is called "The Mouth" for a reason.
What's In Store for Season X: Before taking a commercial break, the Season X schedule was highlighted, which included several new stops. As you can see below, the WPT has expanded throughout the world, and continues to solidify its reputation as one of the most prestigious tours in the world.
Here is a look at the upcoming 2012 WPT schedule:
WPT Season X Schedule 2012
| Tour Stop | Locations | Dates | Entry |
| --- | --- | --- | --- |
| WPT Ireland* | City West Hotel Dublin, Ireland | January 5-8, 2012 | €2,500 |
| WPT Venice | Casino de Venezia Venice, Italy | February 6–11, 2012 | €4,950 |
| WPT Lucky Hearts Open* | Seminole Hard Rock Hotel in Hollywood, Florida | February 10–14, 2012 | $3,500 |
| LA Poker Classic | Commerce Casino Los Angeles, Calif. | February 24-29, 2012 | $10,000 |
| Bay 101 Shooting Star | Bay 101 San Jose, Calif. | March 5-9, 2012 | $10,000 |
| WPT Vienna* | Montesino Vienna, Austria | March 26-31, 2012 | €3,500 |
| Seminole Hard Rock Poker Showdown | Seminole Hard Rock Casino Resort Hollywood, Fla. | April 18-23, 2012 | $10,000 |
| WPT Jacksonville | Jacksonville Poker Room Jacksonville, Fla. | April 28-May 2, 2012 | $5,000 |
| WPT World Championship | Bellagio Las Vegas, Nev. | May 19-26, 2012 | $25,500 |
| WPT World Championship Super High Roller | Bellagio Las Vegas, Nev. | May 23-25, 2012 | $100,000 |
*Nontelevised Main Event
WPT Cinderella Stories: What was the best Cinderella story in WPT history? According to Mike Sexton, it was Mike Vela's victory at the Foxwoods World Poker Finals in Season VI when he defeated a final table that included Tom "durrrr" Dwan, Nenad Medic, and Nick Schulman.
Sexton also talked about Andy Whetstone's final table appearance at the Hollywood Poker Open after qualifying on Club WPT. He ultimately finished in fifth place for $62,041. Whetstone then joined the broadcast and said it was a dream come true.
"It was a dream I would never of had if Club WPT wasn't online," he said. "My experience online was invaluable when I got to play [the Hollywood Poker Open]. It was as much fun as I could have imagined."
Ones to Watch: In Season IX the WPT introduced the popular Ones to Watch segment which featured young players poised to break out on the circuit. Last year's group included Faraz Jaka, Lauren Kling, William Reynolds, Phil Collins, Allen Bari, Joseph Cheong, and Jason Mercier, among others. The broadcast took a look back at their various successes, which were few and far between.
Maria Ho and Dan O'Brien then joined the show as two of Season X's Ones to Watch. Ho was actually on the inaugural roster, while O'Brien is one of this year's rookies. Other Ones to Watch in Season X include William Reynolds, David "Doc" Sands, Dylan Hortin, Ebony Kenney, and Matt Marafioti.
Behind the Scenes: The WPT aired a never-before-aired question that was a part of Doyle Brunson's Five Questions segment in Season IX. When asked of something crazy that stood out at the poker table, Brunson said:
"The one that I kind of remember, because it was a little bit violent, there was a poker player named Bill Douglas, he had a guy in West Virginia that he wanted me to go and play, a moonshiner. He looked like a guy out of Deliverance, you know. I had him about $40,000 loser, which was a lot of money back in the 60s. He pulled his gun out and laid it on the table and he said, 'Son, you better not win anymore of my money.' I've been in some pretty tight spots, but I didn't know exactly what to do or say because I was in this guy's home ground.
"Bill came up and said, 'Well, he's gonna win it if you keep playing, and when he does, he's going to turn around and hand it to me, and then it will be between you and me.' Sure enough, I broke him and turned around and handed him the money and they both came up with their guns pointed at each other. My friend said, 'You can pull that trigger if you want to and we'll both die, or you can put it down and we'll both live.' The old moonshiner, he looked at him and he laid his gun down. When he did, my friend hit him in the head with a pistol. I haven't been back to West Virginia since."
More Awards: Other highlights of the broadcast included:

Bluff of the Year: Antonio Esfandiari bluffs Vanessa Rousso at the Bellagio Five Diamond final table and won his first WPT title in seven years (last win was in Season II at LAPC).
Best Hand: Andrew Robl versus Rousso at Bellagio Five Diamond. In the hand, with the blinds at 60,000/120,000 and a 15,000 ante, Rousso looked down at and moved all-in for 1,760,000 and was called by Robl, who was holding . Rousso was in a tough spot until the flop came down . She had hit her queen to take the lead and become a 71 percent favorite. Rousso remained stoic and realized it wasn't over. Sure enough, the hit the turn and vaulted Robl back in the lead. Rousso needed either one of the two remaining queens to win or a jack to chop heading into the river. Amazingly, the peeled off. "The lady at the table caught a lucky lady on the river," host Mike Sexton said as the crowd erupted in a mix of celebration and disbelief.
Greatest Moment: Mike Sexton had the honor of revealing the greatest moment of Season IX, which was when Dwyte Pilgrim won the Borgata Poker Open. It happened when he held
and the flop fell
. His opponent, Kia Mohajeri, held
for top and bottom pairs, so it was no surprise the all the money went in the middle. Pilgrim's hand held up and he erupted in a memorable scene of pure emotion, truly shocking the world.
Watch the WPT Season IX's greatest moment in the following video:
Tune in Next Week: Next Sunday, FSN will air their first tournament of Season X, the Legends of Poker from the Bicycle Casino in Bell Gardens, California. Be sure to check your local listings, but if you happen to miss it, don't forget you can read the recap right here on PokerNews.
For more on the WPT throughout Season X, be sure to visit the Party Poker Blog to see what Party Poker Pro Mike Sexton has to say from the circuit.
If you love poker, be sure to follow us on Twitter and like us on Facebook for up-to-the-minute poker news.
*Photo courtesy of WorldPokerTour.com