The Nightly Turbo: Romney Opposes Online Gaming, Florida Denied Casino Bill, and more

Brett Collson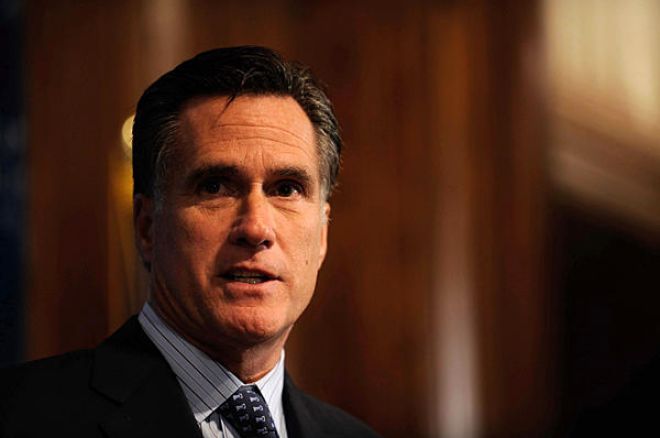 The Republican presidential candidates are preparing for Saturday's caucus in Nevada, and online gaming has been one of the many key topics of discussion. Where do the candidates stand on the issue? We'll tell you that and more in this edition of the Nightly Turbo.
In Case You Missed It
Day 2 of the PokerStars.fr European Poker Tour Deauville Main Event wrapped with with 178 players still in contention. Martins Adeniya was leading the way, but Frenchman Ludovic Lacay wasn't far behind.
The World Series of Poker teased us this week by hinting that the November Nine was no more. Don't fear, it's still around, just in October. That got us thinking though, and Donnie Peters and Chad Holloway discuss whether the WSOP should continue the format in the latest PokerNews Debate.
On Thursday, an attorney for Groupe Bernard Tapie claimed that Barry Greenstein and others still owed money to Full Tilt Poker. Greenstein sat down with PokerNews to explain his thoughts on the situation.
The Super Bowl is just two days away. In the latest Pigskin Diaries, Rich Ryan takes a look at some of the prop bets available before game time.
What happened to Daniel Negreanu's account on PokerStars this week? Read the Online Railbird Report to find out.
FairPlayUSA has been rather quiet in its first six months of operation. Matthew Kredell discusses the biggest contribution the organization has made in the fight for legalizing online poker.
Miss anything this week? We've got you covered. Sarah Grant and Laura Cornelius get you caught up on the latest news, views and gossip in the PokerNews Weekly.

*Photo courtesy of csmonitor.com
Romney, Paul Talk Online Gaming
In an interview with 8 News Now in Las Vegas this week, Republican presidential candidate Mitt Romney made it clear that he does not support the idea of online gambling in the United States.
Romney, who is visiting Nevada ahead of this weekend's state caucus, said he's opposed to online gaming because of the "social costs and people's addictive gambling habits."
Last October, Romney vowed he would take a serious look into online gambling, telling the Las Vegas Sun that he would have his mind made up on the issue before the caucuses came around.
Romney's view opposes that of rival candidate Ron Paul, who told Face to Face's Jim Ralston this week that "people should be free and they should make their own decisions and there should be no regulation of the Internet." Paul has long been a supporter of the right to gamble online, a position that should help him in the Nevada caucuses.
For an in-depth look Romney and Paul's views, check out Jen Newell's piece at EpicPoker.com.
Florida Casino Bill Withdrawn
An effort to build three Las Vegas-style casinos in Florida was put on hold Friday as a bill that could have brought 100,000 jobs to the state was withdrawn by its sponsor. Miami Republican Representative Erik Fresen asked that the bill be withdrawn from consideration by the House Business and Consumer Affairs Subcommittee panel.
Now, because the Florida House of Representatives prohibits the chamber from taking further action on a bill that has failed to pass at least one committee, the measure will have to wait at least a year before it can be revisited.
Most affected by the news was Malaysia-Based developer Genting Group, which paid $236 million in cash for the Miami Herald building last year and had since acquired the surrounding property to use as the site for its $3.8 billion Resorts World Miami. The developer planned to build 5,200 hotel rooms and projected to raise gaming revenues that would equal the Las Vegas Strip.
"Resorts World Miami remains committed to the vision of world-class destination resorts in South Florida, and will continue to work with the state Legislature and the South Florida community to bring this vision into a reality," said a statement issued by Genting on Friday.
The Las Vegas Review-Journal has more.
Double Vision Sunday Returns
After the immense success of the inaugural Turbo Championship of Online Poker in January, PokerStars has announced another reason for tournament grinders to get excited this month. The world's leading poker room will be bringing back Double Vision Sunday on Feb. 12, meaning four of the biggest Sunday majors will run twice on the same day.
The tournaments will run at their regular starting time with the same weekly guarantee, but an identical event will begin 30 minutes later. The first Double Vision Sunday last October featured only the Sunday Million and Sunday Warmup, but the latest version will also include the Sunday Kickoff and the Sunday Storm. Here's a look at the Double Vision Sunday lineup:
| Event | Time (EST) | Guarantee |
| --- | --- | --- |
| Sunday Kickoff | 08:00 and 08:30 | $75,000 |
| Sunday Warmup | 11:00 and 11:30 | $500,000 |
| Sunday Storm | 13:00 and 13:30 | $200,000 |
| Sunday Million | 14:00 and 14:30 | $1,000,000 |
As usual, PokerStars will be running satellites to each event, so don't miss out on the bigger and better PokerStars Double Vision Sunday.
For more information, visit the PokerStars Blog.
NASCAR Hosting Charity Poker Tournament
On Wednesday, Feb. 22, NASCAR Foundation Chairwoman Betty Jane France and former NASCAR great Rusty Wallace will host a charity poker tournament called High Speed Hold'em on the Halifax in Daytona Beach, Fla. The invitation-only event will pit race car drivers, celebrities, poker pros each other in a $500 buy-in Texas hold'em tournament, with proceeds benefiting The NASCAR Foundation and Speediatrics.
Each of the 22 tables at the event will seat at least one celebrity or professional poker player. Among the notables already confirmed include former NASCAR driver Dale Jarrett and former NBA All-Star Brad Daughtery, who is now a NASCAR analyst on Showtime's NASCAR Now. The grand prize for the charity tournament is an entry into a $1,500 Epic Poker Pro/Am event.
"I am so pleased to play my part in this inaugural tournament to support The NASCAR Foundation's Speediatrics Program," said Annie Duke, who will serve as the tournament director of the event. "I'm looking forward to throttling up the action with Betty Jane and Rusty as we raise funds for this great cause."
For more info, visit the NASCAR Foundation's website.
Guess This Famous Face
PokerStars SportStar Fatima Moreira de Melo is in Deauville, France, for the European Poker Tour. Laura Cornelius put her to the test to see how many famous French people she could guess in 90 seconds.
Follow PokerNews on Twitter for up-to-the-minute news.