PokerNews Jet Set: Campione, Italy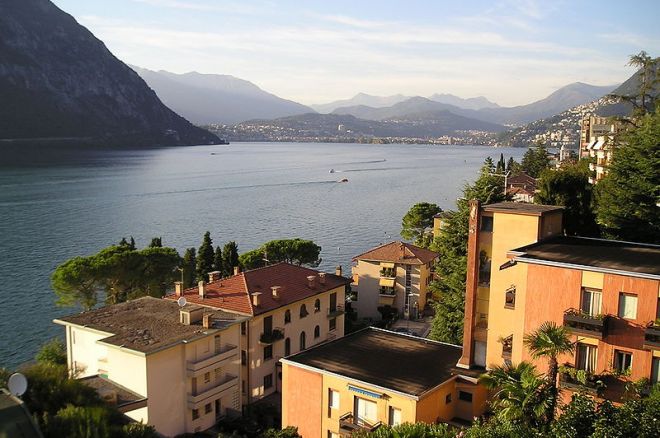 The newest addition to the PokerStars.it European Poker Tour is Campione, a tiny Italian municipality located within Switzerland on the edge of Lake Lugano, just 1 kilometer from the Italian border. For quite some time, Campione has been known as a European poker hot-spot, hosting a number of major poker tournaments. On March 26, it will add the PokerStars EPT to that list.
The Basics

Language: Italian
Currency: Swiss Franc (CHF) 1 USD = .89 CHF. The Euro is widely accepted. Please visit xe.com for current rates.
Weather: Mild, around the mid 50s.
Time: Central European Time zone.
Banks: Most are open 8am - 2pm, Monday through Saturday.
Visas: Europeans do not need a visa to visit Italy; North Americans and Australians can visit Italy without a visa for up to 90 days. Other citizens should consult their travel agent or nearest Italian embassy.
Legal Gaming Age: 18 years and over
The EPT
Casino di Campione is the largest casino in Europe. It opened in 1933 but has since moved to a newer, modern building. Casino di Campione has became one of the territory's major landmarks, as well as its biggest employer, considering Campione only has a population of just over 2,000 people, all living in less than one square mile.
Casino di Campione

Piazzale Milano 2
22060
Campione d'Italia

Tel No: 0041.91.640.1111
Dress code: No sportswear, shorts or ripped jeans. Sneaker/trainers accepted. Poker players may wear sunglasses and caps only inside tournament area, not in the main casino. Jackets are required in the main casino, but not in the poker area.
Getting There
The easiest way to access Campione is by flying into Milan, which hosts direct flights from most European capital cities and many international cities. Milan has two airports, Malpensa Airport, which is a 50-minute drive from Campione, and Linate Airport, a two-hour drive away. Alternatively, flying into Agno Airport in Lugano will leave you with just a 20-minute drive to Campione.
Taxis and private cars are widely available for the journey to Campione, but of course they come at quite a cost. According to the Casino's website, the local bus service, F.N.M.A, runs every day from Milan (Piazza Cadorna, corner Via Paleocapa) at 3 p.m. and 8:30 p.m. It then returns from Campione to Milan at 7 p.m. and 12:30 a.m. every day. This journey takes approximately 70 minutes.
If you decide to hire a car to drive to Campione, remember that a special coupon must be displayed on all cars when driving on Swiss motorways. This coupon is available at Swiss Customs posts and petrol stations.
Last, the train is always available to venture around Europe. Visit SBB to search for your itinerary.
Off the Felt
Campione's positioning on Lake Lugano offers the natural pleasure of a stunning view. If you find yourself looking for more to do outside Europe's largest casino, then exploring the nearby Swiss town of Lugano is a must. It's 15-minute drive away, on the other side of the lake.
Societa Navigazione del Lago di Lugano offers boat tours around Lake Lugano, which is a great way to visit some of the nearby towns.
Parco Civico ("City Park") in Lugano is said to be one of the greatest parks in Switzerland, with the carefully kept landscape decorated by wildlife, it's the perfect place to soak up some Vitamin D and stretch your legs while off the felt. It's probably not warm enough at this time of year to take a swim, but there are plenty of cafes around for you to daydream the morning away over breakfast.
For a spectacular view over the lake and surrounding mountains, take a trip up Monte San Salvatore. If you're not brave enough to tackle the mountain on foot, you can ride the "funiculaire" (uphill train) to the top for roughly 25 CHF with a return ticket.
For a peek of the stunning 360 degree view, check out this video:
As quoted by the owner of the video, "You need to have been up there in person, if you want to get an idea of its greatness and magnificence, and then that moment will become one of the most beautiful and unforgettable experiences in your whole life." — C. C. Lorenz Hirschfeld.
Do you have a sweet tooth? Then head over to Museo del Cioccolato Alprose for an indulgent splurge into everyone's favorite cocoa treat, along with a chocolate-coated history lesson, all from inside the factory of the largest chocolate-manufacturing company in Switzerland. Your friends and family will surely be hoping for a take-home sample from a country famous for its chocolate, so this is the perfect place to pick up some souvenirs.
Last, with Campione being an Italian town, there's no shortage of incredible meals that are all worth every extra pound gained. While in Lugano, however, drop into Bottegone del Vino, a favorite for the locals with a menu that changes daily, written beautifully in chalk on the wall. Don't arrive starving, though. The restaurant is quite small, yet exceptionally busy and doesn't take reservations, so be prepared to wait for your table. The wait time is the perfect opportunity to stand at the bar and sample some local wines.
Download | EPT Tournament Structure | EPT Tournament Rules
The PokerNews Live Reporting team will be on hand in Campione to deliver all of the EPT action. Whether you're there with us, or railing from afar, follow @PokerNews_Live on Twitter so we can keep you updated!