PokerNews Jet Set: Deauville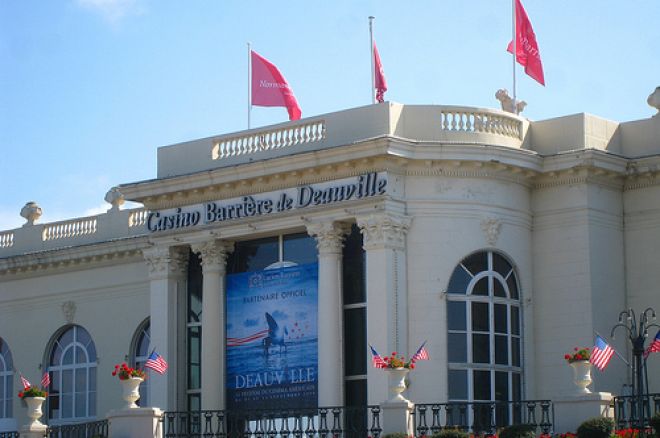 With its reputation for attracting Europe's high-stakes gamblers since the early 1900s, France's seaside town of Deauville is the ultimate destination for the PokerStars European Poker Tour. A simple walk through the glamorous streets of Deauville will have you falling in love with the elegance and architecture. The city also includes one of the most stunning casinos in all of Europe, Casino Barriere de Deauville, home of the EPT Deauville.
The Vitals
Official language: French
Currency: Euro (1 EUR = 1.3 USD). Please check xe.com for current conversions.
Weather: Cold. January has an average high of 7°C (45°F)
Banks: Most banks are open 10 a.m. to 1 p.m., and 3 p.m. to 5 p.m., Tuesday through Saturday.
Visas: Europeans do not need a visa to visit France. North Americans and Australians can stay for 90 days. All other citizens should consult the travel agent or nearest embassy.
Getting There
If you're traveling from London, you can now fly directly to Deauville thanks to CityJet's new, direct route from London City airport; however, flights only take off twice a week on Friday and Sunday. The small airport in Deauville also caters to flights from Marrakech, Athens, Crete, Funchal and Palma.
Deauville is 200 km (124 miles) from Paris, making it an easy, two-hour journey by car or train. Check out the train timetable, or if you would prefer to rent a car, Deauvile's official tourism site has the the driving directions from Paris to Deauville, and how much tolls will run.
Things to Do
From beaches to farmland, seafood to cheese, kite-surfing to horse-riding, fashion to polo, there's so much to do, see, and eat in Deauville. And since it's the town where Coco Chanel launched her career, and it's the home of Yves Saint Larent, it's all done with class.
Because EPT Deauville is being held during the winter, it's the perfect time to appreciate all that Deauville has to offer in total peace, without the rush of the "high life" that comes in the summer months. Even though the town, known for its beach-side resorts, may not have a coast lined with tanned bodies and beach huts, a stroll along the signature boardwalk, while bundled up in your coat, is perfect enough.
Promenade des Planches
The true symbol of Deauville is the huge seafront promenade, which was built in 1923. The Azobe wood walkway was built so that ladies could stroll along the beach without ruining their dresses in the sand or ocean. Translating to the "walk of boards," today it's like France's own version of Hollywood's Walk of Fame.
Casino Barriere de Deauville
Built in 1912 on the grounds of the old 1864 casino, the stunning Casino Barrière de Deauville is once again the host venue of the EPT. This world-class casino has all you need in terms of gaming, as well as three restaurants, two bars, and a nightclub.
Hippodrome de Deauville-la Toques
The countryside around Deauville is France's main horse-breeding region, and home to numerous stud farms. You won't want to miss the chance to rub shoulders with the cream of the European racing elite at the fancy Hippodrome de Deauville-la Toques racetrack. It's a perfect way to spend a day in Deauville.
D-Day Beaches
For those of you interested in history, Deauville is near the D-Day landing beaches from the World War II battles on French soil. Although the D-Day museum in nearby Caen only operates during the summer, you can still take a walk around to soak up the history.
Day Trip
If you'd like to explore further than Deauville, the Normandy seaside resort of Le Touquet and the romantic port of Honfleur are both easily reached by car. Honfluer is a half-hour drive from Deauville, and Le Touquet is two hours southwest, along the coast.
To see exactly how gorgeous Deauville is, check out Sarah Grant's guided tour from last season's EPT stop.
If you are thinking about heading to PokerStars EPT Deauville, be sure to refer to the PokerStars website for the EPT Tournament Structure and EPT Tournament Rules before registering, and don't forget to follow @PokerNews_Live on Twitter for all the updates.