PokerNews Jet Set: San Remo, Italy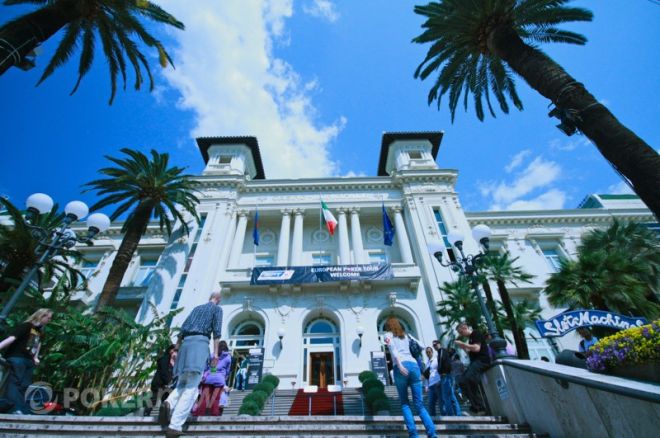 As the London stop of the PokerStars European Poker Tour comes to an end, we are preparing for the next stop in Italy's gorgeous City of Flowers, San Remo, known locally as Sanremo. In its earlier days, San Remo was known as a resort for Europe's most prestigious tourists who graced the harbor of the Mediterranean coastal town. On Oct. 21, approximately 1,000 poker-playing hopefuls will arrive, each taking a €4,900 seat inside Casino Sanremo, where, last year, Rupert Elder was awarded €930,000 for his victory. If you're going to be one of these hopefuls, read on.
The Vitals
Official language: Italian
Currency: USD $1 = Euro €0.75
International dialling code: +39
Weather: October is the middle of the European autumn, and San Remo averages a perfect 70°F (21°C)
Getting There and Around
The closest airport is in Nice, France, approximately 65 km from San Remo. You can easily get a bus to San Remo, a trip that takes approximately one hour and costs €27 for a return ticket. This is the ideal option because a taxi from Nice will set you back over €200.
San Remo has more scooters per capita than anywhere else in Italy — and Italy has quite a few scooters. If you're brave enough to ride one yourself, let alone walk across the street, then it's certainly the best way to get around and finding a place to rent them is as easy as finding a taxi.
Built in grand Art-Nouveau style at the turn of the 20th century, the Casino San Remo is situated right in the city center and will be the home to the EPT from Oct. 21 through 27, 2011.
Did you know?
San Remo is also widely accepted as the birthplace of the five-card stud variation "Telesina." It is dealt like normal five-card stud but with an additional final round in which a sixth community card is dealt. The game is played with a stripped deck (8s and better) and flushes beat full houses. (Source: PokerStars)
"When in San Remo"
It's no Rome, but there is still so much to appreciate in San Remo. When you've got a day off from the grind, La Pigna is the place to be with your camera. Throughout the winding passageways of the small quarter, you'll find the Russian Orthodox Church, the Romanesque-Gothic Cathedral of San Siro, the Borea d'Olmo Ducal Palace, the Villa Nobel and the Villa Ormond with a stunning botanical garden, all within the narrow streets of this medieval old town. Then, climb the hill to the Madonna della Costa Sanctuary for breathtaking views of the city and ocean.
If you find yourself busto early in the Main Event, let the wind blow away your stress with a scooter ride along the coast and up into the hinterland for a day of exploration, particularly Bussana Vecchia, about 10 km northeast of San Remo. This is Lonely Planet's No. 1 pick for things to do in this city. After being torn down by an earthquake in the 1800s, it was rebuilt in the '60s by artists who took over the region, making it a thriving and world-renowned community of international artists. San Remo was once the home of Monet, so it's easy to see why this region of the world has such an artistic culture.
As soon as you enter Italy, no matter where you go, you will probably have the best pasta you've ever had in your life. Forget about your low-carb diet, this is the time to indulge in as much pasta, pizza, cheese and red wine that you can handle, and you can do this at any of the many restaurants around town, but particularly along the harbor where you'll find some of the freshest seafood to devour along Porto Vecchio while watching the sun set over the Mediterranean.
For a taste of local culture and a great place to pick up presents for your loved ones back at home, hit the open-air markets on any Tuesday or Saturday at the Piazza Eroi Sanremesi for all sorts of local produce, meats, cheeses, leather, and clothing.
Of course, you don't have to just read about it, watch Laura Cornelius give her guided tour of the City of Flowers from last season:
The PokerNews Live Reporting Team will be on hand throughout the PokerStars European Poker Tour, bringing you live updates as they happen, direct from the tournament floor. Follow @PokerNews_Live for updates direct to your Twitter.