PokerNews Jet Set: Prague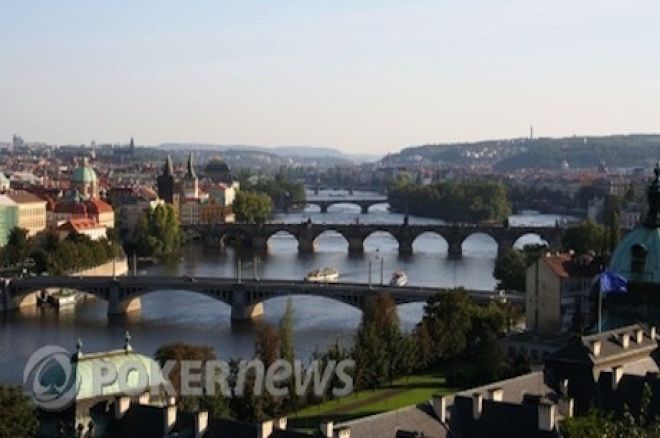 As we creep closer to Christmas, the PokerStars.net European Poker Tour gives us a guilt-free excuse to spend the winter in a city known for celebrating Christmas in style. This will be the fifth time the EPT is held in Prague, solidifying it as one of the staple stops on the world's largest poker tour.
Official language: Czech

Weather: There should be plenty of snow in December and the sun sets as early as 4 p.m.
Population: 1.2 million
Currency: Czech Koruna (1.00 USD = 19 CZK) Visit xe.com for current exchange rates.
International dialing codes: +420
Getting There
Prague is the capital of the land-locked Czech Republic, situated in the geographical heart of Europe. That of course means that travel by train is simple from wherever you may be in Europe. A website that was my savior while in this region was Seat 61 for all the information you need regarding European train travel.
There are direct flights from just about every European capital to Prague Ruzyne Airport. There are also some direct flights from North America; however, a larger selection and cheaper fares are usually available if you fly via London.
Once you arrive in Prague, the best way to get to your hotel is by taxi, which will take approximately 20 to 25 minutes and cost around 700 CZK if you're staying in the city center.
When booking your accommodation, make sure you check out the newly launched PokerNews Hotels where you can search for accommodation by specific poker tournaments. There are loads of recommended hotels to choose from, to suit any budget.
The Golden Prague Poker Room is the home to the PokerStars EPT, located inside the Hilton Casino, just a 15-minute walk from the heart of Prague's most beautiful attractions.
Getting Around
Prague is one of the most popular tourist destinations in Europe and is full of history and ancient architecture to admire. When you have some spare time away from the poker grind, you'll want to check out some, if not all of the attractions below.
Old Town Square
With its Astronomical Clock and famous hall, Old Town Square is a must for the top of your list of places to see while in Prague. As snow sprinkles over the Gothic spires and the sound of the clock chiming every hour, Prague's cityscape transforms into a Gothic winter wonderland. The square is the place to be at any time of the year, but during Christmas it's taken to a whole new level. You can see for yourself in the following PokerNews video with Gloria Balding from EPT Prague last season.
Charles Bridge
Ranked as the No. 1 thing to do in Prague and the No. 12 thing to do (out of more than 48,000) in all of Europe by Lonely Planet, a stroll across Charles Bridge is must-do when in town.
Given its popularity, heavy tourist traffic is unavoidable, but as one Lonely Planet reviewer described, "...all the bum bags and clicking cameras can't take away from the historic beauty of this span across the Vitava. With the medieval streets of Stare Mesto (Old Town) on one side and the sprawling Prague Castle district on the other, you feel like you've been transported to the Old World regardless."
Prague Castle
Holding a Guinness World Record of the largest ancient castle, Prague Castle, perched on a hilltop and full of history, is another one of the most popular sights to visit. While visiting, you can delve into stories of the past while catching a spectacular view of the entire city.
Coffee Time
When it's time to get your daily boost, or if you simply want to take a break from all the sightseeing and enjoy a nice slice of cake before you select one of the many cafes in downtown Prague, look up. Prague is known for its cafes, and the best ones that are populated by the locals are easily missed because they're hidden upstairs, inside many of the ancient spires offering stunning interiors, peaceful atmospheres, and, of course, delectable coffee.
If you are thinking about heading to the PokerStars EPT Prague, be sure to refer to the PokerStars website for the EPT Tournament Structure and EPT Tournament Rules before registering, and don't forget to follow @PokerNews_Live on Twitter for all the updates.