PokerNews Jet Set: Sao Paulo, Brazil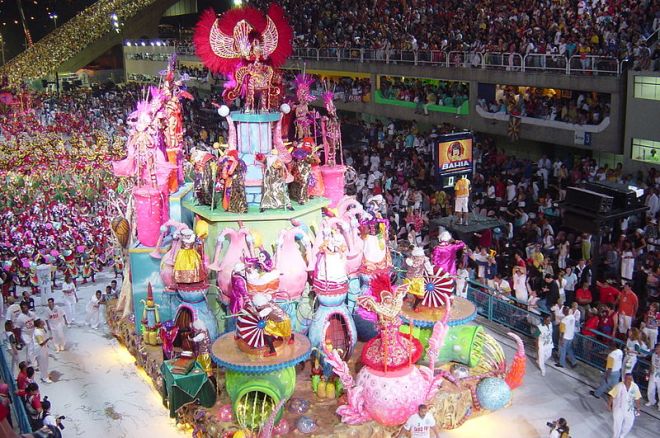 Next week, the PokerStars.net Latin American Poker Tour's fourth season will finish with a bang as the region's biggest poker tour clashes with the region's biggest festival. Sao Paulo, Brazil, will not only host the LAPT Grand Final that's set to attract hundreds of players, but also will host the world-famous Carnival, drawing hundreds of thousands of international partygoers. You couldn't ask for a better time to visit.
Last year, Sao Paulo hosted its first LAPT event, which attracted 536 poker players, filling out an endless sea of poker tables to kick off the LAPT's fourth season. Now, the same season ends in the same venue, exactly a year later.
Sao Paulo is the cultural and corporate capital of Brazil — a gigantic concrete jungle that could never allow a visitor to get bored. Countless museums and shops, incredible concerts, and wild nightclubs are at your disposal any day of the week.
The Vitals
Language: Portuguese
Climate: Average high is around 28°C (82°F) but beware of the daily 2 p.m. storms!
Currency: Brazilian Real. 1 BRL = 0.58 USD. Please visit XE.com for accurate rates.
Visa: U.S. citizens do need a visa, so do Australians and many other nationalities. Be sure to investigate before making your plans. It is possible to pay extra to speed up an application, however, with this being Carnival, the chances are slim.
Getting There and Around
Most international airlines fly to Sao Paulo, so getting there is easy. International flights arrive at Guarulhos Airport, located 30km (19 miles) northeast of the city. It is there that the discovery of the incredibly stunning Brazilian women begins. I was amazed by the immigration officers!
From the airport, you can then take a prepaid taxi to your destination. It's hard to find English-speaking locals, but the assistants at the taxi stand where you make your prepayment are all bilingual to get you sent on your way.
Sao Paulo is known to have some of the worst traffic in the entire world, and unfortunately I've experienced this first hand. Being such a busy city, getting anywhere by car can take a lot of time. When the PokerNews video team went sightseeing last year, it took us just 10 minutes to get into the city center.
But then on the way home?
Three painful, standstill, hours of being stuck inside a taxi in a gigantic storm with flooded roads that no one seemed to be bothered by. This life-tilting experience seemed to be just another day to local Sao Paulo residents, also known as Paulistanos. My advice is to have any sightseeing done in the morning and be back at your hotel or somewhere indoors by 2 p.m. for the "daily storm."
Samba, Samba, Samba!
Usually I would list a number of different activities or sights to see in the subject city, but not this time. This time, there is simply one task outside of poker that any LAPT player must accomplish, and that is to experience Carnival. This festival is most known to be held in Rio de Janeiro, but it's actually celebrated in almost every city throughout Brazil, and Sao Paulo hosts the second biggest party.
Last year, Paulistanos Felipe Ramos and Team PokerStars Pro Andre Akkari took the PokerNews team to Império de Casa Verde, a samba school that competes in this world-famous party, for a taste of some true Brazilian dancing. That was most definitely one of the most amazing experiences of my life. The atmosphere inside the venue was incredible. You can get a small taste of it in the following must-see video.
Compared to Rio de Janeiro, Sao Paulo has only a handful of street parties for Carnival, but it does throw a spectacular Rio-style parade in its own sambódromo. You can watch the samba schools parading on Friday and Saturday nights, and then most of the other Carnival action happens inside various bars and nightclubs, with costumed balls and special events. Click here for more details.
The LAPT
The PokerStars.net LAPT Grand Final poker festival will be held once again at the Sheraton WTC Sao Paulo, and will be followed by the Brasil Poker Tour (BPT) Grand Final.
If you were lucky enough to win a package on PokerStars, then five nights of accommodation will be included for you and one guest in a standard room from February 16 at the following hotel:
Sheraton WTC São Paulo

Av. das Nações Unidas, 12559, Brooklin Novo 

São Paulo, 04578-903
, Brazil

Tel: (55) 11 3055 8000


If you did not qualify online and are looking for accommodation nearby, then head to the LAPT Travel website for more information.
The PokerNews Live Reporting team will be on hand in Sao Paulo, Brazil to bring all of the LAPT Grand Final action. Follow @PokerNews_Live on Twitter so we can keep you posted!
*Photo courtesy of TheCampusSocialite.com