Rinat Bogdanov Wins 2012 World Poker Tour Venice Grand Prix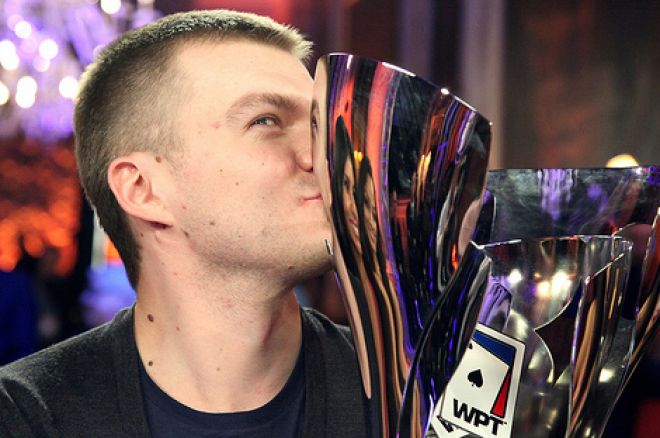 The World Poker Tour crowned a new champion Friday when Rinat Bogdanov won the 2012 WPT Venice Grand Prix. Bogdonov, a financial trader from Russia, outlasted a field of 155 players to claim the $302,065 top prize, which includes a seat to the WPT World Championship at the Bellagio in May.
Bogdonov entered the "unofficial" nine-handed final table as one of the short stacks, but dug out of a hole and was near the top of the leaderboard as the final table was reached Thursday night. The man he was chasing, Andrea Dato, secured his second straight seat at a WPT Venice final table and was the chip leader with nearly 1.6 million. Simon Ravnsbaek was second with 922,000, and Bodgonov was lurking with 907,000.
The televised final table kicked off at 1400 CET (0500 PST) on Friday as the final six prepared to play down to a winner. Andrea Carini began the day fifth in chips with 343,000 and wasn't able to gain any momentum during his first appearance on the big stage. His run ended less than two levels into the day when his A♦3♠ was unable to catch up to Dato's 8♣8♦ after all the chips went in preflop. Carini earned $42,319 for his five days of work.
The next player to hit the rail was Gianlucca Trebbi. After moving all-in several times and not getting any action, Trebbi pushed his chips in preflop again with 10♥7♥. This time, though, he found a caller in Alessandro Longobardi, who turned over J♦J♥. The Q♠10♣2♣3♠8♦ board spelled doom for Trebbi, who collected $56,134 for fifth place.
Bogdanov was quiet during the early stages of the final table, but he gained some steam with a timely double-up courtesy of Dato. According to the WPT Live Updates team, Dato raised to 60,000 on the button (blinds 15,000/30,000) and Bogdanov moved all-in for 515,000 from the big blind. Dato thought for less than a minute before deciding on a call, and the cards were revealed:
Bogdanov: Q♣9♦
Dato: 2♦2♣
Bogdanov was at risk of elimination, but the A♥5♦3♠3♣Q♥ board gave him the win on the river, increasing his stack to just over 1 million. Dato, meanwhile, had his stack carved down to 1,470,000, but he still had a slight lead over Longobardi for the chip lead.
Moments later, Ravnsbaek found himself at risk and in trouble against Bogdanov. Ravnsbaek moved all-in for about 15 big blinds with 2♥2♦ and Bogdanov called instantly with pocket tens. The board came up empty for Ravnsbaek, and he began his trek to the cashier to pick up a $69,095 paycheck.
Dato's reign over the table ended after a few ill-timed three-bets, which shifted the chip lead over to Longobardi. Then, after passing more chips back and forth with Longobardi, Dato shoved his short stack all-in preflop with K♠4♦. Bogdanov called with A♣K♦, and the A♥Q♥8♠3♥J♠ board sent Dato out the door in third place with $95,003. The result is a slight improvement over Dato's previous finish at WPT Venice in December, where he took fourth place for $56,822.
Dato's exit left Bogdanov and Longobardi dueling for the title, and it didn't last long. After scooping a small pot on the first hand, Bogdonov got the rest of his opponent's chips on the second hand. With the blinds at 40,000/80,000, Longobardi raised to 200,000 with K♥Q♦ and Bogdanov called with 6♣4♣. The dealer revealed a flop of Q♥7♦4♦ and Bogdanov check-called a bet of 60,000. The 6♠ fell on the turn and Bogdanov check-called again, this time a bet worth 240,000. The 4♠ river gave Bogdanov a full house and he slyly checked again, which prompted Longobardi to fire 300,000 into the pot. Bogdanov moved all-in, and Longobardi checked his cards one last time before making the call with his two pair.
Bogdanov revealed his monster hand and Longobardi stood up from his seat to shake hands with the new WPT champ. Longobardi earned $146,826 for his runner-up finish, while Bogdanov collected $302,065, the largest score of his career.
WPT Venice Grand Prix Final Table Results
| Place | Player | Prize |
| --- | --- | --- |
| 1 | Rinat Bogdanov | $302,065 |
| 2 | Alessandro Longobardi | $146,826 |
| 3 | Andrea Dato | $95,003 |
| 4 | Simon Ravnsbaek | $69,095 |
| 5 | Gianluca Trebbi | $56,134 |
| 6 | Andrea Carini | $42,319 |
For more on the WPT Venice Grand Prix, be sure to visit the PartyPoker Blog to see what Tony G and Mike Sexton have to say from the Casino Di Venezia.
Get all the latest PokerNews updates on your social media outlets. Follow us on Twitter and like us on Facebook today!
*Photo courtesy of the World Poker Tour.