Black Friday Chronicles: Maria Ho Believes "We'll See the Return of Online Poker"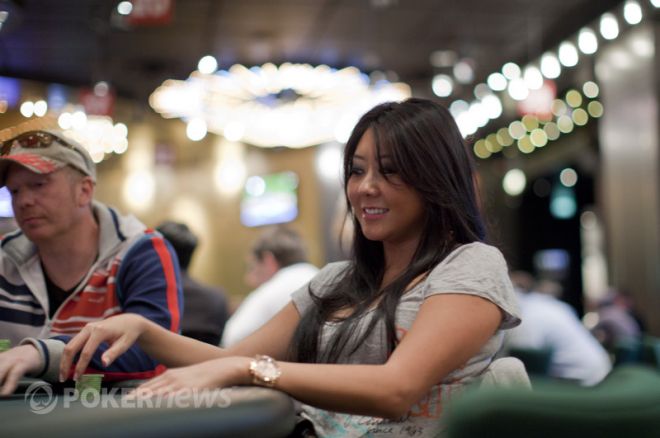 It's been just over a year since Black Friday shocked the poker world with indictments against Full Tilt Poker, PokerStars, Absolute and UltimateBet. In the immediate aftermath, questions abounded among players and pros alike. No one seemed to know what was going on, and time would be the only thing that would shed light on the situation.
One woman who waited for answers along with the masses was Maria Ho, who had become a sponsored pro of UB just six months earlier. In regard to her future with the site, it took less than a month to learn that UB and Absolute would be filing for bankruptcy and that the team of pros would be laid off. That meant Ho would join Joe Sebok, Prahlad Friedman, Eric "Basebaldy" Baldwin, Brandon Cantu, Tiffany Michelle, Scott Ian, "Hollywood" Dave Stann, Adam "Roothlus" Levy, Bryan Devonshire and Trishelle Cannatella on the unemployment line, at least as far as being a sponsored pro was concerned.
From there, Ho opted to relocate to Vancouver to continue playing online while also giving a fair shake to live play. It proved a fruitful decision as she was able to notch some impressive scores such as finishing second in the $5,000 No-Limit Hold'em Event at the 2011 World Series of Poker for $540,020 and a 27th-place finish in the 2011 WSOP Europe Main Event for $42,748.
We caught up with Ho recently to get her thoughts about Black Friday and how her life has changed one year removed.
What's the biggest change in your life as a result of Black Friday?
The biggest change has been refocusing and redirecting more of my game and time back toward the live arena, which luckily for me is where I got my start in poker anyway, so I still feel very comfortable playing in that environment. Throughout my career, I managed to balance playing online a good amount while traveling the live circuit, as well, but there is nothing quite like being able to wake up, hop on my computer and get in a quick, convenient, and profitable session, and then go about the rest of my day.
Do you think online poker will be legalized and regulated in the States anytime soon?
I think there continue to be strides and attempts being made to further the legalization of online poker. All you can do is remain hopeful that we will see a change and that a government founded on protecting our freedoms can be convinced that online poker if regulated is not the enemy. It's a very frustrating process though because it feels like one step forward, three steps back.
Do you think there will be a deal made for acquisition of FTP and that players will get their money back?
It seems like there has continued to be some progress on that front although it has been small strides and slow-going at times but one can remain hopeful about the outcome. However, fairly quickly after Black Friday, I mentally prepared myself to consider the money I had on FTP as a loss, so If we do get it back, it'll be like a nice bonus but definitely not expected.
Has the FTP altered your trust in online poker sites?
It was a little bit disconcerting to find out how the inner workings of such a big site such as FTP handled our money, and it was a bit of a rude awakening to realize that going forward there has to be a bit more caution not only in what sites we can feel comfortable playing on but what sites we trust with our money. I relocated to Vancouver a few months after Black Friday, and to this day I only primarily play and feel comfortable with leaving any substantial amount of money on PokerStars.
You moved to continue playing online poker. Can you tell us about that decision?
Before Black Friday, I spent a good amount of time in Vancouver and I love the city. So when Black Friday happened, I looked at it as a chance to get out of Vegas and L.A., which was actually very appealing to me, so I came to the decision to relocate fairly quickly. Although all the steps I had to take such as finding a place, getting a new bank account, transferring my bills/mail, moving in, reinstating my account etc., was definitely a bit of a process.
Can you tell us what the games are like without U.S. players?
There were definitely a significant number of great online poker pros who for whatever reason have been unable to relocate or continue playing online since Black Friday that made the games tougher, but we also lost the large number of recreational and amateur players from the U.S., which accounted for a considerable number of the players who played online. This has led to a decrease in the guarantees that sites put on tournaments and in some ways have made online fields a bit more saturated with other great players from around the world. I would say overall it is getting harder and harder to beat online poker since the learning curve for someone trying to do well in the game is so much faster.
What has been the biggest surprise to you over the past year related to Black Friday?
I think the biggest surprise to me is that a lot of the live tournaments that drew a substantial number of entrants from online satellite winners, specifically the World Series of Poker Main Event, did not seem to be negatively affected by the lack of opportunities for people to qualify online. In fact, it was quite the opposite and the WSOP last summer actually saw an overall increase in attendance throughout the entire series. There was definitely a lot of speculation as to whether or not events like that would be affected heavily by Black Friday and it was reassuring for me as a poker pro to see that the marquee poker event in the world was still thriving.
You were a sponsored pro with UB before Black Friday. What was it like losing that opportunity? Likewise, did people look to you for answers at all?
Fortunately, I hadn't been with the site that long to feel much of a "loss." I also made it a point when I first got signed to make sure I didn't rely too heavily on that income because it was still extremely important to me to maintain my independence as a poker player first. I think it's easy for some people to sit back and depend on a salary, but I wanted to continue to be a successful poker player in my own right and not just because someone was paying me to be their ambassador.
As far as people looking to me for answers, luckily I was only with them for such a short amount of time before Black Friday happened so there wasn't much time for me to become heavily branded with the site; therefore, I didn't really notice anyone "looking to me" for answers and explanations compared to some of the other players who had a much longer and stronger association with the site.
What are your thoughts on poker as a whole at this point in time?
It definitely has been a tough adjustment and we've seen it affect the game on so many levels between jobs, endorsement deals, TV programming, and people's livelihoods even those who don't necessarily play the gave for a living. Everything that has happened has been unfortunate for the growth of poker in America and in some ways on a larger scale, especially in terms of mainstream perception, but I think all we can do is ride it out and be optimistic that things will turn around soon, and that online poker will be back, bigger, better and more trustworthy.
So you think that online poker can comeback from Black Friday?
Definitely. And hopefully with big companies like Harrah's that are positioning themselves to launch their own real-money online poker sites we'll see the return of online poker conducted with more security and honesty the next time around.
Stay up to date on all the latest news by following us on Twitter and liking us on Facebook.