The Nightly Turbo: Boyd Gaming's Big Purchase, UKIPT Dublin Under Way, and More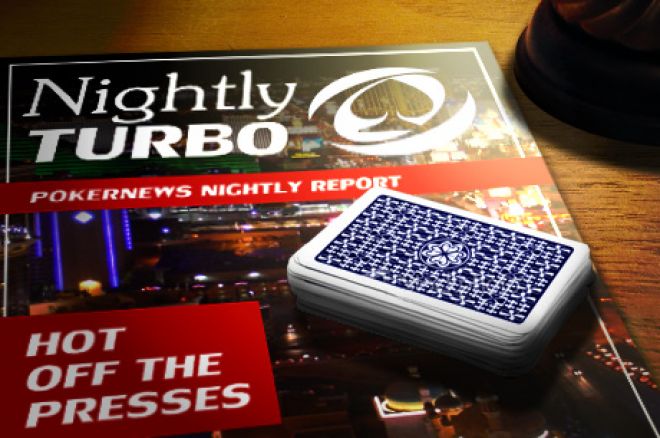 Too busy to track the day's biggest poker news stories? That's what we're here for. In this edition of the Nightly Turbo, we're bringing you a major purchase by a top casino operator, the start of the PokerStars UKIPT Dublin Main Event, and more.
In Case You Missed It
Which young guns should you be looking out for at the 2012 World Series of Poker? We're here to tell you. In the first edition of the 2012 WSOP Rookie Roundup, PokerNews showcases 21-year-old Ami Barer.
The high-stakes ring game action has been explosive on PokerStars this year. Chad Holloway takes a look at the 10 biggest hands since the start of the year.
Bertrand Grospellier maintained the top spot in the Global Poker Index this week. Which player crept into the top five? Mickey Doft breaks down the GPI rankings.
What should players be doing to prepare for the World Series of Poker? Poker pro Daryll Fish joined the Strategy with Kristy podcast to discuss his mindset going into each event.
Shawn "buck21" Buchanan is the latest poker pro to join the list of 2012 SCOOP champions. Martin Harris and Mickey Doft break down Wednesday's action in the Day 11 SCOOP recap.
The Micros returned in print form this week. Get the latest hilarious web comic over at The Muck.
Boyd Gaming Buys a Rival
On Wednesday, Boyd Gaming announced it entered into an agreement to acquire fellow casino operator Peninsula Gaming LLC for $745 million. The deal will also include a refinancing price of $700 million of Peninsula's existing debt.
Boyd says it has obtained committed financing for the entire transaction. The company is taking out a $1.2 billion loan, part of which will be used to refinance Peninsula's $700 million debt, as well as pay cash to Peninsula investors and for other transaction fees.
The deal will expand Boyd's operations in the Midwest and Louisiana with five new casinos — Kansas Star, Diamond Jo, Diamond Jo Worth, Evangeline Downs and Amelia Belle. At present, the company owns 16 casinos across Nevada, Illinois, Louisiana, Mississippi, Indiana and New Jersey.
"Acquiring Peninsula Gaming is a transformative transaction that fits perfectly into our growth strategy by expanding our Company's scale, diversifying our platform, strengthening our financial profile, and generating meaningful value for our shareholders," said Keith Smith, president and CEO of Boyd Gaming.
"The Peninsula properties are a strong fit for us, as they are well-managed and operate in resilient markets in the Midwest and South. We anticipate this transaction will be immediately accretive to earnings and significantly increase our free cash flow."
Read more at SacBee.com.
UKIPT Dublin Under Way
One of the most popular stops on the PokerStars UK & Ireland Poker Tour (UKIPT) kicked off on Thursday. The €700+€70 buy-in UKIPT Dublin Main Event got under way at the CityWest Hotel with the first of Day 1 flights on the schedule.
Last year's event attracted 718 players to generate a prize pool of €348,230. Joeri Zandvliet collected €83,500 after besting final table that included Max Silver, who won the same event in 2010. Silver took fourth last year and is seeking his third straight final table in this year's event.
Among the notables taking part in Thursday's Day 1a were Silver, Ross and Barny Boatman, Jude Ainsworth, Surinder Sunar, Sam Razavi and Simon Trumper.
We'll be providing daily updates of the UKIPT Dublin Main Event right here in the Nightly Turbo. For live updates from the Main Event, visit the PokerStars Blog.
PokerStars Macau Date Change
PokerStars Macau has made a slight change to the schedule for the upcoming quartet of events at the Grand Waldo Entertainment Complex. The Macau Poker Cup originally scheduled for July 28 through Aug. 6 will now take place from Aug. 11 through 20, so be sure to mark those dates on your calendars if you plan to participate.
The first Red Dragon series will kick off on June 9, highlighted by an HDK$11,000 Red Dragon Main Event. The Grand Waldo Entertainment Complex will also play host to the Macau Poker Cup Championship and the Asia Championship of Poker.
PokerStars Macau Schedule

| Date | Event | Buy-in (HKD) |
| --- | --- | --- |
| June 9-18 | Red Dragon Main Event | $11,000 ($3,000,000 Guarantee) |
| Aug. 11-20 | Red Dragon Main Event | $11,000 ($3,000,000 Guarantee) |
| Sept. 7-16 | Macau Poker Cup Championship | $20,000 ($4,500,000 Guarantee) |
| Oct. 26-Nov. 11 | Asia Championship of Poker | $100,000 ($10,000,000 Guarantee) |
For more information, check out PokerStarsMacau.com. http://www.pokerstarsmacau.com/tournaments/macau-cup/
New Social Gaming Experience on Facebook
Looking for a new game to play against your friends on Facebook? RocketFrog has introduced a series of multiplayer tournaments for poker, blackjack and slots in which you can compete against friends for prizes.
Users can participate in poker, blackjack and slot tournaments every day with small fields (80 to 300 players) and lightning fast levels (2 to 5 minutes). A different advertiser each day will guarantee players a variety of prizes ranging from movie tickets, music, food and more.
"We've created social tournaments where players can interact and compete to win real prizes against their friends; not just leaderboard points or status increases," said RocketFrog co-founder and CEO Brett Calapp. "There's no better place to do that than Facebook because that's where your friends are at online. Who doesn't like beating their friends and winning a prize?"
To learn more about the games visit rocket-frog.com.
"This is Sick!"
It's no secret that Chris "ImDaNuts" Oliver is one of the more aggressive no-limit hold'em players around (remember his six-bet with
at the 2011 PCA?). So when Oliver pulled another creative move from his arsenal during the final table of SCOOP Event 21-H this week, Denmark's "ministerborg" fought back. Here's a look at the insane preflop action, courtesy of PokerStars.tv.
As it turned out, "ministerborg" defeated Oliver heads-up for the title and more than $344,000. If you haven't been watching any of these high-stakes SCOOP events, you've been missing out.
Follow PokerNews on Twitter for up-to-the-minute news.