The Weekly Turbo: New WSOP Bracelets, World Poker Tour Season XI Schedule, and More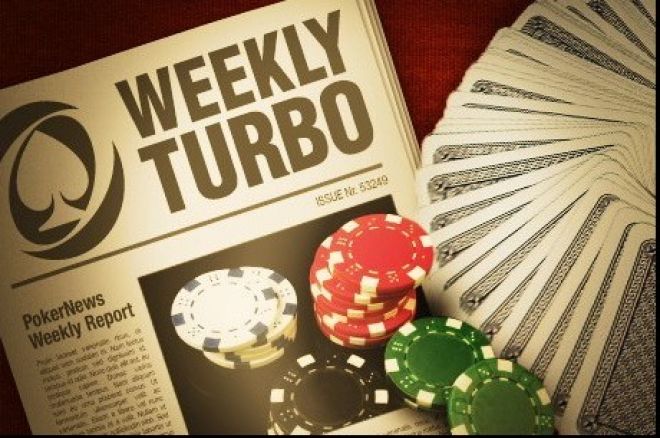 Did you miss any of the top poker news stories this week? Well you've come to the right place to get caught up. We're covering the new-look bracelets at the World Series of Poker, the Season XI schedule on the World Poker Tour, and more.
Poker Tournaments
Get Ready for Season XI
The World Poker Tour unveiled the first part of its Season XI schedule on Wednesday. In addition to nearly a dozen stops in the regular WPT slate so far, there will be at least 13 tournaments on the WPT Regional and National schedule around the world.
Season XI kicks off in Cyprus on Aug. 4 for the WPT Merit Cyprus Classic. The tour will then make stops in Pennsylvania, California, Paris, Malta, and many other destinations in the U.S. and Europe. The 11 Main Events on the schedule thus far feature buy-ins ranging from $3,500 to $10,300.
The WPT Championship kicked off at Bellagio this weekend. The season X finale features a $25,500 Main Event plus the $100,000 re-entry WPT Super High Roller, both of which will be televised by Fox Sports Net. Stay tuned to PokerNews.com for results for both events.
For more information on the Season XI schedule, read the article here at PokerNews.com.
New WSOP Bling
The World Series of Poker has unveiled the new gold bracelets that will be awarded to each winner at this year's WSOP and WSOP Europe.
Celebrity jeweler Jason Arasheben, also known as "Jason of Beverly Hills," was selected to design this year's gold bracelets. Each piece features a collection of round cut diamonds while the four card suits will feature rubies and black diamonds. The bracelet features over 160 grams of 14 karat gold and over 35 carats of flawless diamonds.
Arasheben has designed championship rings for the Los Angeles Lakers, plus custom jewelry for celebs like Rihanna, Justin Bieber, LeBron James, Dwyane Wade and Matt Kemp.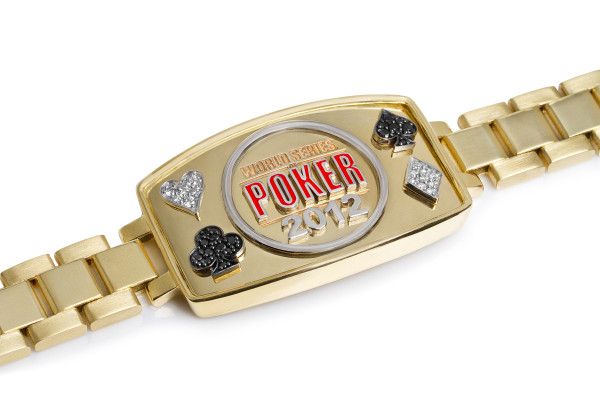 "Blinger is Better," said WSOP Executive Director Ty Stewart. "Jason grasped the heritage of WSOP bracelets, but was only interested if he could take it up several notches. This is a trophy that truly embodies the promise of today's WSOP — seemingly unthinkable dreams are dealt each year. I challenge anyone to keep a poker face when they see this bracelet in person."
Poker Business
TwoPlusTwo Returns
Last Saturday, the nightmare ended for forum fanatics when TwoPlusTwo went back online after a two-week hiatus. The site was shut down to address the security breach that took place on April 26.
In an interview with the TwoPlusTwo Pokercast last week, owner Mason Malmuth said that he had no choice but to shut down the forum immediately upon learning that a hacker had infiltrated the site. Malmuth added that the necessary precautions had to be made before he could allow members to return.
TwoPlusTwo users were met with the following message when the site went back online:
Welcome Back! As most of you know, we had a problem that meant the forums had to be taken down for a little over two weeks. In order to log into the forums you must reset your password. To do this - enter the e-mail address for your forum account into the Password Recovery Form and then follow the instructions that are mailed to you.
Let the trolling and photoshopping recommence!
Cleveland Rocks
Ohio's first casino opened in Cleveland on Monday morning, nearly three years after voters approved the project by a 53 percent vote. The $350 million Horseshoe Casino Cleveland features a 30-table World Series of Poker-branded poker room which is expected to host a WSOP Circuit stop in the near future.
Caesars and Rock Ohio began developing the Horseshoe as a joint venture after Ohio voted to allow casinos in 2009. The casino will have 100,000 square feet of gaming floor to hold 2,100 slot machines, 63 table games, and the poker room. The casino is expected to employ about 1,600 people.
Horseshoe Casino Cleveland, developed by Cleveland Cavaliers owner Dan Gilbert, is the first of four casinos launching in the state by the end of next year. Toledo is launching the Hollywood Casino next week, and Cincinnati and Columbus set to open casinos by next year.
Read more at Gaming Today.
Mizrachi Signs Extension with Breeders' Cup
DeepStacks Pro Michael "The Grinder" Mizrachi has renewed his contract with the Breeders' Cup through 2012. "The Grinder" will resume his role in helping to raise awareness of the Breeders' Cup within the poker community.
The two-time World Series of Poker and World Poker Tour champ will take part in the Breeders' Cup Betting Challenge and will actively encourage his fellow poker pros to participate in the $10,000 handicapping event. The Breeders' Cup will take place Nov. 2 through 3 at Santa Anita Park outside of Los Angeles.
"Partnering with the Breeders' Cup has been amazing" said Mizrachi. "I look forward to fine-tuning my handicapping skills as I prepare for the Breeders' Cup Betting Challenge. Check my Twitter and Facebook accounts for updates as I plan to visit a number of tracks throughout the summer."
As part of his deal last year, Mizrachi hosted the inaugural DeepStacks Poker Tour Breeders' Cup Celebrity Invitational, which attracted big names like Mike "The Mouth" Matusow, John Racener, David Williams and Karina Jett, as well as NBA players Brian Cardinal, Jermaine Taylor and Carl Landry. The second event will be held later this year.
Read more at Deepstacks.com.
Bwin.Party Gets Social
Social media is becoming the way of the Internet, and bwin.party isn't far away from getting in on the action. The company says it is close to launching a social gaming platform that will see the worlds of real money gaming and social gaming converge.
"Our strategy to enter the social gaming market is almost complete and we plan to host an analyst briefing to present our strategy later this month when we will provide further details on how we will enter this exciting new business segment," the company said in a statement this week.
"We believe that by leveraging our core assets, we can make a meaningful inroad into this fast growing and profitable market with relatively low levels of incremental investment."
Bwin.party co-CEO Jim Ryan sees significant potential in the social gaming market. He told PokerNews earlier this year that the company's main objective for growth is bringing more of a social appeal to the consumer base, which in turn would provide maximum entertainment value for customers.
"This represents a major opportunity for bwin.party and we have a number of initiatives already underway in this area that we expect to drive value for shareholders in the medium to long-term," the company said.
Read more at bwinparty.com.
Poker Legislation
Illinois Joins Online Poker Race
Illinois made history in March by becoming the first state to offer online lottery tickets on the Internet. Now, legislation has been introduced that could ultimately allow the state to offer other forms of online gambling like poker.
On Tuesday, Senate President John Cullerton proposed an amendment to a bill that would create the division of Internet Gaming within the Illinois Lottery. Illinois officials estimate the state would gain hundreds of millions of dollars in revenue under the new legislation.
Cullerton says that the bill has to be approved by May 31 to qualify under legislation pending in the U.S. Senate.
Cullerton's proposal comes nearly five months after the Department of Justice changed its position on the Wire Act of 1961. On Dec. 22, the DOJ released a response to Illinois and New York regarding the Wire Act's effect on intrastate sales of lottery tickets via the Internet. In the memo, the DOJ found that the Wire Act only applies to sports betting.
Reuters has more.
Live Poker in North Carolina?
North Carolina lawmakers have begun deliberating whether to allow live-dealer card games at the state's only brick-and-mortar casino.
State legislators this week approved a bill that would sanction the Harrah's Cherokee Casino to offer Vegas-style card games like poker and blackjack. The bill passed by a vote of 33-14 and will now be passed along to the House.
Per North Carolina law, live-dealer games are illegal everywhere in the state. Harrah's Cherokee only offers video machines, but the new legislation could bring up to 400 additional jobs to the Harrah's Cherokee Casino and Hotel. A percentage of the revenues from the casino would be sent to the North Carolina education department.
Read more at goerie.com.
Poker Players
Galfond's Early Years
Phil Galfond's introduction to poker certainly doesn't compare to the exhilarating tales of most old-school gamblers, but the high-stakes wizard's ascension to the nosebleed games should still be fascinating to most poker enthusiasts.
On Tuesday, Galfond shared his story in a blog entry titled My Poker (+other) Story. The 5,000-plus word entry includes Galfond's first taste of online poker during college, his decision to drop out of school to become a poker pro, and the surprising relationships he's built because of that decision.
Here's a particularly funny excerpt from the blog:
I'm an introvert, so I enjoy my alone time. Actually, I need my alone time. I like people, sure, but too long in a crowded environment with no chance to get away is debilitating. I need my alone time to reset. My room was poker plus alone time – heaven.

My heaven was part of a three bedroom apartment. I shared it with two girls, one of whom was sure I was gay for the majority of that year. I think it was because I had a small poster on the outside of my door of a cat with a tiara that read "I'm a Princess" (I thought it was funny), and because she never saw me with a girl.
Galfond is a gifted writer and his story will hit home with a lot of poker grinders out there. You can find his blog at PhilGalfond.com.
Hollywood Celebs Dodge Poker Court Battle
The Hollywood A-listers linked to the legal troubles of former poker buddy Bradley Ruderman can breathe a collective sigh of relief now that the case has been settled out of court.
Howard Ehrenberg, the bankruptcy trustee seeking to recoup as much as $5.2 million for investors that had been conned by Ruderman, told Celebuzz.com that all 22 defendants involved in Ruderman's Hollywood poker game have settled for a total of $1.75 million. Among the celebs being sued by Ehrenberg were actor Tobey Maguire, film director Nick Cassavettes, and former High Stakes Poker host Gabe Kaplan.
Matt Damon, Ben Affleck, Leonardo DiCaprio and Alex Rodriguez were also rumored to be a part of the underground game but were not facing legal action. With all 22 settlements secured, details of the illegal high-stakes games will stay out of the court room.
Ruderman is serving a 10-year prison sentence for running a Ponzi scheme to pay off debts. Ruderman operated a wire-fraud and investment-adviser fraud scheme that lost investors $25 million, and then allegedly lost another $5.2 million in the high-stakes poker games trying to win the money back.
Celebuzz.com has more.
Daniel's Weekly Rant
This week, Daniel Negreanu applauds the WSOP for some rule changes, rants about ballerina flats (hey, they're comfortable — at least that's what we hear), and goes on a tirade about Jeffrey Pollack.
Follow PokerNews on Twitter for up-to-the-minute news.