The Nightly Turbo: New WSOP Bracelets, Champion Leads UKIPT Dublin, and More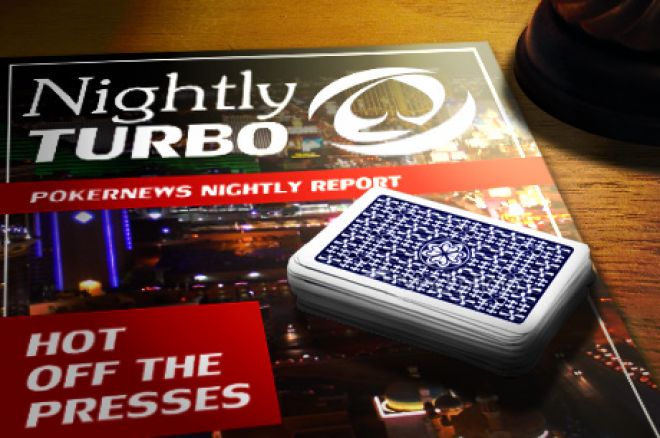 The market has officially closed, so it's time to take your eyes away from your Facebook stock and catch up on the latest poker news. In this edition of the Nightly Turbo, we're bringing you the new-look World Series of Poker bracelets, updates from the UKIPT Dublin Main Event, and more.
In Case You Missed It
Dan "djk123" Kelly was among the winners in the PokerStars SCOOP on Thursday. Martin Harris and Mickey Doft have all the details in the Day 12 SCOOP recap.
How was the high-stakes action at the PokerStars tables this week? Read the Online Railbird Report to find out the week's biggest winners and losers.
@AsianSpa was back with his latest blog on Friday. This week he talks about the Women in Poker Hall of Fame, mending fences with Jon Friedberg, and more.
Several first-timers will be heading to the World Series of Poker this summer. Which ones should you be watching? We tell in you in the latest edition of the 2012 WSOP Rookie Roundup.
Are you drafting a fantasy poker team for the WSOP this summer? Rich Ryan has some tips about how to put together the most productive group of players.
Did you miss anything from the past week? Don't worry, we've got you covered. Kristy Arnett and Sarah Grant break down all the big stories in the PokerNews Weekly.
New WSOP Bling
The World Series of Poker has unveiled the new gold bracelets that will be awarded to each winner at this year's WSOP and WSOP Europe.
Celebrity jeweler Jason Arasheben, also known as "Jason of Beverly Hills," was selected to design this year's gold bracelets. Each piece features a collection of round cut diamonds, while the four card suits will feature rubies and black diamonds. The bracelet features over 160 grams of 14 karat gold and over 35 carats of flawless diamonds.
Arasheben has designed championship rings for the Los Angeles Lakers, plus custom jewelry for celebs like Rihanna, Justin Bieber, LeBron James, Dwyane Wade and Matt Kemp.
"Blinger is Better," said WSOP Executive Director Ty Stewart. "Jason grasped the heritage of WSOP bracelets, but was only interested if he could take it up several notches. This is a trophy that truly embodies the promise of today's WSOP — seemingly unthinkable dreams are dealt each year. I challenge anyone to keep a poker face when they see this bracelet in person."
Do you like the new bracelet? Leave your thoughts in the comments section below.
Playing Like a Champion
Day 1a of the €770 UKIPT Dublin Main Event saw 199 players take to the felts at the CityWest Hotel in Dublin, Ireland. At the end of the day only 91 were left standing, and amateur William Champion was on top of the leaderboard.
Champion, a data storage engineer from the U.K., bagged the most chips after the first day of play. Champion finished with 129,700, much of which came from Barny Boatman when Champion turned top set and got value on all three streets. Boatman, meanwhile failed to survive the day.
Among the notables that advanced to Day 2 were Sam Razavi (20,800), Max Silver (21,100) and Dara O'Kearney (20,700). Team PokerStars Pro Jude Ainsworth, Surinder Sunar, Simon Trumper, Ross Boatman, and two-time UKIPT winner Nick Abou Risk busted on Day 1a and will not be joining the aforementioned players when the Day 1 flights combine on Saturday.
Here's a look at the top 10 stacks from Day 1a:
| Place | Player | Chips |
| --- | --- | --- |
| 1 | William Champion | 129,700 |
| 2 | Paul McCaffrey | 112,000 |
| 3 | Marc McDonnell | 10,600 |
| 4 | Michael Farrelly | 90,400 |
| 5 | Graeme Crozier | 86,900 |
| 6 | Pat Rooney | 73,700 |
| 7 | Bruce Jones | 73,500 |
| 8 | Shyam Markus | 66,300 |
| 9 | Szymon Gajda | 61,300 |
| 10 | Darren Kearney | 60,300 |
We'll be providing results of the UKIPT Dublin Main Event in the Nightly Turbo next week.
For live updates from the Main Event, visit the PokerStars Blog.
Bwin.Party Gets Social
Social media is becoming the way of the Internet, and bwin.party isn't far from getting in on the action. The company says it is close to launching a social gaming platform that will see the worlds of real money gaming and social gaming converge.
"Our strategy to enter the social gaming market is almost complete and we plan to host an analyst briefing to present our strategy later this month when we will provide further details on how we will enter this exciting new business segment," the company said in a statement this week.
"We believe that by leveraging our core assets, we can make a meaningful inroad into this fast growing and profitable market with relatively low levels of incremental investment."
Bwin.party co-CEO Jim Ryan sees significant potential in the social gaming market. He told PokerNews earlier this year that the company's main objective for growth is bringing more of a social appeal to the consumer base, which in turn would provide maximum entertainment value for customers.
"This represents a major opportunity for bwin.party and we have a number of initiatives already underway in this area that we expect to drive value for shareholders in the medium to long-term," the company said.
Read more at bwinparty.com.
Live Poker in North Carolina?
North Carolina lawmakers have begun deliberating whether to allow live-dealer card games at the state's only brick-and-mortar casino.
State legislators this week approved a bill that would sanction the Harrah's Cherokee Casino to offer Vegas-style card games like poker and blackjack. The bill passed by a vote of 33-14 and will now be passed along to the House.
Per North Carolina law, live-dealer games are illegal everywhere in the state. Harrah's Cherokee only offers video machines, but the new legislation could bring up to 400 additional jobs to the Harrah's Cherokee Casino and Hotel. A percentage of the revenues from the casino would be sent to the North Carolina education department.
Read more at goerie.com.
Follow PokerNews on Twitter for up-to-the-minute news.