Fantasy Poker Strategy for the World Series of Poker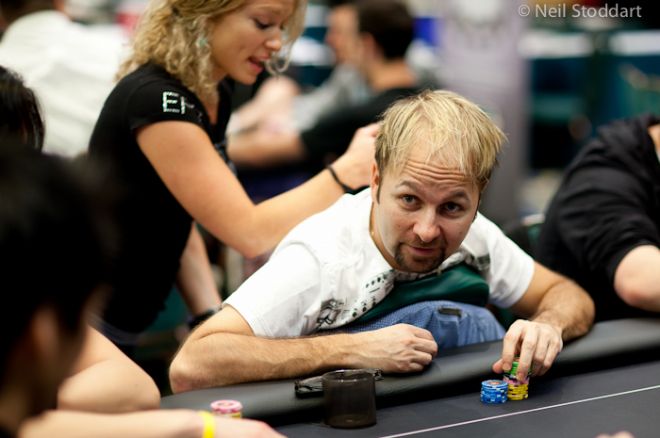 In Daniel Negreanu's latest Weekly Rant he mentioned the $25K Fantasy league that he and a few other high-stakes players competed in during the 2011 World Series of Poker. Fantasy poker hasn't caught on as much as other fantasy sports, but during the WSOP, it's a perfect way to get a sweat. And, since there is very little fantasy poker, there's also very little fantasy poker strategy published online. Let's change that.
The $25K Fantasy league was a 15-team rotisserie (as if there's any other way to do it) league that scores players based upon their placement in tournaments. Here are all of the scoring rules from the website:
| Finish | Points |
| --- | --- |
| 1st | 50 |
| 2nd | 45 |
| 3rd | 40 |
| 4th | 35 |
| 5th | 30 |
| 6th | 25 |
| 7th | 20 |
| 8th | 15 |
| 9th | 10 |
| 10th-18th | 5 |
| Cash | 1 |

All points are worth double in events with a $10K buy in or higher.
An additional point per 100 entries is awarded to players who finish in the top 18. No rounding off.
To receive points, a player must cash.
In a heads-up event, players finishing in the same position would split the points for that spot. For example, 5th through 8th would get 22.5 points.
The Main Event counts, but points will be awarded to any players making the November Nine based on chip count. If your player sits in 6th place, you'll receive 6th place points for his/her result.
Points will only be awarded in open events. No Seniors, Ladies or Employees events will count.
The draft for this league is an auction – each team has $200 to spend on 8 players.
There are two ways you can attack an auction draft: you can go the "Stars and Scrubs" route or the "Balanced" route. These ideologies are pretty self-explanatory, and they both have their pros and cons. Stars and Scrubs is awesome because you usually come away from the draft with one of the top five players in the game. It's not so awesome when you spend most of your budget on Albert Pujols, and he only hits three home runs in the first month and a half of the season, or you spend half of your budget on Phil Ivey (cough Barry Greenstein, cough) and he decides to boycott the WSOP. If your star players don't perform, then you've dug yourself a deep hole. The balanced attack protects you from individual injuries and poor performances, but it also limits your upside. With a balanced team, you're hoping that maybe one player has a great season or WSOP, and the rest of your players win you a war of attrition.
In a league like the $25K Fantasy league, where there are a lot of teams but the rosters are shallow, Stars and Scrubs is the way to go. You can build a core of three players who are great, and that you know are going to put in a lot of volume, and then fill the rest of your team with purely volume players. The most important thing is that your "scrubs" must be proficient in mixed games — if they're just no-limit hold'em grinders, then you're increasing your variance and decreasing you're volume.
The following is a dream team I put together based upon the draft value of eight players from last year's $25K Fantasy league auction. I used the Stars and Scrubs strategy, spending $182 on three players, and filling the rest of my team out with very capable yet inexpensive players.
Jason Mercier ($74)
Every time I enter a draft planning to employ the Stars and Scrubs strategy, I circle the top five players and commit to getting the best one at the best price. If you consider last year's prices, Jason Mercier is certainly that guy. Last year, Phil Ivey ($108), Daniel Negreanu ($89), and Daniel Alaei ($80), were the only players to go for more than Mercier. They scored a combined 11 points, but Mercier shipped his second bracelet en route to a 119-point summer.
2012 has been rough year so far for the Florida native — he's bricked four six-figure buy-in events and even more five-figure buy-in events, and he only has about $100,000 in cashes — yet Mercier is still without a doubt one of the top-five tournament players in the world. He's a steal for any amount less than $80, and I'd be willing to bid as high as $90 for him, unless I could get another member of my personal top five for cheaper.
The rest of my top five is as follows: The aforementioned Ivey and Negreanu, who both tend to be overvalued in drafts unfortunately, Tom Dwan, who is the king of volume, and the next player on our dream team...
---ReadMore---
Shawn Buchanan ($63)
Shawn Buchanan is the San Antonio Spurs of tournament poker. He's quiet. He's subdued. He doesn't do much media. Some would go as far as to call him boring. Yet, when you look up at the scoreboard, you'll see that he has over $4.6 million in career tournament earnings. Earlier this year, Buchanan won a $10,000 turbo event at the 2012 PokerStars Caribbean Adventure ($202,360), and on Wednesday, he shipped the SCOOP 28-H $2,000 Razz event ($44,145). Best of all, he's never won a bracelet and has finished runner-up in three bracelet events over the past two years. Few players are better than Buchanan, and no one is hungrier to win. That's a dangerous combination, and, like Mercier, anything under $80 for Buchanan is absolute thievery.
Scott Clements ($45)
A favorite in any Omaha event, Scott Clements flies under the radar with Buchanan. If you look at the numbers though, Clements has reached eight WSOP final tables and won two bracelets in the last six years. Last year may have been Clements' worst WSOP to date, and he still finished in the top 14 of two tournaments, scoring 28 points — more than Vanessa Selbst, Erick Lindgren, and David Williams combined. Other solid players that you can grab in the $40 range are "Crazy" Marco Johnson, David "Bakes" Baker and Allen Kessler.
I promise that last name isn't a joke either — Kessler has a chip on his shoulder like Buchanan, and he cashes in everything.
George Lind ($9)
Do I expect George Lind to final table two five-figure buy-in events again, including the $50,000 Poker Player's Championship? No, but he's certainly capable of doing so — Lind has cashed in four non-hold'em events over the last two years, and puts in a lot of volume, which is what we're looking for while we're rounding out our roster. Lind recently took down a SCOOP title, as well, winning Event 26-L $27 Seven-Card Stud Hi/Lo.
Vanessa Selbst ($5)
I know she has a propensity to punt, she only has two WSOP cashes this decade, and we don't get the value of the Ladies event because it's not an open event, but for $5 you can do much worse than Vanessa Selbst. She is a bracelet winner, a strong Omaha player, and has a little bit of momentum on her side — she won a $5,000 side event at the L.A. Poker Classic in February, and at the end of 2010, she final tabled the WPT Doyle Brunson Five Diamond World Poker Classic There's so much male-dominated thinking in these drafts that I think there may be a lot of value in grabbing either Annette Obrestad or Melanie Weisner for a dollar or two, as well. Obrestad had four cashes in 2010, and Weisner had five in 2011.
David Bach ($1)
David Bach is going to put in a lot of volume, he's going to play all the games, and he won the $50,000 H.O.R.S.E. Championship in 2009. He's cashed at least twice in four consecutive WSOPs, including eight non-hold'em cashes and four final table appearances. In fact, his worst cash at the 2011 WSOP was a 45th place finish in the Main Event. What more can you ask for from a $1 player?
Justin Young (Undrafted)
My last two picks went undrafted in the $25K Fantasy League, but they have a ton of value and will play a ton of events. Justin Young has over $3 million in lifetime career earnings, but seemingly all of his success stems from the WPT. Five of his top eight cashes came in WPT Main Events, including his largest score to date; $936,760 for a second-place finish in the 2008 Doyle Brunson Five Diamond World Poker Classic.
Despite all of his success, Young only has nine WSOP cashes in the past 10 years. That seems like a statistical anomaly. I don't want to say he's due or anything, but he's due. Also, much like our last pick to come, Young has been going deep very consistently in smaller buy-in events. Since the end of the 2011 WSOP, he's finished in the top 21 of 11 tournaments, and he won a $5,000 event at Festa Al Lago for $374,590. He's not as proficient at mixed games as other available players, but Young is really solid, and I'd definitely take a chance on him.
Bryan Devonshire (Undrafted)
For the last seven months, Devonshire has been crushing, and nobody even noticed because he's playing in smaller buy-in events. Since November, he's final tabled eight different events, finishing first twice, second once, and third three times. Devonshire is on fire, and confidence is perhaps one of the most important qualities that a tournament poker player can have. Unlike Young however, Devonshire grinds mixed game events, and has six WSOP cashes in non-hold'em events, including an eighth place finish in a €1,500 six-max pot limit Omaha event at the 2011 WSOPE.
To top it all off, Devonshire qualified for the National Championship before the New Orleans stop on the WSOPC schedule, allowing him to take a couple of weeks off and relax before the long grind begins in Las Vegas. Devonshire is my favorite $1 player, and I wouldn't be surprised if he makes multiple Day 3's this summer.
Follow PokerNews on Twitter for up-to-the-minute news.