The Nightly Turbo: Phil Ivey Divorce Case Update, TwoPlusTwo Hacked, and More

Brett Collson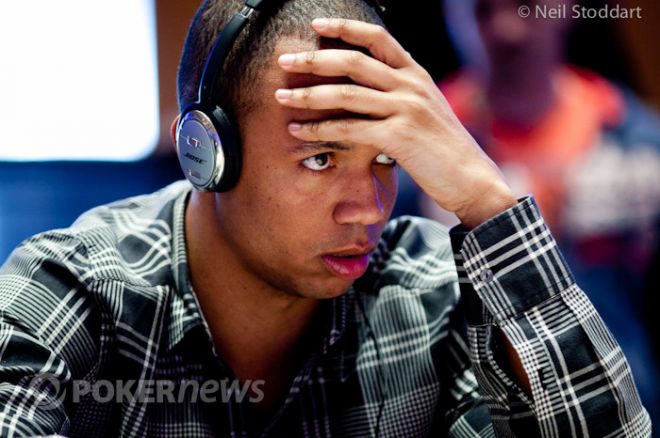 Phil Ivey is in Monaco for the PokerStars and Monte-Carlo® Casino EPT Grand Final this week. So why is he making headlines in Las Vegas? We'll bring you that story, plus news of a security breach at TwoPlusTwo, in this edition of the Nightly Turbo.
In Case You Missed It
Last week, Tripp Kirk won the World Series of Poker Circuit Harrah's St. Louis Main Event for $190,961. Kirk sat down with Chad Holloway to discuss his big win.
Maria Ho was one of many poker pros affected by the events of Black Friday. PokerNews caught up with Ho to find out how her life has changed.
Bertrand "ElkY" Grospellier is closing in on the No. 1 spot in the Global Poker Index. Mickey Doft breaks down the biggest movers and shakers in this week's GPI rankings.
Day 1b of the 2012 PokerStars.net Asia Pacific Poker Tour Cebu Main Event wrapped up on Thursday. Antonio Martins built a massive stack to take the overall chip lead into Day 2.
The PokerStars Spring Championship of Online Poker is less than two weeks away. Two-time SCOOP winner Terrence Chan joined the Strategy with Kristy podcast to discuss how to stay focused during a long poker series.
Daniel Negreanu released his Weekly Rant, and an eye-opening Howard Lederer interview found its way to YouTube on Wednesday. You can find both videos over at The Muck.
Divorce Court
Phil Ivey's ugly divorce case will be heard in front of the Nevada Supreme Court at some point in the future. The Las Vegas Review-Journal reported Thursday that Chief Justice Nancy Saitta ordered the court clerk to schedule the case for oral arguments. The date and location of the arguments have yet to be announced.
Last September, Luciaetta Ivey filed a petition with the higher court claiming that a $5,000 contribution was made by Phil Ivey to Family Court Judge Bill Gonzalez three months after the couple's divorce was granted, alleging that she was treated unfairly. Luciaetta also declared in the petition that her ex-husband ceased paying spousal support in April 2011, around the same time the Full Tilt Poker domain name was seized by the U.S. Department of Justice.
Phil later provided documents that showed he received approximately $920,000 a month for his involvement with Tiltware, the software and marketing arm of Full Tilt Poker. Records showed that Luciaetta Ivey collected about $180,000 a month as taxable alimony from her husband's Tiltware payment, while Phil received the remaining $740,000.
Luciaetta claimed the settlement was unfair because she had no idea where Phil's money came from or where it went.
The Las Vegas Review-Journal has more.
TwoPlusTwo Forums Hacked
The TwoPlusTwo forums went offline on Thursday, and it had nothing to do with the flow of traffic resulting from the Full Tilt Poker developments this week. According to a statement posted on the website, TwoPlusTwo was the victim of a security breach that potentially compromised the personal information of its users:
On April 26th at approximately 11:20 AM pacific time, the Two Plus Two Forums were closed as a result of a hacker who has displayed the ability to access e-mail addresses and encrypted passwords. He also indicated the ability to decrypt passwords.

While it is unclear the extent of data to which he gained access, e-mail addresses and passwords on the Two Plus Two forums should be considered compromised. If you have used your 2+2 password on any other site, you are advised to change it.

For your security we are closing the forums until the breach is patched.

We hope to be back up as soon as possible.
TwoPlusTwo moderator Noah Stephens-Davidowitz (NoahSD) suggests that users assume the worst and change their passwords on all sites that have the same password as TwoPlusTwo.
For more advice on how to avoid an attack, be sure to read NoahSD's blog.
PokerStars Nears Another Milestone
PokerStars is about to hit another milestone en route to its "Road to 100 Billion" promotion. On Thursday, the world's leading poker site announced that it will be dealing its 80 billionth hand in the near future. To celebrate the momentous occasion, PokerStars will be giving away up to $1 million in prizes!
More than 300 players will cash in on the promotion, with prizes being awarded to players dealt into every one-millionth hand from 79,700,000,000 to 80,000,000,000. The winner of the Mega Milestone hand will receive at least $20,000, so if you happen to be dealt into that momentous hand, we insist you not fold.
For a real-time count on the number of hands dealt, along with more information on the promotion, visit PokerStars.com.
Everest Poker Eyes Return to U.S.
Last week, Massachusetts Rep. Dan Winslow proposed an amendment that would allow for the state to introduce Internet poker in coordination with the state's current gambling legislation.
Everest Poker, which has an office in Massachusetts, is looking to cash in on that proposal. According to a press release, Everest worked with Winslow during the amendment's drafting process. The amendment states any applicant which has accepted a wager related to any form of internet gambling from a person in the U.S. post-UIGEA would be denied a license. Everest declined to take bets from U.S. players after the UIGEA passed in 2006.
Even though its brand is mainly concentrated in European markets, Everest believes it is in good position to acquire a license once online poker legislation is passed in Massachusetts. The company is also monitoring legislation activities in Nevada and New Jersey.
"Representative Daniel Winslow's recent Internet poker amendment to the Massachusetts casino law is a very positive step forward for online operators, like Everest Poker, that have scrupulously respected United States law," said Tim Dent, CEO of Everest Gaming. "The bill presents Massachusetts with a great opportunity to be a pioneer in legalizing Internet poker in the U.S., and there's no question that Everest Poker is better positioned than any other operator to take advantage of that opportunity."
Read more in Everest Poker's press release.
Improvements in Store for PKR
On Thursday, PKR released a teaser video showcasing some of the software developments coming throughout the end of the year. Some of the new features include multi-tabling options, a new hand replayer, and avatar enhancements. Here's a look:
Said PKR CEO Leon Walters, "We are always looking to innovate and to take our product further," "With our unique software, product development is integral to our progress. We're excited about the new features we'll be releasing throughout the year, and with something for both hardened poker players and the casual poker fan, they should help us stay ahead of the game."
Learn more about PKR at PKR.tv.
Pokerist Signs Carmen Electra
Former Playboy model Carmen Electra is the new face of Pokerist's Texas Poker, a free-to-play Texas hold'em game for Facebook, iPhone, iPad and Android devices.
Electra, whose foray into the poker world came as the host of a strip poker game featuring Erica Schoenberg, teaches players how to play Texas hold'em and also acts as the dealer in the new game. While Electra is the most notable addition to the product, Pokerist has also inserted the ability to multi-table and chat with players in real-time.
"The partnership with Carmen, along with our new gameplay features, further helps to differentiate Pokerist Texas Poker from the competition and showcase why it is one of the most popular Poker games in the world," said Pokerist.com director Igor Churpin.
For more information, visit www.pokerist.com.
Exploring Monaco
Monaco is currently playing host to the PokerStars and Monte-Carlo®Casino European Poker Tour Grand Final. Lynn Gilmartin took a quick tour around one of the world's most luxurious destinations.
Follow PokerNews on Twitter for up-to-the-minute news.