The Nightly Turbo: Ivey Catching Duhamel for POY, Bally's Online Poker Deal, and More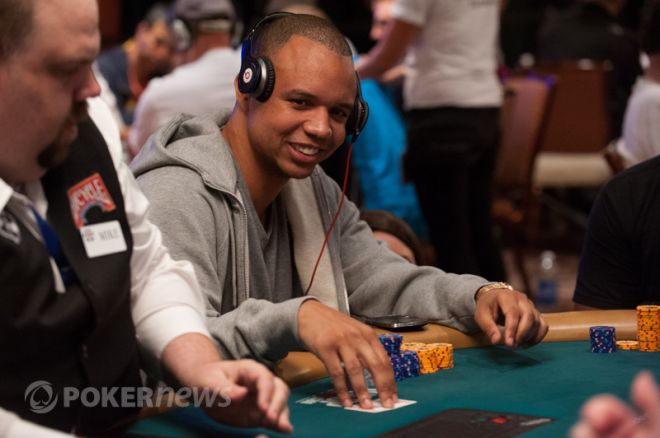 Phil Ivey has returned to the World Series of Poker with a vengeance in 2012. As a result, he's emerged as a sudden contender in the Player of the Year races. We'll cover that story, plus the latest business-to-business online poker partnership, in this edition of the Nightly Turbo.
In Case You Missed It
Two more bracelet winners were crowned at the World Series of Poker on Tuesday. Find out who won in our Day 16 WSOP recap.
Phil Ivey was leading Event #24 at the WSOP going into the final day. Read about that story and more in PokerNews' WSOP What To Watch For.
Looking for a fun, behind-the-scenes perspective of life at the WSOP? The Muck is providing several daily stories from inside the Rio, so check it out!
Here Comes Ivey
There were no changes atop the 2012 Global Poker Index Player of the Year rankings on Wednesday, meaning Jonathan Duhamel occupied the top spot for the 16th straight week. But Duhamel better beware — poker's most formidable figure is now in his rear-view mirror.
Phil Ivey vaulted into the top 10 this week after a fantastic start to the 2012 World Series of Poker. Ivey took seventh in event No. 15 and then finished runner-up to Andy Frankenberger in Event No. 16, collecting $275,559 in the process. He began the year with a victory at the Aussie Millions Poker Championship $250,000 Challenge for more than $2 million, and followed that up with a 12th-place finish at the Aussie Millions Main Event.
Duhamel, meanwhile, has just one cash since March, a 21st place finish in a $1,500 no-limit hold'em event at the WSOP this month. But the Canadian pro's astonishing run to start the year gave him a comfortable lead right out of the gate and he has yet to relinquish control. He's followed in the top five by Dan Smith, Marvin Rettenmaier, Andrew Badecker and Steve O'Dwyer.
Here's a look at the Top 10 of the Global Poker Index Player of the Year standings:
| Place | Player | Total Score | Change in Rank |
| --- | --- | --- | --- |
| 1 | Jonathan Duhamel | 595.68 | -- |
| 2 | Dan Smith | 582.60 | -- |
| 3 | Marvin Rettenmaier | 560.13 | -- |
| 4 | Andrew Badecker | 513.82 | -- |
| 5 | Steve O'Dwyer | 489.14 | -- |
| 6 | Jason Koon | 485.09 | +3 |
| 7 | Sam Chartier | 478.70 | -1 |
| 8 | Bertrand "ElkY" Grospellier | 454.84 | -- |
| 9 | Noah Schwartz | 475.28 | -2 |
| 10 | Phil Ivey | 450.29 | +110 |
The Global Poker Index Player of the Year, presented by PokerNews, honors the player who has the strongest performance in live tournaments during the calendar year, according to the USA Today Global Poker Index point system.
For the full GPI Player of the Year standings, head on over to EpicPoker.com.
Bally, Aristocrat Prepare for Nevada's Online Poker Market
On Tuesday, Bally Technologies Inc. and Aristocrat Technologies Inc. announced a business-to-business partnership with Shuffle Master to create a joint iGaming platform ahead of legalized online poker in Nevada.
Under the agreement, Shuffle Master's Ongame interface will be integrated into Bally's iGaming platform. Shuffle Master purchased Ongame from bwin.party for €19.5 million back in March with plans to expand into the U.S. online poker market.
"We are confident that this relationship between Shuffle Master, Ongame, and Bally will create the opportunity for gaming operators to control their data, establish liquidity, and ensure their suppliers are truly committed to a B2B model," said Shuffle Master CEO Gavin Isaacs. "It is relationships such as this that made us truly excited about bringing Ongame into the Shuffle Master family and opportunities like this only build momentum before the pending closing of our acquisition."
Bally and Aristocrat teamed up earlier this year to offer a third-party platform for online poker providers once the activity is legalized in the U.S. Under the strategic alliance, the two have been working to secure arrangements with leading poker providers that will then be added to Bally's and Aristocrat's iGaming platforms.
Last week, Bally met with the Nevada Gaming Control Board and was given a unanimous recommendation to receive an intrastate online gaming license. The company will next meet with the Nevada Gaming Commission on June 21 for final license approval.
Read more in the press release at BallyTech.com.
Jen Harman's Team Poker Tournament
Poker pro Jennifer Harman will be hosting a charity poker tournament on Nov. 10 at the Atlantis Casino Resort Spa in Reno, Nevada. The event will raise funds and awareness for local charities, with 100 percent of the net player entry proceeds going back to all the charities involved.
The Jennifer Harman Charity Poker Tournament will feature a unique ten-player team format with a buy-in of $250 per individual ($2,500 per team). Among the pros expected to take part include Harman, Marco Traniello, Karina and Chip Jett, Linda Johnson and Jan Fisher.
"I love animals and all the joy and love they bring into our lives," said Harman. "My teams will be playing for the Nevada SPCA who ensures these once abandoned and abused animals are cared for, adopted, or live humanely in Nevada SPCA's no-kill shelter for the rest of their lives. I am looking forward to raising much needed funds for these special animals."
For more information on the event, visit CharityKnockout.com.
Insta Learning With Insta Poker
In poker, results-oriented thinking can be destructive to a player's game. You can make an optimal move and still lose the hand. The important thing to consider is the long-term result of each play and ensuring it has a positive expectation.
Now, there's a new app available for the iPhone that rewards poker players for making the right play, regardless of the outcome. Insta Poker is a new poker strategy game that challenges you to make the right move every time and rewards players with in-app currency. Better yet, your play is evaluated by poker pros like Antonio Esfandiari, Huck Seed, Daniel O'Brien, Jonathan Little, Amir Lehavot and Matt Berkey.
Insta Poker does not require a network connection to play and includes free plays consisting of hand scenarios crafted by poker pros and designed to demonstrate winning strategies. As you earn ProCoins for quality play, you can redeem them to unlock "Bonus Packs" to learn even more secrets of the pros.
The new app is available at the iTunes store, so be sure to check it out!
Intimacy With a Twi$t
There thousands of dating sites out there, but only one caters to the poker playing lifestyle focusing on Mutually Beneficial Arrangements.
Start your summer off with a bang at ArrangementFinders.com
This is an advertisement.
Calling The Clock on Jennicide
In another World Series of Poker edition of Calling the Clock, Sarah Grant catches up with Jennifer "Jennicide" Leigh.
Follow PokerNews on Twitter for up-to-the-minute news.