The Nightly Turbo: Online Poker Legislation Shelved, All In — The Poker Movie, and More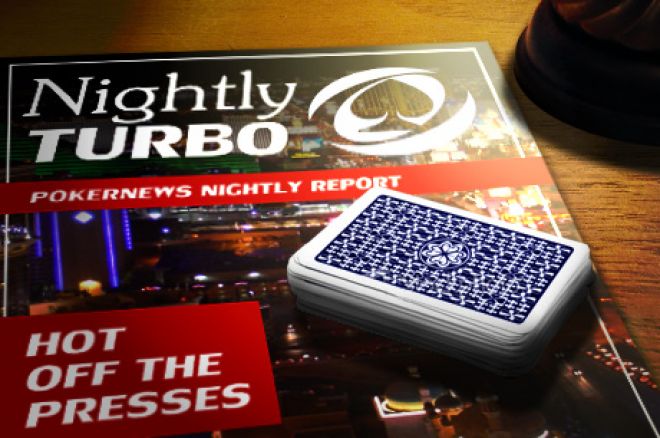 If you're reading this, you're probably looking for the top poker news stories of the day, so you can get on with your weekend. There's plenty to talk about, so we're not going to waste any time. It seems that federal online poker legislation won't be on the docket until 2013. Keep reading to find out more on that, what cities All In — The Poker Movie is coming to, and what fashionable poker item didn't appear on the runways of Fashion Week.
In Case You Missed It
We get it, sometimes you'd rather watch something than read about it. That's why we bring you the PokerNews Weekly, and in the latest edition, Kristy Arnett is bringing you all the news from São Paulo, Brazil.
We're only one and a half months into 2012 and already two players have crossed the $1 million profit mark online. Who are they, you ask? You'll have to read the Online Railbird Report to find out.
Earlier this month, the D.C. Council voted to repeal the district's online poker legislation. Matthew Kredell talked to council member Michael A. Brown to find out if he's going to reintroduce his legislation.
We talk a lot of poker here at PokerNews HQ, but that doesn't mean we don't have our eye on gaming news in general. In the latest Inside Gaming, we tell you about the Wynn's SEC investigation, the Las Vegas Strip's 2011 annual growth number, and more.
Last week, at the World Series of Poker Circuit stop in Tunica, Drew McIlvain was disqualified for alleged chip dumping. We sat down with McIlvain to get his side of the story, and talked to the vice president of Corporate Communications at Caesars Entertainment, Seth Palansky, to find out more about the hand in question and the appeals process.
No More Online Poker Legislation Outs For 2012
According to a report by Howard Stutz of the Las Vegas Review-Journal, it seems that federal online poker legislation is more than likely off the docket until 2013. There were rumors that an online gaming bill was going to be attached to the payroll tax extension, but Harry Reid dispelled those rumors on Thursday.
Chad Beynon, from Macquarie Securities believes that Nevada could benefit from the shelving of the federal online poker legislation debate.
"We think the standards were written in a way that will allow for small adjustments as the process moves forward," Beynon said. "At this point, no firm date has been set, but 13 companies have now submitted for an operating license."
Beynon expects three states — New Jersey, Iowa, and California — to follow Nevada's footsteps and pass online gaming legislation in 2012. And believes states will use Nevada's regulations as a template.
LVRJ.com has more.
All In — The Poker Movie
Remember when we told you about All In — The Poker Movie? We understand if you don't, it was a while ago. Well, next month, it's coming to a movie theater near you. A sneak preview of the movie will be shown at the Avon Theatre in Stamford, Connecticut, which will be followed by a Q&A with filmmakers Doug Tirola, Susan Bedusa, and Danielle Rosen. The movie opens in New York on March 23, and in Los Angeles on April 13.
The movie focuses on the resurgence of poker in recent years. Matt Damon, Annie Duke, Phil Hellmuth, Daniel Negreanu, and Chris Moneymaker are among those who appear in the movie.
For more, check out All In — The Poker Movie's Facebook page.
Shuffle Master to Buy Ongame?
According to a report at Casino City Times, bwin.party is looking to sell its recently acquired Ongame Poker Network. Todd Eilers, a gaming analyst from Roth Capital Markets, believes Shuffle Master might be a possible buyer.
"We view the interactive gaming opportunity as the most underappreciated aspect of Shuffle's growth story," Eilers said. "Both opportunities could begin generating meaningful revenue this summer."
MacauBusiness.com is reporting that Shuffle Master CEO Gavin Isaacs said the company "has the ability to buy companies" but is unlikely to spend a large sum of money on one transaction.
"We buy games, we buy intellectual property all the time; that's our strategy," Isaacs said.
The Sunday Times is also reporting that Shuffle Master is in talks with bwin.party to buy the Ongame Poker Network for $20 million.
UKIPT Galway Update
Day 1b of the PokerStars UK & Ireland Poker Tour Galway attracted 400 players on Friday, bringing the total number of players from both Day 1 flights to 698. Liv Boeree, Sam Holden, Steve O'Dwyer, Nick Abou Risk, and Kevin MacPhee were among those who entered on Day 1b.
PokerStars Qualifier Joris Ruijs leads the Day 1b field with 108,100. Not only that, he has claimed the title of overall chip leader when both Day 1 fields combine on Saturday.
Kevin MacPhee, Ross and Barny Boatman, and Team PokerStars Online's Mickey Petersen will all advance to Day 2, looking to capture a portion of the nearly half-million euro prize pool.

Who else is moving on? Read the updates on the PokerStars Blog to find out.
Bet24 Adds to the Team
2011 PokerStars World Championship of Online Poker (WCOOP) Main Event champion Thomas "Kallllle" Pedersen is the latest superstar to join Jesper Hougaard and the team of pros at Bet24.com. Pedersen, who won $1.26 million in the WCOOP Main Event, will don his new Bet24 patch at EPT Copenhagen next week.
"I have had conversations with three different poker sites and eventually chose Bet24, who I see as the strongest player, particularly in the Danish market," said Pedersen. "This choice is based on my good relationship with Bet24, their professional behavior and crucially, on the extent of the sponsorship and its potential.
"I look forward to an exciting year together with Bet24 and I hope there will be a lot of great enriching experiences for both parties, on and off the poker scene. It's a dream come true."
Casper Toft and high-stakes cash player Gillian Epp were also added to the Bet24 team this week.
For a closer look at each of the team members, check out Bet24.com.
Duhamel's Bracelet Recovered
On Friday, reports surfaced that Jonathan Duhamel's 2010 World Series of Poker Main Event bracelet had been recovered — well, what was left of it anyway. The bracelet was found by a street sweeper in Montreal last Wednesday.
"The sentimental value [of the bracelet] is priceless. We are giving the bracelet to the police, because it is still a piece of evidence, and should help the police with the investigation. We are happy, and Jonathan is doing very well," said Philippe Jette, Duhamel's manager.
Read more, and see images of the damaged bracelet on PokerNews.com.
Midas Touch
In December, we told you that the poker room at the Tropicana was getting a name change. Jamie Gold was signed on as the spokesperson and ambassador of the poker room. Gold was making daily visits to the room after the announcement. This weekend marks the room's grand opening.
If you're in Las Vegas and want to party with Gold and his friends, there's a red-carpet event Friday night at RPM Nightclub. On Saturday and Sunday, you can rub elbows with Gold and his friends in two poker tournaments that are being held to celebrate the room's opening.

PokerNews.com has more.
Designer Chips
Did you forget to get your poker-playing Valentine a gift this week? Fear not, Giorgio Armani can help you out. As a part of their Spring/Summer Collection, Giorgio Armani recently released a custom poker set.
The Delphi poker set comes complete with 138 chips, 5 dice, and 2 decks of personalized Giorgio Armani playing cards. The set comes housed in a red leather box with a magnetic clasp, and can be yours for €786 or just over $1,000.
We never said it was cheap.
Purchase your designer poker set at Armani.com.
Follow PokerNews on Twitter for up-to-the-minute news.