The Nightly Turbo: Online Poker Petition, T.J. Cloutier on Full Tilt Poker, and More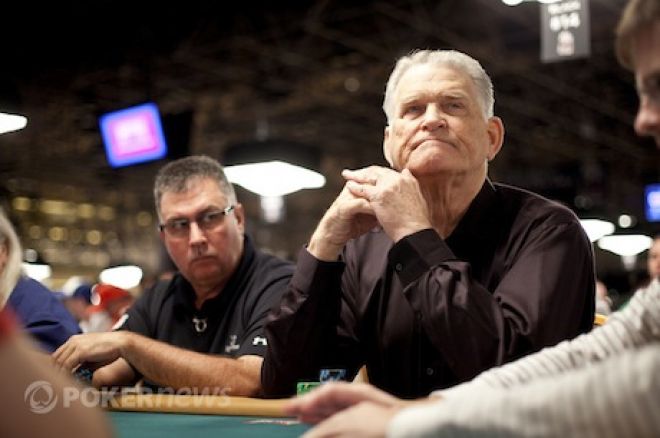 Our brains are officially fried. There have been so many news stories this week, we almost didn't know what to do with them all — but we figured it out. We're definitely glad it's the weekend. Be sure to check out the top poker news stories of the day, like the online poker petition, and T.J. Cloutier's thoughts on Full Tilt Poker, and then go grab a beer or something. Oh yeah, and while you're railing the football games on Sunday, be sure to rail the PokerStars WCOOP action, because we'll be live blogging the Main Event.
In Case You Missed It
We know that sometimes it's easier more fun to listen to news than read it, especially when the PokerNews hostesses are bringing you the update. In the latest PokerNews Weekly, Kristy Arnett and Sarah Grant discuss Full Tilt Poker, and more.
The World Poker Tour Borgata Poker Open set its final table on Day 4. Who led the way going into the final table on Day 5?
The remaining players from both Day 1 fields were merged on Thursday at the World Poker Tour Malta. The money bubble didn't burst on Day 2, but it was close. By the end of play on Day 2, Cecilia Pescaglini had overtaken the top spot on the chip leaderboard.
There are only a few days left in the 2011 PokerStars World Championship of Online Poker. If you read the Day 19 WCOOP recap, you'll find out how a two-day event turned into a one day.
Sunday is almost here and that means football. If you can't figure out which teams to bet on or who to play on your fantasy team, you should probably read the latest Pigskin Diaries.
The spotlight has shone brightly on Full Tilt Poker this week. On Friday, we obtained the arrest warrant in rem from the U.S. Attorney's Office for the Southern District of New York that calls for the seizure of bank accounts held by Full Tilt's board members.
This week's amended complaint against Howard Lederer, Chris Ferguson, and Rafe Furst probably left you wondering whether players will get their money back. Here's a look at the impact that the allegations have on player reimbursements.
With the PokerStars World Championship of Online Poker running, one might think the high-stakes online cash games might be a little light. Wrong. The Online Railbird Report fills you in on this week's biggest winners, and losers.
We're not legal experts. We never claimed to be. But we found one who is well versed in the gaming industry and Ponzi schemes — Maurice "Mac" VerStandig. He broke down the allegations against Full Tilt Poker for us.
5,000 in 30
A petition was created on Sept. 22 to bring online poker regulation to the Obama administration's attention. We the People, is a way to get the public's voice heard in the government. At the moment, the minimum number of signatures needed on a petition to be reviewed is 5,000 signatures in 30 days.
The online poker petition wants the Obama administration to "protect consumers, create jobs, and generate revenue by licensing and regulating online poker." At the time of writing, 2,932 signatures have been collected.
"Appropriate regulation of online poker will put the U.S. in charge of safeguarding responsible adult players, prevent underage participation and protect those with excessive gaming habits. The current, unregulated U.S. marketplace does not guarantee a single consumer protection," the petition says.
The petition continues, "U.S. regulation of this global industry will also mean the creation of American jobs and billions in new revenue without raising taxes. Licensed U.S.-based horse race wagering sites have proven that online betting sites can be successfully regulated. It is time to allow online poker the same opportunity."
Be heard. Sign the petition.
Cloutier Speaks
Earlier this week, Covers ran an interview with T.J. Cloutier regarding the recent allegations against Full Tilt Poker.
Cloutier told Covers, "From what I understand, Full Tilt never had any intention of repaying these people. This whole thing is ridiculous."
He continued, "Why would they ever try to get more than they should get out of it? To me, it's greed. You know that television program, 'American Greed?' They ought to have this thing on there. I heard point blank that none of the players on Full Tilt are going to get their money. The feeling now is if there's any money left, the government is going to get it."
He even touched on who had ownership in the company, saying, "Phil Ivey in no way had the power that Howard [Lederer] did. Of the poker players, Howard was by far the biggest. They all bought 1 percent pieces of it. Howard had a bigger slice, Phil had a slice, Ferguson had a slice and the rest were 1-percenters. That was just a business deal for them, an investment. The only one who played at the WSOP this year was Erick Lindgren. The rest stayed completely away from it. They didn't want to have to answer all these questions and face the heat."
Cloutier's thoughts on the government weren't exactly flattering either. "As far as I am concerned, the government is stupid," he said. "They could have been making all this money on taxes and stuff all along (since the Unlawful Internet Gambling Enforcement Act was passed in 2006). There was money there. All these poor homeless people and the troops that come home and can't find jobs … some money could be going to them that they could have been collecting from this."
If you wanted to check out the entire interview, go to Covers.com.
Duplicate Poker and The Table
The International Federation of Poker announced the details of two new tournaments on Wednesday. The events will take place from Nov. 17 through 20 in London.
On Nov. 17, the inaugural Duplicate Poker Nations Cup will kick off at the EDF Energy London Eye (you know, the tallest Ferris wheel in Europe). The Nations Cup will pit 12 different countries against each other for the championship trophy, medals, and of course bragging rights.
"The Nations Cup will be a genuine celebration of all that is best in intellectual sports. Some of the world's best players playing for pride and the honor of representing their countries in an intense competition with the added spice of international rivalry. Poker is played by millions around the world and Duplicate Poker is the game in its purest form. Players compete against each other based on skill, without any fluctuation in chance," IFP President Anthony Holden said.
What is duplicate poker? It's a poker variant where "each table is dealt an identically shuffled pack of cards, which means that each player holds the same hand as those in the equivalent seat on other tables."
The IFP also launched The Table tournament, where 130 of the world's best will play against each other in a freeroll with a $500,000 prize pool.
Find out more about the launch of these two tournaments at UK.PokerNews.com.
There is Something Cool About Being Good at Poker
On Sept. 22, 4th Row Films uploaded a teaser trailer for its poker documentary on YouTube. All-In: The Poker Movie features Howard Lederer (yup), Matt Damon, Scotty Nguyen, and plenty of other notable players.
We'll let you come to your own conclusions about this one.
Is That...No, It Couldn't Be
In the midst of our flurry of work on Friday, we came across our favorite thread of the moment on TwoPlusTwo — Phil Hellmuth Riding a Giant Hotdog on Water. Yes, you read that right, and yes, it's literal — well, almost. We aren't sure if it's Hellmuth on the hotdog, but if it's not, the guy in the photo is a dead ringer for the Poker Brat. The initial image is gold in and of itself, but as you're all aware, there are some Photoshop masters on TwoPlusTwo.
You should follow PokerNews on Twitter for up-to-the-minute news. Not only that, like PokerNews on Facebook, and sign up for the Nightly Turbo newsletter below.