The Weekly Turbo: Nevada Online Poker Proposals, Hellmuth on iGaming, and More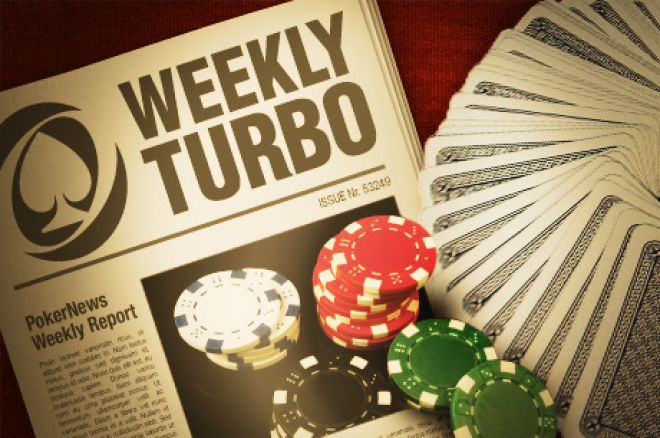 If you're looking to get caught up on the week's top poker news stories, then look no further.We'll tell you about the Nevada online poker proposals, what Phil Hellmuth thinks about iGaming, and more.
Proposals Released
On Wednesday, the Nevada Gaming Control Board released drafts of regulatory proposals that would allow the state to establish Internet poker in accordance with Assembly Bill 258, which was passed in the 2011 Nevada legislature.
The Las Vegas Review-Journal spoke with Gaming Control Board Chairman Mark Lipparelli regarding the proposals. ""Internet poker has become a multibillion dollar business around the world. The technology supporting it, while not perfect, has improved dramatically since its introduction. Similar to our land-based requirements, Nevada will establish high standards giving players as much confidence as possible in the entities and technologies that might eventually gain approval," Lipparelli said.
The proposals, which include rules for customer enrollment and technology approvals, among other things, will be put through a public regulatory workshop. The workshop will provide for amendments and revisions to the proposals and the first one is scheduled for Sept. 26.
"We can't predict what may happen with any national legislation and we have attempted to frame these regulations in a manner that will provide appropriate flexibility. This will be a rigorous process and these regulations will, no doubt, undergo a good deal of revision," Lipparelli told the Las Vegas Review-Journal regarding the state being ready for federal legislation.
Want to know more? Check out the article on LVRJ.com and you can read the proposals at Gaming.nv.gov.
Hellmuth Talks iGaming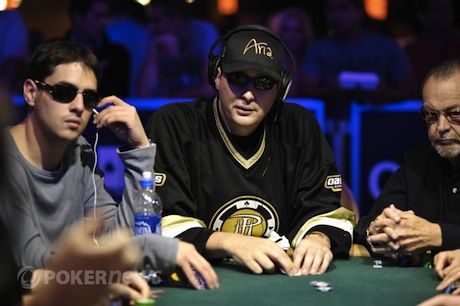 According to the Washington Post, Phil Hellmuth doesn't think Washington, D.C.'s foray into Internet poker doesn't have "much to offer the professional gambler."
"I still think that people are looking for a place to play poker and it wouldn't be surprising if you had a lot more players than you think start playing," he said. "It's a nice test, sure, but I think there's so few people [in D.C.], 600,000, that you might not achieve critical mass for players on the site under those conditions," Hellmuth told the Washington Post.
Hellmuth doesn't believe that the low-stakes games would be worth it for a professional player, but D.C. Lottery director Buddy Roogow was quoted earlier this year saying that wasn't the main concern. "We believe there's a much larger component of social, recreational and casual players who will be interested in a lower-stakes platform," Roogow told the Associated Press.
Hellmuth thinks for the government to make money, it should allow the private poker market to flourish. "The states have to ask themselves, how are they going to make money? Are they going to invest millions in software, hire a bunch of people and end up in a situation where they don't recoup their money for three or four years?" he said. "Or do they just start taxing it right away, and make decamillions from the start?"
Want more? WashingtonPost.com has it.
LAPT on its way to Colombia
Thanks to a press release we received this morning, we can tell you where the PokerStars Latin American Poker Tour is headed next. From Oct. 12 through 16, the LAPT will be in Medellin, Colombia.
"The poker communities in Latin America are extraordinary. They are growing quickly and are extremely enthusiastic and passionate about playing in the tournaments. I hope that players from all over the world come to Medellin to compete and that they also take time to enjoy the scenery, culture and food of this fantastic destination," LAPT president David Carrion said.
The event will take place at Allegre Casino, which is operated by Legendary Gaming, and the COL$1,980,000 buy-in Main Event is being dubbed "the National Poker Championship."
"During the fourth season of the LAPT we have introduced Sao Paulo as a new destination, and now it is Medellin's turn for a debut event. This decision was made so that we could have a National Championship in many different countries, and in turn find the best poker player in the region through the Player of the Year Award. These changes have been made because of the extensive feedback received last season and we are proud to deliver what players want," Carrion said.
Players can win entry online or through supersatellites at Allegre Casino.
Find out more at LAPT.com.
In 140 Characters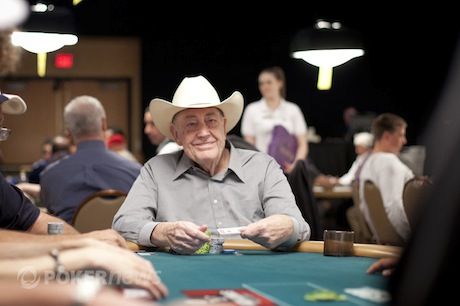 Some days we read tweets and think, "Our readers would probably like to know that," but the news bite is only 140 characters long. Instead of separating them into their own sections, we've compiled them all right here.

On Thursday, poker agent Brian Balsbaugh tweeted, "Just heard "The Banker" is playing poker @BellagioLV. No sightings of "The Professor" or "The Suicide King."
Looks like Andy Beal is back in town, and it didn't take very long for at least one of the sharks to sniff him out.

Doyle Brunson replied to Balsbaugh's tweet saying, "Nope, but Dolly was there. He then went on, "Played with "The Banker" for a few hours. Had a fun time, probably because I made a decent win. #needmorelikehim"
We're not sure if The Professor or the Suicide King will make appearances in this game, but we'll keep our ears open.

Early Friday morning, Dan Bilzerian tweeted, "Just had my third heart attack. Feeling better now, about to leave the hospital. Waiting on lab results.
He went on, "I checked myself outta the hospital. Doc said I should stay because I could die in my sleep if I go home. I've been gambling all week. I bet I'll live.
Luckily, it seems as though Bilzerian is OK. Andrew Robl tweeted, "Just an FYI to everyone I went to the hospital with @DanBilzerian last night and it appears nothing major happened and that he is a-okay."
Another One Bites the Dust
In a press release issued Thursday, Poker Pros Network announced it recently moved its URL to PPNpoker.eu to comply with U.S. legislation. It also said it would be leaving the Cake Network and moving to a proprietary network in the near future. Also, on Aug. 31, PPNpoker.eu will no longer accept new registrations from players in the U.S. Players who registered for accounts prior to the separation will be granted an exemption.
"We here at PPN are dedicated to improving our software, creating a safe environment for players to compete, and encouraging our pros to be available to customers at all stake levels," said PPN Poker owner Chuck Kidd. "It's been a lot of work, but what we're introducing later this year should turn the online poker industry on its head."
According to the press release, PPN Poker plans on releasing "unique proprietary software" with new features including live dealers and dealers' choice games in the fall.
Read the press release at MarketWire.com for more.
WCOOP Kicks Off Soon
The 2011 PokerStars World Championship of Online Poker is just around the corner and PokerStars wants to celebrate. Kicking off on Aug. 29, PokerStars will launch the Mega Satellites Week promotion. Two Mega Satellites will be held each day and 2,075 seats are up for grabs into 13 different events. That's $502,275 in value if you were counting. Here's a look at the Mega Satellite Week schedule:

| Date (All times ETD) | Time | Satellite | Sat TID | Event Target | Seats Gtd | $ Gtd |
| --- | --- | --- | --- | --- | --- | --- |
| 8/29 | 11:00 | WCOOP-01 Sat: $22 NLHE [6-Max, 125 Seats Gtd] | 432108416 | 1 - $215 NLHE, 6-Max | 125 | $26,875 |
| 8/29 | 14:00 | WCOOP-03 Sat: $22 NLHE [125 Seats Gtd] | 432109367 | 3 - $215 NLHE | 125 | $26,875 |
| 8/30 | 11:00 | WCOOP-04 Sat: $33 PLO [75 Seats Gtd] | 432123806 | 4 - $320 PLO | 75 | $24,000 |
| 8/30 | 14:00 | WCOOP-06 Sat: $3.30+R NLHE [3x-Turbo, 100 Seats] | 432138084 | 6 - $215 NLHE+R, Turbo | 100 | $21,500 |
| 8/31 | 06:00 | WCOOP-10 Sat: $27 PLO [KO, 75 Seats Gtd] | 432143873 | 10 - $265 PLO, KO | 75 | $19,875 |
| 8/31 | 11:00 | WCOOP-11 Sat: $33 NLHE [Ante Up, 100 Seats Gtd] | 432130483 | 11 - $320 NLHE, Ante Up | 100 | $32,000 |
| 9/1 | 06:00 | WCOOP-13 Sat: $22 PLO H/L [75 Seats Gtd] | 432110904 | 13 - $215 PLO H/L | 75 | $16,125 |
| 9/1 | 11:00 | WCOOP-14 Sat: $27 NLHE [KO, 6-Max, 100 Seats Gtd] | 432142474 | 14 - $265 NLHE, 6-Max, KO | 100 | $26,500 |
| 9/2 | 11:00 | WCOOP-16 Sat: $22 PLO [6-Max, 75 Seats Gtd] | 432112158 | 16 - $215 PLO, 6-Max | 75 | $16,125 |
| 9/2 | 17:00 | WCOOP-18 Sat: $33 NLHE [100 Seats Gtd] | 432139428 | 18 - $320 NLHE, 10-Min Lev | 100 | $32,000 |
| 9/3 | 10:00 | WCOOP-19 Sat: $11 NL Hold'em [1,000 Seats Gtd] | 432135556 | 19 - $109 NLHE | 1000 | $109,000 |
| 9/3 | 14:00 | WCOOP-20 Sat: $22 FLHE [100 Seats Gtd] | 432120912 | 20 - $215 FLHE | 100 | $21,500 |
| 9/3 | 16:30 | WCOOP-62 Sat: $215 NLHE [25 Seats Gtd] | 432140897 | The Main | 25 | $130,000 |
| | | | | | 2,075 | $502,375 |
Speaking of PokerStars, the online poker giant recently announced it will take on the role as lead sponsor for next week's Poker in the Park in London at Hanover Square.
"We're thrilled that PokerStars has come on board," said festival organizer Michael Caselli. "Having the most popular poker room in the world on board is not only great for Poker in the Park, but shows how committed PokerStars is to the entire sport of poker."
Read more at UK.PokerNews.com
Short Stacks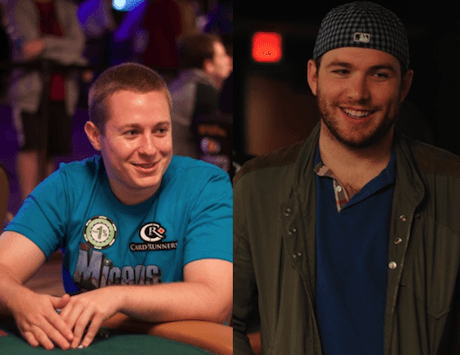 The Nightly Turbo is known for its brevity. But what do we do when there are too many news stories to tell you about in one day? We shorten things a bit. Here's a quick look at some other news stories going on in the poker world.

Follow us on Twitter for up-to-the-minute news.