The Nightly Turbo: Deeb is Done, New PokerStars Pro, and More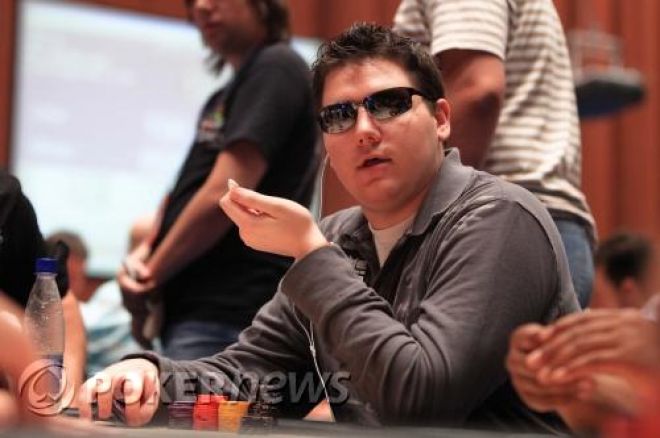 Another weekend down, and another Monday in the books. We hope you didn't miss us too much over the weekend, but if you did, you have nothing to worry about, we're back at it, doing our thing. We scour the web searching for the day's top poker news stories so you don't have to. Enjoy!
In Case You Missed It
PokerStars' European Poker Tour Vilamoura and Latin American Poker Tour Playa Conchal both crowned winners this weekend. Lucky for you, PokerNews was there to catch all the action. António Matias is the EPT's newest title holder and Amer Sulaiman took the LAPT title home. It's never enough to just know who won, so find out how they got there in the EPT recap and the LAPT recap.
With the FTOPS over, the online poker scene is back to normal. No deals were made in the PokerStars Sunday Million, which means the winner took home over a quarter of a million dollars. The Sunday Briefing has the results from all the biggest tournaments on the virtual felt this week.
The PokerStars Million Dollar Challenge returned to your TV this week and two contestants took to the felt hoping to win some big money. Did they both make it? You'll have to check out our recap to find out.
It's All in the Mind
Antonio Esfandiari swears by him. Now you have the opportunity to see what Sam Chauhan is all about. Chauhan is a poker mindset expert. He teaches clients neuro lingustic programming, hypnosis, physiological reading, and how to get rid of limiting beliefs.
"I had lost my hunger to win. I had no drive to win. I wanted to win, but I really didn't care. I was in a comfortable place in my life and I'm used to living that way. It felt like I didn't really need to win and I just did not have the desire necessary to win. After I hired Sam, I implemented the things he taught me and now I want to win so bad that I can't wait until the next tournament," Esfandiari said.
The World Series of Poker Academy is holding the Poker Mindset Academy in Las Vegas on Dec. 4 at Caesars Palace. The cost is $899 and while that may seem like a lot, you never know what it could mean to your poker game. After all, you saw how deep Antonio got in this year's World Series of Poker.
Find out more at WSOPAcademy.com.
Done-zo For Now
Shaun Deeb has announced that he's quitting poker — well, tournament poker that is. He has just over $300,000 in career tournament winnings and is coming off an EPT High Roller win in Kyiv back in August. But when you're burned out, you're burned out.
"Yah, I'm burntout. I hate them. I'm done with them. I'm gunna take rest of year off, hopefully, and go do something else. Yah, poker was good for a while but **** I hate what I've become," Deeb said.
Deeb is assuring everyone that he's not quitting poker altogether, just tournaments. He's currently sitting third in CardPlayer's Online Player of the Year race but it will be hard to win that one without playing any tournaments. Anyone taking bets on when we'll see him back on the tournament trail?
Read more at CoinFlip.com.
Why Poland, Why?
The Polish government just did a 180 on us. Now, raising taxes on online gambling isn't something that online poker players in Poland would have been happy about, but considering the alternative, which is now a reality, they would have taken it. Rather than raise the taxes, the Polish government has decided to introduce a ban on online gambling.
"My colleagues and I want to do everything to convince Poles and also our opponents about our impartiality," Prime Minister Tusk said.
This ban comes in the wake of a political scandal that has cost the prime minister of Poland four of his senior officials. The four officials were released on suspicion of "letting gaming industry lobbyists exert inappropriate influence on political decisions."
LotteryPost.com has more.
Hey Jude!
With PokerStars introducing the UK & Ireland Poker Tour in December, it only makes sense to add an Irish player to the team. Jude Ainsworth has made history by becoming the first Irishman to sign with the online poker giant.
Ainsworth isn't just some guy they found drinking Guinness in a bar in Dublin. In 2008, he won the PartyPoker Irish Poker Championships, and in 2009, he took down the $10,300 buy-in PokerStars Spring Championship of Online Poker for over $900,000.
"I'm really looking forward to competing in the UKIPT and being part of such an exciting tour. Undoubtedly the event I'm looking forward to is the return to my hometown Galway," Ainsworth said.
Read more at OnlinePoker.net.
Hellmuth's Newest Blockbuster
While at the Taser Foundation charity tournament, Phil Hellmuth takes us on a tour of the tournament floor. Jeff Madsen does what he does best — rapping, if that's what you want to call it. Greg Raymer makes an appearance, Brandon Cantu doesn't get tased again, and Layne Flack serenades us. Go ahead. Watch it. You know you want to.
Are you following us on Twitter yet? Or Facebook? You should be.