The Nightly Turbo: Parx Open, Will FTP Management Change, and More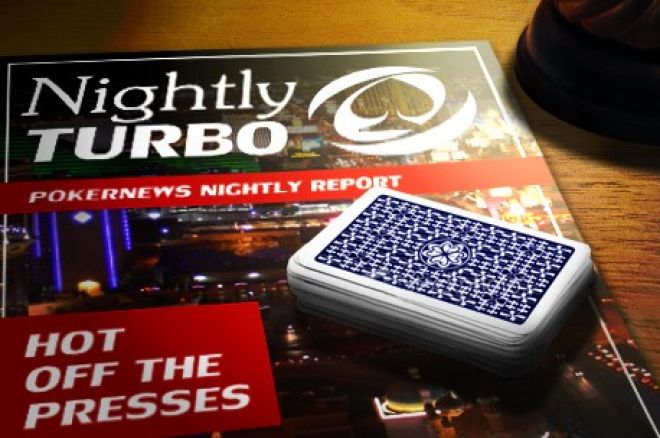 We were dreading Monday when we woke up, just like you were, but someone had to search for the top poker news stories of the day and put them in an easy place for you to find. Keep reading to find out more on the Parx Open Poker Classic, if management changes will happen at Full Tilt Poker, and more.
In Case You Missed It
If Sunday Brunch Blues sounds as awesome to you as it does to us, then the latest i episode is right up your alley. Sarah Grant caught up with Rudy Rude, a musician at The Beat Coffeehouse in downtown Las Vegas to find out more about the new spot.
Depending on how you look at it, Sunday either ends the previous week or begins the new one. That's for you to decide. What isn't for you to decide is the fact that Sunday is online poker's biggest day. Four players walked away from Sunday with six-figure scores and you can read all about it in the Sunday Briefing.
We're sure when you think Matt Savage, you think poker tournament director extraordinaire, but what about when he's away from the felt? Can he name all the Spice Girls? Who would he want to sing a duet with? We're tackling the tough questions in our Off the Felt series.
Parx Open Poker Classic
The $2,000 buy-in Main Event of the Parx Open Poker Classic kicked off Saturday and attracted a field of 181 and a prize pool of $324,804. Michael Mizrachi, Mike Matusow, Tristan Wade, Matt Glantz, McLean Karr, and Matt Stout were all part of the field.
Out of this group of names, Karr ran the deepest in the event. He went into Day 2 with the chip lead and took it into the final table on Day 3, as well. Play resumed for the final ten players at 2 p.m. EDT on Monday.
It didn't take long to get some extra room at the table. Lou Santoro was eliminated in 10th place less than half an hour after play began. A few hours later, Joe Palma was eliminated in ninth place when, according to the Parx Poker Blog, he got involved in a hand against Will Failla. Palma's
was behind the
of Failla and the
flop was no help. The turn and river gave Failla a boat, eliminating Palma who took home $8,932.
At the time of writing, Larry Nelson had been eliminated in eighth place, also against Failla. This time it was Failla's kings against Nelson's tens.
You can follow along with the action at ParxPokerBlog.com.
World Poker Tour Regional Seminole Hard Rock Summer Splash
We don't know what it is about the World Poker Tour and the longest tournament names around, but they continue to do it to us. The $2,200 buy-in World Poker Tour Regional Seminole Hard Rock Summer Splash kicked off Friday and after two Day 1 flights, 391 players created a $782,000 prize pool, smashing the $250,000 guarantee.
Darryll Fish, Brian Hastings, Jason Mercier, and Thayer Rasmussen were all part of the field and made it on to Day 2. Out of those players, Hastings and Fish were able to secure a spot in the final 16 on Monday.
At the time of writing, Hastings had the chip lead, and seven players remained — among them, Daryll Fish. Up for grabs is title and $213,877 first-place prize.
William Mason, director of poker operations at Seminole Hard Rock Hollywood has been posting updates on TwoPlusTwo.
FTP Management
According to eGaming Review, who spoke with a lawyer representing Full Tilt Poker, "any takeover of FTP would likely require a change in management as well as one of ownership."
The Sept. 15 due date for the hearing with the Alderney Gambling Control Commission is looming and eGaming Review is reporting there are still ongoing discussions between Full Tilt Poker and potential bidders for the company to secure an investment.
"Everyone has their eye on that date, nobody wants to come to September 15th and not have a deal which is either finalized or close to finalization to the point that it can be shared with Alderney and result in the extension of that date," said Jeff Ifrah, one of the lawyers representing Full Tilt Poker.
According to Ifrah, the AGCC has concerns about FTP's prior management.
"I'm not directly involved in any of those discussions but I assume if everything goes to plan then the announcement will bring not just a new owner and new investor but also an entirely new management team, and I assume that will all be well-coordinated and closely coordinated with the regulators," Ifrah added.
Ifrah assured that paying back the players was the top priority: "I assume there's going to be a transition period [after any investment] and we hope that it's not going to take that long to turn the lights back on and begin facilitating player withdrawals and obviously continue playing."
EGRMagazine.com has more.
PSA: Taxes
We're not accountants, but we figured we'd better give you the skinny on an article we stumbled across, because it could impact you. Yes you, the online poker player who moved out of the U.S. to continue to do what you love.
According to WindsorStar.com, the IRS is launching a new enforcement policy next month called the Offshore Voluntary Disclosure Initiative. What does this mean? All U.S. citizens who live abroad are required to file annual tax returns, and, according to The Windsor Star, "must disclose their foreign bank accounts and other holdings even if they have no American tax liability."
The Aug. 31 deadline is for citizens who have failed to file the required documents. If they do, and meet the deadline, the may still be penalized, but the penalties won't be so great.
"The time has come to get back into compliance with the U.S. tax system because the risks of hiding money offshore keeps going up. Our goal is to get people back into the system," said commissioner Doug Shulman in a statement on the IRS website. "The voluntary initiative gives people a fair way to resolve their tax problems."
Read more on this initiative at WindsorStar.com.
Inside Deal Extra
In the latest ESPN Inside Deal Extra, Jon Anik and Andrew Feldman catch up with 2011 World Series of Poker November Niner Matt Giannetti. They asked him how he got started in poker, how he splits his time between cash poker and tournament poker, and more.
We like to make things easier for you, but we don't like when things auto play, so you're going to have to check out the video on ESPN.com.

Follow us on Twitter for up-to-the-minute news.