The Nightly Turbo: 2011 WSOP Breaks Records, UK Facing Online Gambling Reform, and More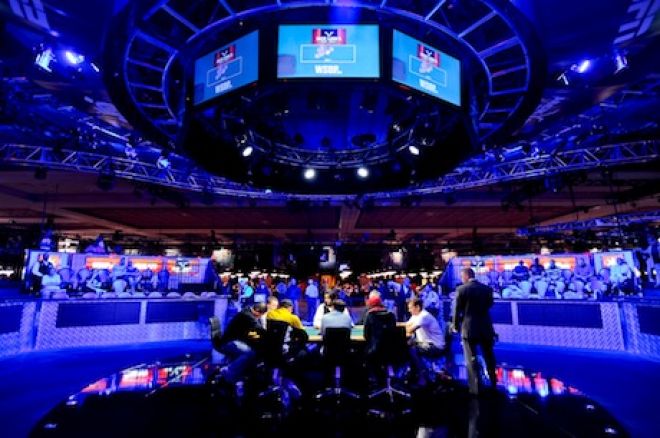 Now that you're well rested from the weekend, you can get back to your weekly grind of railing the live coverage of the 2011 World Series of Poker Main Event and catching up on the day's top poker news stories. If you missed any of the coverage of the 2011 WSOP Main Event over the weekend, then you probably don't know about the records that were set on Sunday. Don't worry, we'll fill you in. On top of that, we'll bring you some news about gambling reform in the United Kingdom and more. Enjoy!
In Case You Missed It
If you missed FSN's coverage of the World Poker Tour on Sunday, then you missed two things: the WPT's 200th episode and who won the Hollywood Poker Open. We watched it, though, so read it and catch up on things why don't you.
Sunday marked the fourth and final Day 1 of the 2011 WSOP Main Event. It was the day everyone was looking at to make or break attendance expectations. What was the final number of players? You'll have to check out our daily WSOP recap to find out.
Sunday is the biggest day of the week for online poker players, and just because the WSOP is running, doesn't mean it all stops. The Sunday Briefing has the results from the biggest online poker tournaments of the week.
Should Have Taken the Over
In the wake of Black Friday, the 2011 World Series of Poker and its attendance numbers were on everyone's minds. Many in the industry were forecasting low numbers throughout all the events, but specifically in the Main Event. There were eternal optimists out there, though, (where they were, we're not sure) and they'll be happy to know that they were right. The 2011 World Series of Poker set all-time records.
Through 58 events, 75,672 players entered, creating the largest prize pool in WSOP history - $191,999,010. There was a 3.7 percent increase from last year's attendance and a 2.6 percent increase in the record prize pool that was set last year.
"This summer underscores the appeal of the game and the power of this event. We're so thankful for all those who came from around the world to demonstrate that poker continues to grow," said World Series of Poker Executive Director Ty Stewart. "All across the board at the 2011 WSOP, from our signature gold bracelet events to cash games to satellites and daily tournaments, records were made to be broken."
As for the 2011 WSOP Main Event, it attracted the third-largest field ever, with 6,865 entrants.
Other records set at the 2011 WSOP include most million-dollar tournaments (46), biggest single-day attendance (3,752 in Event #30), and longest span between event cashes (Artie Cobb - 35 years; 1976 and 2011).
The 2011 WSOP set quite a few other records as well, and if you're wondering what they are, head on over to WSOP.com.
Gambling Reform for the UK
While perusing our sister site, UK.PokerNews.com, we came across an interesting piece of information. It seems as though online gambling in the U.K. may be heading for change.
According to The Observer, culture secretary Jeremy Hunt is looking to revamp online gambling rules in the wake of the Full Tilt Poker shutdown. The government in the U.K.
"This highlights why the government is looking at reforming how overseas-based operators are regulated and we hope to make an announcement in the next few weeks," said a spokesman for the Department for Culture, Media and Sport.
The current legislation allows companies to advertise and operate in the U.K. without being licensed by the U.K. Gambling Commission.
Guardian.co.uk has more.
Tobey's a Loser - Sometimes
Keeping your poker money in a separate account from your living money is probably extremely helpful for a variety of reasons. One of them being in case you get sued by a group of people who were fleeced of their money by a guy running a Ponzi scheme. See where we're going with this?
According to TMZ, Tobey Maguire has filed documents showing that he not only won during the high-stakes poker games in the Hollywood Hills, but he lost as well. As we've already told you, Maguire is being sued by a group of trustees who were conned in a Ponzi scheme by Brad Ruderman. Ruderman was a regular in the high-stakes poker games in Hollywood and the trustees are attempting to get more than $300,000 from Maguire, which they say he won from Ruderman. There were three checks included in the legal filings that show Maguire paid Ruderman $168,500 from July 2007 and January 2009.
You can see the complete legal filings at TMZ.com.
Leaving on a Jet Plane
We've been looking for someone with a private jet connection for quite some time and it looks like we just found one. Jamie Gold has announced his latest sponsorship deal with Universal Jet Corporation.
According to the press release we received, "This is just the beginning for me, and Universal Jet is the first of several announcements I wanted to make as I embark on a new phase of my career. I am very proud of this deal, mainly because of the quality of their services and their management team, especially CEO Christian Matteis," Gold said.
UJet has sponsored Gold in the 2011 WSOP Main Event and there are discussions surrounding a television show and even "Jamie Gold" in-flight experiences.
"Professional poker requires a lot of travel and some destinations and time constraints can't be done commercially, so Universal Jet Charter is a perfect solution for today's professional poker player" Gold said.
If you want to charter your own jet, shuttle over to FlyUJet.com.
Casterboarding
Kristy Arnett caught up with Faraz Jaka recently to check out his other job - Axis Casterboarding. If you don't know what a casterboard is and/or you want to see Arnett try her hand - err foot - at casterboarding, then check out the video.
Follow us on Twitter for up-to-the-minute news.