The Nightly Turbo: PokerStars Brazil Poker Tour, More WSOP Stats, and More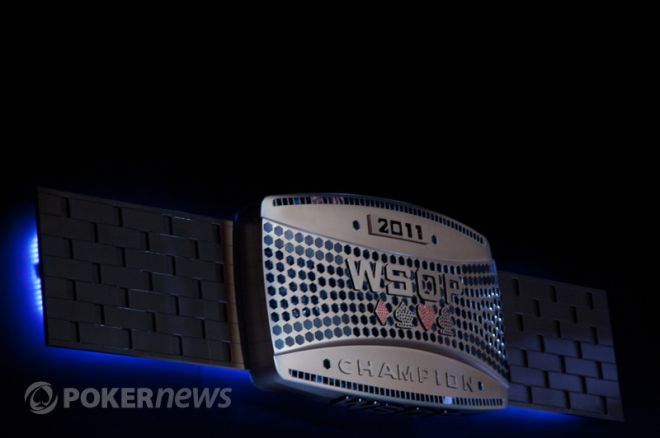 We're not sure how it's already Wednesday, but we're happy it is. This week is going by faster than we thought it would. So what do you need to get caught up with today? Well, PokerStars announced a new poker tour, so we'll tell you where you'll need to book your plane tickets. On top of that, we've got a slew of new 2011 World Series of Poker stats. Keep reading to find out more.
In Case You Missed It
The third week of the 2011 World Series of Poker is in the books. Wondering what you missed? Rich Ryan gives you his five thoughts.
If you missed any of the action from Day 22 of the 42nd Annual World Series of Poker, don't fret. Catch up on all the goings on in the daily WSOP recap.
Olá Brazil!
This morning, we opened our inbox and found a press release from PokerStars announcing that it was the sponsor of the newly created Brazil Poker Tour.
"The creation of the BPT is a natural step for developing poker in Brazil. The number of poker players grows every day and we see increased participation of Brazilians in tournaments across the world. Therefore Brazil is the natural choice to become the first country in the region with an exclusive poker circuit. We expect players from neighbouring countries and all over the world to participate," said LAPT president David Carrion.
The first BPT stop kicks off on July 21 in São Paulo, and features a R$2,300 buy-in. According to the BPT website, there is only one other stop scheduled - Florianópolis, from October 6 through 10.
"It's very important to receive a new countrywide tournament like the BPT. It helps poker to grow as a sport and to bring more players each time. With the proposed buy-in, the quality of players also increases and it will be more challenging," said Team PokerStars Pro Brazil's André Akkari.
Want to know more about the BPT? Head on over to the PokerStars Blog.
More Stats
On Monday, we brought you a few stats from the 2011 World Series of Poker. Luckily for you stats lovers out there, we're here with a few more. We'd like to thank the awesome communications director of the WSOP, Seth Palansky for these stats.
The average age of entrants through Event #29 is 36.17
The average age of winners through Event #29 is 28.82
74 countries have entered
946 of 29,421 entrants have been female (or 3.2 percent)
Tom Dwan has entered the most events - 26
Allen Bari has won the most money - $883,469
If you want more stats, like a bracelet breakdown by country or the Player of the Year leaderboard, head on over to WSOP.com.
Spidey Sense a Little Off
Is it a surprise to us that Tobey Maguire, Ben Affleck, Matt Damon, and Leonardo DiCaprio frequently played high-stakes home games in the Hollywood Hills? Nah. Not really. What is surprising, though, is that Tobey Maguire, and a handful of others are being sued by trustees in a bankruptcy case that involves Brad Ruderman.
Ruderman is in jail for running a Ponzi scheme in which he lost $25 million in investor money. According to an FBI investigation $5.2 million of the money he lost was lost in the high-stakes poker games. The trustees are suing to recover the winnings from the poker game.
Poker player Dan Bilzerian is also being sued and allegedly told Star magazine: "I'm not paying a single cent.... If a casino gets taken and then lawyers come after them, the establishment isn't going to then go after one of its players to cover their lost. Are you kidding me? I'm not paying s**t."
We say allegedly because Bilzerian tweeted that he was misquoted, and we're not sure which quotes were taken out of context.
Read more about the lawsuit at RadarOnline.com.
Pretty as a Picture
We don't physically have the June issue of WPT Magazine, but thanks to Kevmath, who posted the list on TwoPlusTwo, we're able to tell you who the 20 hottest women in poker are.
Lauren Kling Erica Schoenberg, and Vanessa Rousso are 20th, 19th, and 18th repectively, while Liv Boeree comes in at number 12. In 10th place is Leeann Tweeden. Kimberly Lansing halves the top ten and WPT Royal Flush Girl Melanie Iglesias takes the runner-up spot. Drum roll please. And in the number one spot - Tatjana Pasalic.

Check out the entire list (and pictures because its News, Views, and Gossip) on TwoPlusTwo.com.
Blow Your Bankroll
Lynn Gilmartin cured her sweet tooth recently for the latest edition of Blow Your Bankroll. She got out of the Rio and went over to the Sugar Factory at Paris to get her hands on a $1,000 chocolate-fondue tasting and check out a $1 million lollipop.
Follow us on Twitter for up-to-the-minute news.