Play Intense Hands of Poker & High-Energy Slots Against Your Friends With Social Slots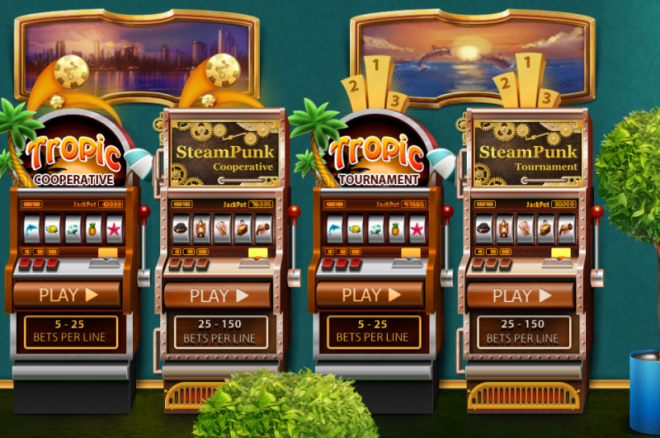 This is an advertisment
How would you like to play intense hands of poker and high-energy slots with, and against, your friends? Sounds like fun, right? Well now you have that chance with Social Slots by Zeniz, the hottest new gaming platform for your iPad or iPhone. What's more, the app is absolutely free.
Social Slots is the game presented by Zeniz, a company dedicated to creating the best-in-breed social mobile games, and is a joint venture between The United States Playing Card Company ("USPC"), a subsidiary of Jarden Corporation and Digi117, a mobile social strategy agency.
Since its launch three days ago it has already been recognized by users and has gone up the charts to No. 12 on Top Free iPhone Casino Apps. Play with your friends, share your game on Facebook and invite others to join up as a team or play in a tournament — it's totally up to you. Social Slots™ lets you play the game, the way you want to play it.
Begin in the Social Slots™ lobby where you can choose from four visually stunning and totally unique slots game options.

Spin Friendzy Slots – Match your friends and win!
Steam Punk Slots – Jump in to the era ruled by the mean machine!
Tropic Slots – Take a spin in an island oasis!
Lucky Vault Slots – Step right up and try your luck!
With many more games being added, Social Slots™ is the perfect new game to check out and play. Download today, give it a spin and challenge your friends!
System Requirements: iPhone, iPad or iPod touch running OS 3.0 (or higher)
APP FEATURES:

100% pure social game play
Stunning and stimulating graphics
Amazing and unique slots games
While the slots sound fun, we're guessing the draw for a big demographic will be the poker options. As the Zeniz website explains:
Play live Texas hold'em against other players across the planet from wherever you are, whenever you want! From throwing down tiny virtual stakes to high rolling fortunes everyone's gonna get lucky and win something at Casino by Zeniz! But it's not just about luck, we all know that poker is a game of skill, and in our Casino the best players always get their chance to shine too. With the Zeniz Poker Crown system, it's more than just chips at stake when gamers are on a hot streak. Any one of 12 different Poker Crowns can be awarded to players that collect the most chips…so all your friends will know who the top dog is! So hit the felt, hone your skills, and collect Zeniz Crowns to cement your reputation. It's time to hit the big time, baby! "Everyone plays at the same time, unlocking wild player-to-player rewards as they play," Zeniz explains. "Players win bonuses that help other players, and reap the rewards when friends hit it big in the high stakes rounds.
Social Slots by Zeniz truly bring authentic casino action to your mobile device, where meeting and spinning your buddies along the way adds a whole new dimension to slot gaming.
The Casino by Zeniz app has proven popular with users. "Got addicted to this app…" wrote "Ravichappa" in a review in the iTunes store.
Likewise, Ryley Johnson echoed his sentiments: "Truly is social! Probably the only one like this on the App Store. I can now play slots with my friends!"
As Social Slots says on its website, they're "not only the best place to head for authentic gaming fun, but a great destination for global brands to speak to their fans!" To learn more, be sure to follow them on Twitter or check them out on Facebook. In the meantime, be sure to download the app for your iPad/iPhone today by visiting iTunes.
Remember, it's absolutely free.