Antonio Esfandiari, Big One for One Drop Winner, Inks Sponsorship Deal with 3Bet Clothing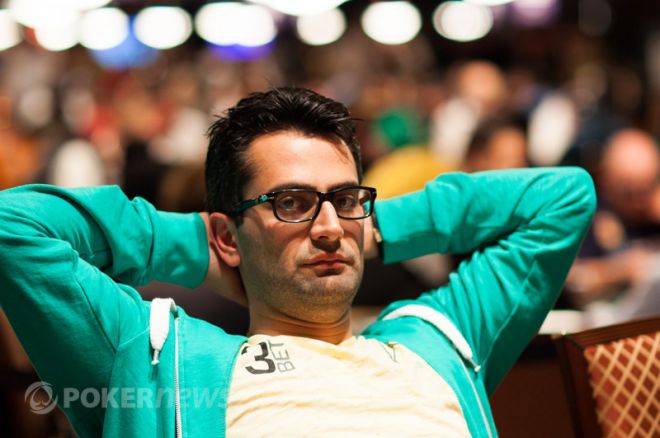 Antonio Esfandiari, the winningest live tournament player in poker history, is the newest name on the 3Bet Poker Clothing ownership roster. Esfandiari joins Brian Rast, Jonathan Little, Greg Mueller, David Sands, Scott Clements, and John Phan on Team 3Bet.
"I had my eye on 3Bet for a few months, but when I saw their product in person at the start of the WSOP, I knew I had to get involved," said Esfandiari. "Poker is in dire need of a clothing line that is both stylish and comfortable, and I was such an instant fan of what 3Bet is doing as a company, that I came on board as an owner even before the One Drop tournament started."
3Bet Poker Clothing was founded by two avid poker players who have a combined 25 years of experience in the fashion industry. One of the co-founders, Kevin Talbot, founded the line Heart & Soul. He sold his interest in the Heart & Soul fashion line for "eight figures" and has devoted all of his time and energy to 3Bet.
"I put my money and experience into 3Bet.us because I think the real growth in poker is still ahead. When the online game comes back to the United States, you're going to see another explosion in interest and 3Bet will be the apparel line that connects players of all skill levels to the game they love."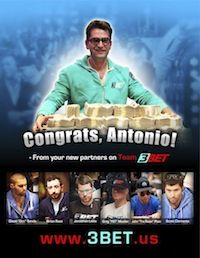 Team 3Bet was well represented at the Big One for One Drop final table. Brian Rast was also there. "With 3Bet's team of playing pros and the experience in the clothing industry that the founders bring to the table, 3Bet will become the premier non-gaming name in the poker world," Rast said about the brand.
The 3Bet clothing line consists of T-shirts, hoodies, and hats. There are a number of collections which represent different members of Team 3Bet. Antonio Esfandiari's line of One Drop tees that he wore during his win in the $1 million buy-in Big One for One Drop comes in three colors — banana cream, tahati blue, and slate blue.
To check out the entire line of 3Bet Poker Clothing, head on over to 3Bet.us.
Follow PokerNews on Twitter for up-to-the-minute news.