The Nightly Turbo: Phil Galfond's Blog, David Baker Leads GPI Player of the Year, and More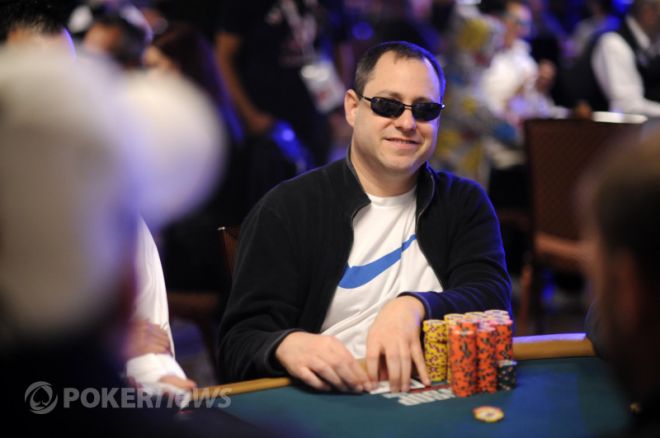 If you're like us, the World Series of Poker hangover has officially set in. But the news must go on! In this edition of the Nightly Turbo, we're bringing you Phil Galfond's latest blog, a new leader in the Global Poker Index Player of the Year standings, and more.
In Case You Missed It
The PokerNews video team sat down with most of the "Octo-Niners" after the World Series of Poker Main Event reached a final table. You can find the interviews on our video page.
There were many critical and jaw-dropping hands during the past two weeks of the World Series of Poker. Chad Holloway takes a look at the Biggest Poker Hands From the Main Event.
PokerStars has unveiled the preliminary schedule for the 2012 World Championship of Online Poker. Take a look at all 61 events right here at PokerNews.com.
Antonio Esfandiari joined the 3Bet Poker Clothing ownership roster this week. He joined Brian Rast, Jonathan Little, Greg Mueller, David Sands, Scott Clements, and John Phan on Team 3Bet.
The Straddle: WSOP Bloopers
Our talented video team put together dozens of great videos during the 2012 WSOP. The best one, though, might be the end-of-series reel with bloopers from Kristy Arnett, Sarah Grant and Lynn Gilmartin. Enjoy!
Follow PokerNews on Twitter for up-to-the-minute news.
Intimacy With a Twi$t
You feel invincible when you call someone's bluff.
Rookie Mistake - Don't let it get to your head!
9 out of 10 times, experience will win.
With those odds, why bother with traditional dating sites when you can have a mutually beneficial arrangement. 3 Girls to Every Guy - Yes, Really!
Find the arrangement of a lifetime at ArrangementFinders.com
This is an advertisement
PKR v. 2.08
On Wednesday, PKR.com unveiled a new version of its innovative 3D software that will bring smiles to the faces of online grinders.
The biggest change in the software is the ability to open up to nine separate 3D real-money table windows, allowing players to fill their monitor with tables if they so choose. The windows can be set to tile, cascade or custom to your liking.
Other software enhancements include improved table chat, revamped remote controls for your avatar, a new "My Seat" camera angle, and tableside virtual drinks including tequila shots and mojitos.
PKR also announced it will be releasing a revolutionary Hand Replay Tool that will allow players to export their hand histories to YouTube and other social media platforms.
Here's a closer look at PKR version 2.08:
Read more at PKR.com.
MicroMillions II Winners
The second edition of the PokerStars MicroMillions II is officially past the midway point as 53 of the 100 tournaments were completed through Tuesday.
Thousands of players took part in a variety of events, including stud, Omaha hi/lo and no-limit hold'em. The biggest winner on Tuesday was "kawachi1984" who took down the $4.40 NL Hold'em 4-Max, 4X Chance event for $11,775.48 after outlasting 15,593 players.
Team PokerStars Pro Andre "acoimbra" Coimbra is still going strong in his challenge to play in every MicroMillions II event. Through Tuesday, Coimbra had cashed in 13 events for $273.59 and placed 38th on the leaderboard.
Here's a look at Tuesday's winners from the PokerStars MicroMillions II series:
| Event | Entrants | Winner | Prize |
| --- | --- | --- | --- |
| #45: $3.30 PL/NL Hold'em | 5,161 | 41g3r | $2,432.24 |
| #46: $11 NL Hold'em 6-Max SuperKnockout | 6,595 | froab | $4,089.53 |
| #47: $1+R NL Hold'em 3x-Turbo | 12,554 | keqiwong | $9,065.83 |
| #48: $3.30 PL Omaha Hi/Lo | 5,891 | vanov04 | $2,086.63 |
| #49: $3.30 FL Stud | 4,289 | SebbyGl | $2,086.40 |
| #50: $4.40 NL Hold'em 4-Max, 4X Chance | 15,594 | kawachi1984 | $11,775.48 |
| #51: $2.20+R NL Hold'em Ante Up, 2x-Turbo | 11,168 | Llandie | $8,092.30 |
| #52: $5.50 NL Hold'em | 10,893 | staanemer | $7,632.26 |
| #53: $3.30 NL Hold'em 6-Max, Ante Up | 5,861 | ASPIDOV ALEK | $2,437.57 |
MicroMillions II runs through Sunday, July 22, culminating with a $22 Main Event with a $1 million prize pool. For an in-depth look at Tuesday's results, visit the PokerStars Blog.
Baker's Recipe for Success
Fresh off winning his first World Series of Poker bracelet and running deep in the WSOP Main Event, David "ODB" Baker is the new man to catch in the Global Poker Index Player of the Year race.
Baker was nowhere to be found in the top 10 of the rankings entering this week, but he climbed 13 spots to overtake Jonathan Duhamel for the top spot. Baker won the $2,500 8-Game Mixed event in June, and followed that up with three more final tables before placing 56th in the Main Event for $128,384. His eight cashes at the 2012 WSOP amounted to nearly $800,000.
World Poker Tour Championship winner Marvin Rettenmaier jumped one spot to No. 2 in this week's rankings, dropping Duhamel two spots to No. 3. Dan Smith and Kyle Julius were fourth and fifth, respectively, and Phil Ivey (sixth) was knocked out of the top five for the first time in four weeks.
Another big mover this week was Erik Cajelais, who moved up 15 spots to No. 10 after an 86th-place finish in the WSOP Main Event. Cajelais also had a runner-up finish in a WSOP this summer and also took fifth in the WPT Bay 101 Main Event in May. Cajelais is just a few points ahead of superstars Vanessa Selbst, Jason Mercier and Eugene Katchalov for 10th in the standings.
Here's a look at the Top 10 of the Global Poker Index Player of the Year standings:
| Place | Player | Total Score | Change in Rank |
| --- | --- | --- | --- |
| 1 | David Baker | 715.90 | +13 |
| 2 | Marvin Rettenmaier | 682.08 | +1 |
| 3 | Jonathan Duhamel | 668.79 | -2 |
| 4 | Dan Smith | 662.47 | -2 |
| 5 | Kyle Julius | 637.63 | -- |
| 6 | Phil Ivey | 629.12 | -2 |
| 7 | Daniel Negreanu | 607.28 | +2 |
| 8 | Andrew Lichtenberger | 605.49 | -- |
| 9 | Samuel Chartier | 583.37 | -3 |
| 10 | Erik Cajelais | 559.60 | +15 |
The Global Poker Index Player of the Year, presented by PokerNews, honors the player who has the strongest performance in live tournaments during the calendar year, according to the USA Today Global Poker Index point system.
For the full GPI Player of the Year standings, head on over to EpicPoker.com.
Phil Galfond is Happy
Rarely does a poker blog get more attention than the one written by Phil Galfond. The admired high-stakes poker pro submitted a new entry this week that immediately received a great response from his peers and the community.
The blog, titled Poker and Your Life, touches on several issues poker players face during their career. Among other things, Galfond explains his discovery of the true meaning of happiness:
What I now realize is that I'm sacrificing happiness for… happiness! Once I made this realization (recently), I started seeing how much happier I could be in my day to day life by sacrificing some EV. I used to feel like I HAD to work hard, and I was doing the "right" thing by maximizing my earn rate rather than being my happiest. It almost felt like a duty… like it was honorable. But now when faced with a decision of making a sacrifice in happiness for more $EV in poker, I'm no longer comparing apples to oranges. I'm choosing apples (happiness) or apples (happiness). So really, all I need to do is decide what (which apple) will make me more happy (apple).
As always, Galfond's blog is tl;dr a must-read for every poker fan. You can find it at PhilGalfond.com.