The Weekly Turbo: Mizrachi Endorses ISPT, Zynga Confirms Real-Money Plans, and More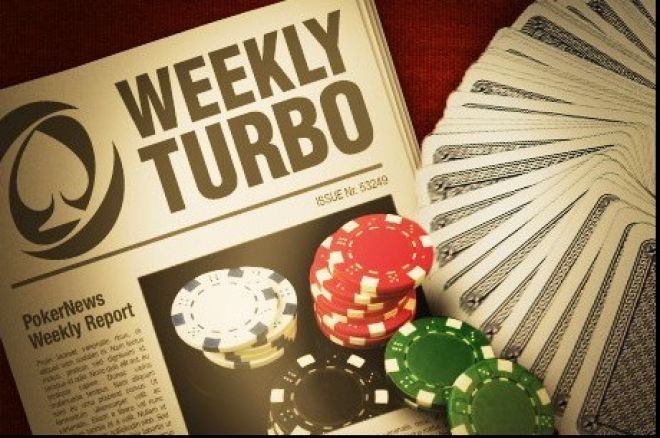 Did you miss any of the top poker news stories this week? Well you've come to the right place to get caught up. We're covering Micheal Mizrachi's deal with the International Stadiums Poker Tour (ISPT), Zynga's plans for real-money gaming, and more.
Poker Business
Inside The Hollywood Home Game
According to the Associated Press, Molly Bloom will soon be releasing a memoir that chronicles the illegal high-stakes Hollywood poker games that took place for seven years across the country.
Bloom's book, currently untitled, will be published by It Books and is tentatively scheduled to hit stands in the summer of 2013. The memoir will take readers through the illegal high-stakes games Bloom arranged in New York, Los Angeles, Miami and Las Vegas. Among the celebrities rumored to participate in the games include Ben Affleck, Leonardo DiCaprio, Tobey Maguire, Alex Rodriguez and Matt Damon.
Bloom said in a statement that she "reigned supreme" over the secret world of the underground games, but her business came crashing down last year when she was one of 22 people sued for their winnings in a poker game organized by criminal Beverly Hills hedge fund manager Brad Ruderman. Ruderman, currently serving a 10-year prison sentence, operated a wire-fraud and investment-adviser fraud scheme that lost investors $25 million, and then allegedly lost another $5.2 million in the high-stakes cash games trying to win the money back.
All 22 defendants involved in the case settled out of court for a total of $1.75 million to avoid a trial. Bloom's book will give an inside look at the games that the trial would've given us.
Read more in the story by the Associated Press.
Shuffle Master Receives Online Gaming License in Nevada
On Thursday, gaming supplier Shuffle Master received a license from the Nevada Gaming Commission to be a manufacturer and provider of interactive gaming systems in Nevada.
Shuffle Master becomes the third company to receive an interactive gaming license in the state. Slot machine suppliers IGT and Bally Technologies were granted licenses last month. More than 30 other companies, including casino giants Caesars and MGM, have submitted similar applications with the state Control Board.
As a business-to-business provider, Shuffle Master will offer online poker and other interactive games to Nevada casinos looking to compete in the market. The next step for the company is to have its technology tested by the board and the state before it is given authorization to provide real-money games.
Irish online bookmaker Paddy Power also met with the state Gaming Commission on Thursday and received a "preliminary finding of suitability." Paddy Power doesn't have any current gaming interests in Nevada, but the company has two years to explore opportunities in the state.
The Las Vegas Review-Journal has more.
Changes at the AGCC
In the wake of the debacle at Full Tilt Poker, the Alderney Gambling Control Commission (AGCC) has announced a number of amendments to its Alderney eGambling Regulations of 2009.
The most notable change made by the regulatory body involved the segregation of player funds. Beginning next year, all operators licensed by the AGCC will be forced to hold all customer deposits in a segregated account that is separate from the business' operating or current account. Licensees will also be required to submit monthly reports to the AGCC detailing the total amount of funds held on behalf of customers and the balance of all bank accounts where the funds are being held.
While licensed with the AGCC, Full Tilt Poker continuously reported funds that were not available because of several problems with payment processors. Full Tilt was fusing player deposits with its marketing and operating funds, all while lining the pockets of board members Howard Lederer, Chris Ferguson and Ray Bitar. Full Tilt Poker still owes customers an estimated $330 million.
Read the full AGCC amendment document at gamblingcontrol.org.
Follow PokerNews on Twitter for up-to-the-minute news.
Online Poker
Zynga Confirms Real-Money Ambitions
Social gaming behemoth Zynga is planning to launch real-money gaming in the first half of 2013, CEO Mark Pincus said during the company's quarterly earnings conference call on Tuesday.
Pincus has said publicly for months that real-money gaming would be a "natural fit" for Zynga but it wasn't until this week that he announced a prospective launch date. Zynga's revenue plummeted in the second quarter of 2012, mostly due to a significant drop in customer purchases, and online gambling — including poker — could give a boost to the company's earnings.
"What we've said, and what we have to announce today, is that we have our first products in development and that we intend to release them in markets that are regulated and open, subject to our getting licensing," Pincus said on Tuesday.
Earlier this week, eGaming Review reported that a number have companies have shown interest in working with Zynga to provide real-money gambling. Zynga is also reportedly the frontrunner to acquire the Ongame Network from bwin.party, a move that would bolster Zynga's real-money poker platform.
Pincus said that the real-money gaming launch would initially occur outside of the U.S. where laws permit gambling on the internet.
Venture Beat has more.
Nadal on Poker
Tennis superstar and new Team PokerStars Pro Rafael Nadal recently pulled out of the London Olympic Games because of continuing knee problems. Will he spend some of his down time learning how to play poker at PokerStars? Fellow Team PokerStars Pro Victoria Coren sat down with Nadal to ask him about poker, tennis, and competition.
For the full interview, check out the Huffington Post UK.
Elisabeth Hille Finds Sponsor
Elisabeth Hille has parlayed her World Series of Poker success into a sponsorship deal with Betfair Poker, WPT Magazine reported on Monday.
Hille gained instant fame for her 11th place finish at the WSOP Main Event last week, an achievement that earned her $590,442. The Norwegian amateur, who was a full-time waitress going into the WSOP, will reportedly serve as Betfair Poker's ambassador for Norway. She joins Peter Eastgate, John Tabatabai and Hans Vogl on Betfair's roster of poker pros.
Hille was donning a Betfair patch late during her run in the WSOP Main Event, as you'll see in the following interview with PokerNews' Kristy Arnett.
PokerNews reached out to Betfair for confirmation on Hille's signing but has not yet received a reply. We'll have more on this story as it develops.
Read the story at WPT Magazine.
MicroMillions II Ends
The second installment of PokerStars' MicroMillions II came to a close last weekend. The popular tournament series attracted 1,288,221 entries over 11 days, generating a total prize pool of $7,966,209.85 — nearly $3 million more than the $5 million guarantee.
The biggest winner during the 100-event series was Argentina's SoyDelGlobo, who outlasted a field of 65,063 in the $22 buy-in Main event on Sunday. The number of entrants bested the MicroMillions I Main Event by more than 10,000, creating a massive prize pool of $1,302,260.
With three players remaining in the Main Event, Serbia's Kuconi rejected a proposed three-way deal and wound up finishing in third place when his
was unable to improve against SoyDelGlobo's
. SoyDelGlobo and cokars then agreed on a chip chop that saw SoyDelGlobo collect $137,218, cokars collect $130,711, and the winner receive $20,000.
It took only three hands to determine a champion. On the final hand of the match, cokars raised on the button and SoyDelGlobo moved all-in. Cokars called with
and was flipping against SoyDelGlobo's
. The
gave SoyDelGlobo a virtual lock on the hand, and the
gave him quads to put an end to the tournament.
After 100 events, the winner of the MicroMillions II leaderboard winner was fabio_bruxo, who cashed 39 times throughout the series and received the MicroMillions II trophy and a PokerStars Caribbean Adventure 2013 package worth $16,000.
In addition, by competing in every event on Sunday, Team PokerStars Pro Andre "acoimbra" Coimbra accomplished his goal of playing in all 100 MicroMillions II tournaments. According to the PokerStars Blog, Coimbra cashed in 21 tournaments for $431.29 while getting about five hours of sleep per night.
For an in-depth look at the PokerStars MicroMillions II series, visit the PokerStars Blog.
Heads-up With Patrik
Last month, Patrik Antonius signed a sponsorship deal with new online poker site iGame, making him the first former member of Team Full Tilt Poker to join a poker room after Black Friday. As part of his deal, the Fin agreed to face off against one lucky player in a no-limit hold'em heads-up match with as much as €20,000 on the line.
The heads-up bout took place on Tuesday against Rui Faria from Portugal, an amateur poker player who qualified to play Antonius via iGame. Under the rules of the promotion, if Faria won two consecutive matches against Antonius, he'd pocket €20,000. One victory would net him €5,000, and if he lost the first match he'd walk away with a €2,000 VIP Package.
After showing up 30 minutes late, it took Antonius only 81 hands to eliminate Faria. The two players exchanged the lead numerous times in their lone match, but Antonius took control and then won a key pot to secure the victory. With the blinds at 800/1,600, ANtonius limped the button and Faria checked his option to see a flop of
. Faria checked to Antonius, who bet 2,400. Faria then check-raised to 6,400, and Antonius moved all in. Faria called off his remaining 15,175 chips with
which was slightly ahead of Patrik's
. The
on the turn changed nothing, but the
river gave Antonius the winning nut flush.
Faria earned the €2,000 package for his efforts, and, according to the commentators for the live stream, Antonius was headed back to his high-stakes cash games in Vienna.
You can watch the full heads-up match at iGame.com.
Poker Tournaments
Mizrachi Endorses ISPT
The International Stadiums Poker Tour (ISPT) is set to debut at Wembley Stadium next May, and on Tuesday it was announced that Michael Mizrachi will be the official ambassador for the Europe-based tournament series.
I just want to announce I will be @ispt_poker official ambassador. Will be one of the Biggest tournaments ever held May 31, 2013!

— Michael Mizrachi (@TheGrinder44)
Mizrachi, one of the game's all-time winningest players, is coming off another productive World Series of Poker in which he won his second Poker Players Championship in three years. One thing to note about the ISPT is that it will likely kick off during the start of the 2013 WSOP, meaning Mizrachi would miss at least a week of action in Las Vegas. Mizrachi, howewer, doesn't seem concerned with the conflict.
@MazeOrBowie @ispt_poker not sure on dates for Wsop yet! Might be early June!

— Michael Mizrachi (@TheGrinder44)
We'll have more on Mizrachi's deal as it becomes available. For more on the ISPT, visit ISPT.com.
Plans for Heartland
When Pinnacle Entertainment acquired the Heartland Poker Tour (HPT) and assets of Federated Sports + Gaming Inc. (FS + G) at a bankruptcy auction last month, the poker community was left wondering about the fate of the popular HPT tournament circuit.
On Wednesday, Pinnacle announced in its Q2 financial statement that it has big plans for the HPT in the future. Anthony Sanfilippo, president and chief executive officer of Pinnacle Entertainment, said that Pinnacle intends to "expand the Heartland Poker Tour and more extensively integrate its events into our property portfolio." Pinnacle operates six casinos in St. Louis, Louisiana and Indiana.
"In July, we extended our development strategy and growth pipeline with the acquisition of the assets of Federated Sports and Gaming, Inc. and Federated Heartland Inc," Sanfilippo said. "Through the Heartland Poker Tour purchase, we acquired an impressive portfolio of brands and intellectual property that will help us advance a new line of business and our online gaming strategy ... We expect the Heartland acquisition to be accretive."
Pinnacle was one of at least four groups bidding on the HPT and FS+G in the U.S. Bankruptcy Court for the District of Maryland last month. The highest bid for the HTP went for $4.2 million, and FS+G's assets went for $300,000. Those assets included the Epic Poker League, Global Poker Index, and the EpicPoker.com website, which had been taken down as of Wednesday morning.
The HPT is in its eighth season. In 2011, the HPT made 17 stops in 15 states. Two of the tournaments were held at Pinnacle-owned casinos.
For more, read Pinnacle's quarterly financial statement.