The Nightly Turbo: PokerStars Saves Jobs at Full Tilt, Michael Phelps Tweets, and More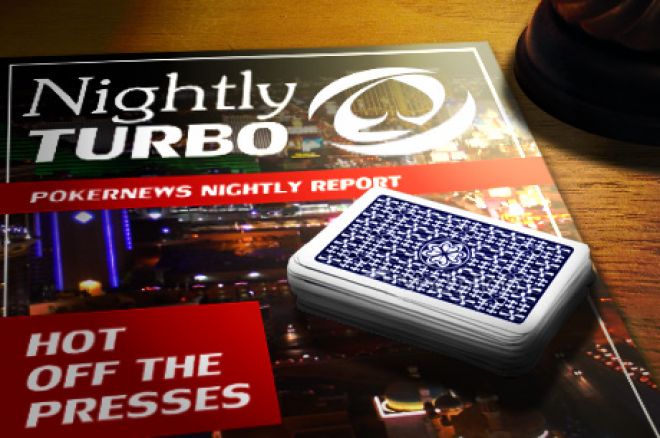 We've written all about the effect PokerStars is having on former players at Full Tilt Poker. But who else was affected greatly by last week's deal? We'll cover that story and more in this edition of the Nightly Turbo.
In Case You Missed It
How did Team PokerStars Pro Eugene Katchalov get his start in poker? Find out that and more in the latest edition of Seat Open.
Day 2 of the World Poker Tour Cyprus Main Event concluded on Monday. With just 53 players remaining, Sam El Sayed leads the way.
How did the Sunday Majors play out on PokerStars? Who took down the biggest score? Find out in the Sunday Briefing.
Did you miss Sunday's World Poker Tour coverage on FSN? Read our WPT recap to get caught up.
It's been a while, but Daniel Negreanu finally released another Weekly Rant on Monday. For Daniel's take on the PokerStars/FTP deal, the conclusion of the WSOP, and more, check out The Muck.
Poker's Savior
When PokerStars completed a deal to purchase Full Tilt Poker's assets last week, thousands of poker players around the world rejoiced upon learning that they would be refunded the money in their accounts. But there were more people affected by the announcement than just the players.
The Irish Examiner reports that 200 employees at Full Tilt Poker's Dublin headquarters had their jobs saved when the deal went through. Pocket Kings, Full Tilt Poker's parent company, had laid off more than 450 staffers after the company had its operating license removed by the Alderney Gambling Control Commission last year. The employees kept on by Pocket Kings will be retained by PokerStars to help re-launch Full Tilt Poker as a separate brand in the coming months.
"It's too early to begin disclosing many details about our strategic plans for Full Tilt, but our first order of business is to re-open the site, pay back all of the players and begin rebuilding Full Tilt's reputation," said Eric Hollreiser, head of corporate communications for PokerStars. "Going forward, we will operate Full Tilt as a separate brand, giving players another leading and trusted platform to enjoy the game."
Hollreiser said in a statement last week that Full Tilt Poker's headquarters will remain in Dublin, but regulatory oversight will be transferred to the Isle of Man.
Read more at the Irish Examiner.
Poker Players in the Mainstream
If you don't follow Michael Phelps on Twitter, you missed some amusing tweets over the weekend. After clinching his record-setting 18th and 19th career medals in London, Phelps sent thanks to several of his Twitter followers, many of which were poker players.
USA Today even ranked the "top 15 members of the most decorated Olympic Twitter list of all-time." Making the list were President Barack Obama, professional skateboarder and snowboarder Shaun White, former Heisman Trophy winner Desmond Howard, and poker pros Matt Stout, Josh Brikis, Jen Harman and Christian Harder. Here's a look at some of his tweets.
Thanks jen!RT @REALJenHarman: Congrats @MichaelPhelps for breaking the record for winning most medals ever. ... http://t.co/ryjAMmIk

— Michael Phelps (@MichaelPhelps)
Thanks charder!RT @realcharder30: @MichaelPhelps congrats on becoming the GOAT olympian boss!

— Michael Phelps (@MichaelPhelps)
Thank you Mr. President!! It's an honor representing the #USA !! The best country in the world!! RT @BarackObama: ... http://t.co/dBm93O8u

— Michael Phelps (@MichaelPhelps)
Thanks brick! Now were gonna win fantasy baseball too:) @bshea14 RT @JBrikis: What a boss @MichaelPhelps #19 ship the gold! The G.O.A.T.

— Michael Phelps (@MichaelPhelps)
Thanks stout!!RT @MattStoutPoker: Congrats 2 my buddy @MichaelPhelps on becoming the most decorated Olympian in ... http://t.co/buihyVKH

— Michael Phelps (@MichaelPhelps)
Check out the full list at USAToday.com.
Bodog Pulling Out of 20 Countries
Bodog Poker players from 20 nations will no longer be allowed to play on the site effective Sept. 1, 2012.
In the past week, Bodog's customer support team has sent emails to the affected players advising them to empty their accounts by Aug. 31. According to a company spokesperson, Bodog will be pulling out of the following nations: Armenia, Azerbaijan, Belarus, Bosnia and Herzegovina, Bulgaria, Croatia, Estonia, Hungary, Israel, Kazakhstan, Latvia, Lithuania, Macedonia, Montenegro, Romania, Russian Federation, Serbia, Slovenia, Ukraine, Uzbekistan.
The decision is part of Bodog's plan to concentrate on its strengths and weaknesses in the market. The brand recently sold the Bodog Poker Network to its Asia-facing arm, Bodog88, seeking to benefit from the gaming industry's massive growth in Asia.
"The Bodog brand is known for its high level of customer service & spreading ourselves too thinly to try and cover a huge amount of smaller markets was proving logistically difficult," Bodog said in a statement on Monday. "Bodog.co.uk will concentrate on growing existing markets."
Read more right here at PokerNews.com.
Poker Loses Another Champ
Norman Boulus, a former World Series of Poker bracelet winner from Augusta, Ga., passed away on Sunday after losing a battle with pneumonia. He was 77.
Boulos was an entrepreneur who won the $1,500 7 Card Stud Hi/Lo event at the 1990 WSOP. Boulos bested a final table that included Johnny Moss, Mike Sexton and Huck Seed to collect $108,600. His only other cash at the WSOP came in the 1999 $2,500 Seven Card Stud Hi-Lo 8 or Better event, where he took 10th place for $6,375.
Boulos touched the lives of many kids over the years. He owned and operated a video game hall called Norman's Electric Galaxy in Augusta which kept many area kids out of trouble, according to his family.
Boulos' death comes more than a week after another former WSOP champ, Ryan Young, was killed in a car accident.
To read more about Boulos, check out the story at the Augusta Chronicle.
WPT Regional Series Hits Florida
While the World Poker Tour is going strong in Cyprus, the WPT Regional Series is close to crowning a winner in Florida. The STAX Poker Lounge Summer Heat Series Main Event kicked off on Friday with a $440 buy-in tournament that attracted 944 entrants, all of which were playing for a top prize of $90,501.
After two starting days, only 191 players advanced to Day 2 with the top 90 spots getting paid. The money bubble burst on Sunday afternoon, and when the day came to a close only 14 players were alive going into Monday's final day.
Here's a look at the players still in contention going into Day 3:
| Place | Player | Chips |
| --- | --- | --- |
| 1 | J. Chaubalm | 2,585,000 |
| 2 | Alan Percal | 2,465,000 |
| 3 | O. Fuentes | 2,400,000 |
| 4 | Dimitry Agrachov | 1,955,000 |
| 5 | Michael Laake | 1,720,000 |
| 6 | Ory Hen | 1,000,000 |
| 7 | Frank Lerczak | 875,000 |
| 8 | Corey Burbick | 820,000 |
| 9 | Evan Dollinger | 780,000 |
| 10 | Marc Fluss | 770,000 |
| 11 | Neal Rocklin | 695,000 |
| 12 | Mike Monaco | 690,000 |
| 13 | J. Weber | 545,000 |
| 14 | Ronit Chamani | 525,000 |
Follow the progress of the WPT Regional event in Florida at the Stax Poker Twitter page.
Golf is Just Not Her Thing
PokerNews hostess Lynn Gilmartin travels to some of the world's most exotic destinations to cover poker tournaments. But as you'll see in her recent video from Cyprus, she doesn't hit the golf courses very often.
Get all the latest PokerNews updates on your social media outlets. Follow us on Twitter and like us on Facebook today!