The Weekly Turbo: Tapie Ends Negotiations with DOJ, Phil Ivey's Divorce Case, and More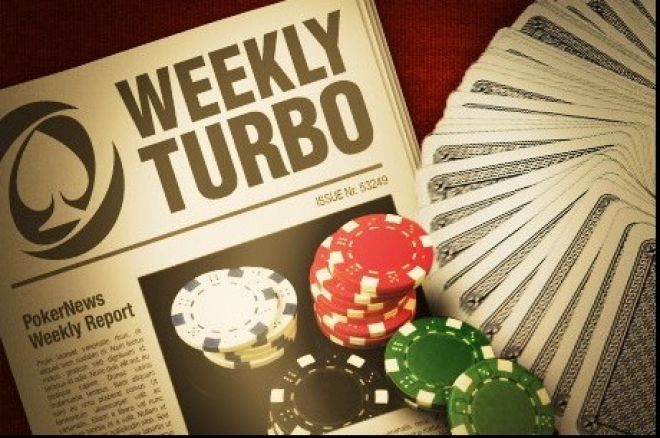 Did you miss any of the top poker news stories this week? Well you've come to the right place to get caught up. We're covering the major developments in the sale of Full Tilt Poker, an update on Phil Ivey's divorce case, and more.
Poker Business
PokerStars Enters the FTP Madness
On Tuesday, the poker world was stunned to learn that Groupe Bernard Tapie had ended negotiations with the Department of Justice to purchase the assets of Full Tilt Poker. While prior reports had suggested that a deal between the two sides was already in place, Tapie lawyer Behnam Dayanim said the agreement fell through because of "unresolvable" legal complications and failure to agree on player repayment plan.
Not only that, but PokerStars has allegedly come to an agreement to buy the beleaguered poker site for $750 million. The rumored deal would see $330 million go toward player repayments around the world, while the rest will settle the outstanding charges against PokerStars.
Eric Hollreiser, head of corporate communications for PokerStars, released the following statement regarding the rumors:
"We've had a lot of inquiries and there's lots of speculation on the forums, so I wanted to address the PokerStars chatter. As you know, PokerStars is in settlement discussions with the U.S. Department of Justice. As such settlement discussions are always confidential, we are unable to comment on rumors. As soon as we have information to share publicly we will do so."
For more, read the full story at PokerNews.com.
Divorce Court
Phil Ivey's ugly divorce case will be heard in front of the Nevada Supreme Court at some point in the future. The Las Vegas Review-Journal reported Thursday that Chief Justice Nancy Saitta ordered the court clerk to schedule the case for oral arguments. The date and location of the arguments have yet to be announced.
Last September, Luciaetta Ivey filed a petition with the higher court claiming that a $5,000 contribution was made by Phil Ivey to Family Court Judge Bill Gonzalez three months after the couple's divorce was granted, alleging that she was treated unfairly. Luciaetta also declared in the petition that her ex-husband ceased paying spousal support in April 2011, around the same time the Full Tilt Poker domain name was seized by the U.S. Department of Justice.
Phil later provided documents that showed he received approximately $920,000 a month for his involvement with Tiltware, the software and marketing arm of Full Tilt Poker. Records showed that Luciaetta Ivey collected about $180,000 a month as taxable alimony from her husband's Tiltware payment, while Phil received the remaining $740,000.
Luciaetta claimed the settlement was unfair because she had no idea where Phil's money came from or where it went.
The Las Vegas Review-Journal has more.
Tzvetkoff Found
Daniel Tzvetkoff, the man accused of ratting out several colleagues who helped him become a multi-millionaire, was reportedly spotted in New York City last week after months of hiding under FBI protection.
A reporter at the Courier Mail discovered Tzvetkoff on Mott Street in Chinatown, where the former online poker payment processor was out with his family. When approached by the reporter, Tzvetkoff denied his identity and fired multiple threats.
"Look, you're going to get in a lot of trouble," Tzvetkoff told the reporter. "There are people with us who you're going to be in trouble with.''
Tzvetkoff, 29, facing up to 75 years in prison after his arrest in Las Vegas in 2010, struck a plea bargain with prosecutors and provided vital evidence incriminatingPokerStars, Full Tilt Poker and Absolute Poker. He was set to appear as a witness in the trial of Black Friday defendants John Campos and Chad Elie on April 9 in New York, but both men entered guilty pleas last month.
Read the full story at the Courier Mail.
Changes at Poker Table Ratings
Last week, Poker Table Ratings said it would comply with PokerStars' cease and desist notice by removing all PokerStars player profiles. Now, the data-mining website has agreed to introduce an "opt-in" option for players to share their information and statistics if they so choose.
PokerStars' Head of Home Games Lee Jones told PokerNews last week that PokerStars had attempted to negotiate with PTR to provide its service on an "opt-in" basis, but PTR refused. PTR says the recent legal action taken by Stars has forced the company to kick the new "opt-in" project into high gear:
The latest action by Stars has forced us to re-evaluate our place in the market. Do we agree that we destroyed online games? No. Millions of hands continue to be played each and every day across every major network and those who are quick to blame PTR for industry trends put too much weight on our reach and the impact we may have.

That said, we do want to change the perception of us held by an influential segment of the industry that includes both players and operators.
Read the full statement at PokerTableRatings.com.
Annette Lock'd Up
One of Full Tilt Poker's former employees, Annette Obrestad, has found a new place to call home. Lock Poker announced Tuesday that Obrestad is the newest member of the LockPRO ELITE team, joining players like Melanie Weisner, Chris Moorman, Tom West, Matt Stout and Casey Jarzabek.
Obrestad, 23, was one of online poker's brightest stars before winning the 2007 World Series of Poker Europe Main Event for £1 million. She has accrued more than $4 million in live tournament cashes in her career to go along with millions more on the virtual felts.
"I'd heard amazing things about Lock Poker from all my friends and pros who play there, and I was thrilled when I got an offer from them," said Obrestad. "Being part of Lock is something I'm really excited about and it will be a great beginning of a new exciting relationship. Lock is the new generation of online poker where player experience drives the company with an incredible Pro team that I can hardly wait to work with."
For more, check out the Lock Poker press release.
Adelson Unwavering in his Views
Last December, Las Vegas Sands chairman Sheldon Adelson spoke out against legalizing online poker in the U.S, a move that made him an instant villain in the poker industry. Adelson, the world's wealthiest casino owner, said he was "morally opposed" to online gambling because he doesn't believe technology is good enough to prevent minors from playing.
As of today, Adelson's stance hasn't changed. In fact, he's even more convinced that legalizing online poker is "bad policy," according to the Las Vegas Sun.
"You don't want a casino in every home," Adelson told the Sun's Jim Ralston this week. Adelson added that legalizing online gambling "will cause a 10 percent to 20 percent decrease on land-based gaming revenues."
Adelson's influence among republicans in Congress could throw a wrench into plans for a federal online poker bill. Nevada Gov. Brian Sandoval and Senate Majority Leader Harry Reid have lobbied Adelson to support federal legislation, but Adelson says he's not changing his mind.
Read the full story at the Las Vegas Sun.
Poker Tournaments
Major Changes for the European Poker Tour
If you weren't able to travel around to many of the 13 stops on the European Poker Tour this season, PokerStars has made the experience easier for Season 9. The world's leading online poker site announced Tuesday that it has trimmed the number of EPT stops from 13 to eight, but there will be even more poker on the slate because of partnerships with the UK & Ireland Poker Tour and the Estrellas Poker Tour.
Season 9 will feature stops in Barcelona, San Remo, Prague, the Bahamas, Deauville, London, Berlin, and Monaco. Each destination will include nearly two weeks of events, many of which will cater to mid-stakes players seeking competition against the game's top pros.
"We looked at every EPT season up until now and asked ourselves how we could make the tour even better for the players," said EPT President Edgar Stuchly. "In the end, every change comes down to making this a better tour for the people who make this tour what it is: our players."
The EPT will be offering more High Roller events in the upcoming season, including a €50,000 event in Barcelona, and €25,000 High Roller and €100,000 Super High Roller tournaments at the PCA in the Bahamas and Monaco.
For a full look at the EPT Season 9 schedule, check out the article at PokerNews.com.
"ElkY" Prepares for a SCOOP Marathon
If you plan on participating in the PokerStars Spring Championship of Online Poker (SCOOP) next month, there's a decent chance you'll find Bertrand "ElkY" Grospellier parked at one of your tables.
Fresh off a victory at the European Poker Tour Berlin High Roller, Grospellier says he intends to play every SCOOP event from May 6 through 20. That will give him 120 chances to win his second SCOOP title. Last year, Grospellier bested a field of nine players to win the $25,000 Heads-up event. Grospellier also has two WCOOP titles to his credit.
"I felt exceptionally blessed to be able to do so well and pick up the SCOOP title that was missing from my resume," Grospellier wrote in a blog on Thursday. "I'm definitely coming back for more this year. I'm on the road a lot more these days playing in big live events like EPTs, FPS and others. Sometimes it's hard to get into a good online routine. SCOOP tournaments are definitely the perfect opportunity, so I'm going to play all of them at every buy-in in order to get that second title."
Grospellier's full blog can be found at the PokerStars Blog. If you're also planning to grind a full schedule during the SCOOP, two-time champ Terrence Chan offered some advice on how to stay focused during an extended tournament series in the latest Strategy with Kristy podcast.
Patrick de Koster Wins WPT Marbella
Patrick de Koster won the inaugural €1,650 World Poker Tour National Series Marbella Main Event on Tuesday evening. The 27-year-old from the Netherlands collected €150,000 after besting a field of 377, the largest ever for a WPT National Series Event.
De Koster defeated U.K. pro Peter Linton heads-up to win the tournament. The match lasted less than 30 minutes and ended when de Koster's
held up against Lipton's
. Lipton earned 82,000 for second place.
"This is amazing," said de Koster, whose previous biggest cash was for $44,000 at the 2010 WSOP Main Event. "I've been thinking for some time that I have wanted to buy a small apartment and now I am able to do this."
World Poker Tour National Series Marbella Results
| Place | Player | Prize |
| --- | --- | --- |
| 1 | Patrick de Koster | €150,000 |
| 2 | Peter Linton | €82,000 |
| 3 | Jose Carlos Lopez | €54,500 |
| 4 | Philip Porter | €38,800 |
| 5 | Inma Marti Torres | €29,000 |
| 6 | Antonio Gonzalez Miranda | €22,950 |
| 7 | Jose Luis Plaza | €17,200 |
| 8 | Daniel Keller | €12,850 |
For more information on the WPT National Series events, visit the World Poker Tour website.
Online Poker
PokerStars.eu, PokerStars.fr Launch Mobile Apps
PokerStars, the world's leading online poker room, is now available on mobile devices for residents across Europe.
After highly successful launches in Italy and the U.K. earlier this year, PokerStars Mobile has expanded into France, Sweden, Finland, Romania, Poland and Slovenia. PokerStars unveiled the client for PokerStars.eu users last week, and on Thursday the app was made available for PokerStars.fr players.
PokerStars Mobile offers real-money games in variants like Texas hold'em, Omaha and Omaha hi-lo, and players can participate in the same tournaments, sit-and-gos and ring games they would on their laptops or desktop computers. Some of the features on the mobile app include multitabling (up to five tables on the iPad), player and tournament search, lobby filters, chat, and hand histories.
Players in Monaco were able to give the mobile app a test run during the PokerStars and Monte-Carlo®Casino EPT Grand Final this week. That's where PokerNews' Lynn Gilmartin caught up with some of the minds behind the product, and even tried it out herself.
Visit PokerStars.com for more information.
PokerStars Nears Another Milestone
PokerStars is about to hit another milestone en route to its "Road to 100 Billion" promotion. On Thursday, the world's leading poker site announced that it will be dealing its 80 billionth hand in the near future. To celebrate the momentous occasion, PokerStars will be giving away up to $1 million in prizes!
More than 300 players will cash in on the promotion, with prizes being awarded to players dealt into every one-millionth hand from 79,700,000,000 to 80,000,000,000. The winner of the Mega Milestone hand will receive at least $20,000, so if you happen to be dealt into that momentous hand, we insist you not fold.
For a real-time count on the number of hands dealt, along with more information on the promotion, visit PokerStars.com.
Follow PokerNews on Twitter for up-to-the-minute news.