The Nightly Turbo: Phil Gordon's New Online Venture, Elie and Campos Guilty, and More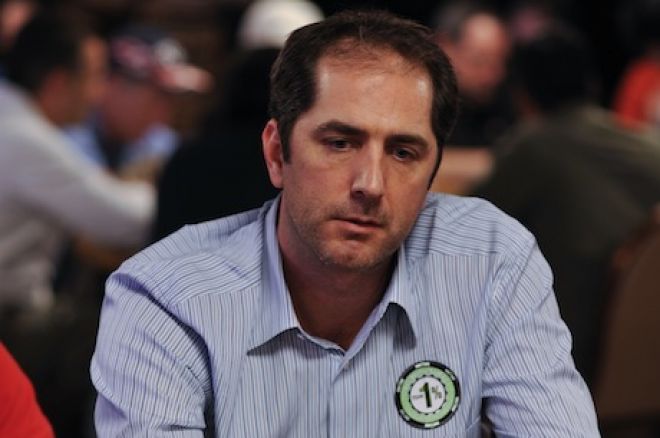 Whispers of major Full Tilt Poker news spread through the poker community on Tuesday, but it looks like we'll have to wait a bit longer before any earth-shattering announcements. We did, however, cover a story regarding FTP and the Alderney Gaming Control Commission, as well as two Black Friday defendants pleading guilty to separate charges. We'll bring you those stories and more in this edition of the Nightly Turbo.
In Case You Missed It
All In: The Poker Movie was released in theaters last week. Rich Ryan reviewed the film and talked about the latest Daniel Negreanu drama in his latest Five Thoughts piece.
Humberto Brenes became a household name during the broadcast of the 2003 World Series of Poker. But what was his first trip to the WSOP like? Chad Holloway finds out in the latest edition of My First.
A champion was crowned at the World Series of Poker Circuit Harrah's Rincon Main Event on Monday. Joe Kuether won his third tournament of the month, this one for $111,104 and his first WSOPC ring.
The PokerStars.it European Poker Tour kicked off in Campione, Italy, on Monday. Davide Andreoni led the field after Day 1a.
Phil Gordon's Online Gaming Venture
Phil Gordon has turned his attention to a new online gaming venture.
According to a report by Geek Wire, Gordon's new company, Jawfish Games, is lining up investors to develop a new online gaming tournament platform. One of the games, Word Joust, hit Facebook last week. The game features 16 players in a head to-head tournament format solving anagrams as quickly as possible.
"We're well on our way to proving that tournaments are sticky and fun for players," said Gordon, who has more than $3 million in live poker tournament earnings on his resume.
Geek Wire reports that Jawfish Games recently received an $885,000 seed investment from Right Side Capital, and more funds have come in from other angel investors. In addition, the company named former Netscape engineer Kyle Stewart and Zynga co-founder Jon Mittelhauser to the board.
Read the full story at Geek Wire.
Elie and Campos Plead Guilty
Chad Elie and John Campos, two of the 11 men indicted by the Department of Justice on Black Friday, have avoided a trial set for April 9 by pleading guilty to separate charges this week.
Elie, a payment processor for PokerStars, Full Tilt Poker and Absolute Poker, was facing up to 85 years in prison on nine charges, including violating the Unlawful Internet Gambling Enforcement Act (UIGEA) and conspiracy to engage in money laundering. However, after pleading guilty to a single count of conspiracy on Monday, Elie will likely serve up to a year in prison. His sentencing will take place on Oct. 3, 2012.
One day later, sources told Forbes that Campos had pleaded guilty to a single misdemeanor charge. Campos, the former vice chairman of SunFirst Bank in Utah was facing six charges and was set to go to trial with Elie, but he reportedly made a last-second deal with prosecutors on Tuesday.
Elie and Campos are the fifth and sixth Black Friday defendants to enter guilty pleas. The others are Absolute Poker co-founder Brent Beckley and payment processors Ira Rubin, Ryan Lang, and Bradley Franzen.
For more on Elie and Campos, check out the reports at PokerNews.com.
AGCC's Actions Reviewed in Full Tilt Poker Debacle
On Tuesday, the Alderney Gaming Control Commission (AGCC) published an independent external review of its processes leading up to the suspension and eventual revocation of licenses owned by Full Tilt Poker.
The independent review was commissioned by the ACGG last December and conducted by Peter Dean, who found that the AGCC's actions regarding the actions surrounding Full Tilt Poker were "appropriate, timely and fair."
"Deplorable as the episode covered in this review has been, it is nevertheless an example of regulation working as it should," Dean said in his report. "As soon as plausible evidence of irregularities came to light the regulator acted promptly and proportionately. An investigation was instituted, findings made, a hearing held, judgment delivered and sanctions imposed. Due process was followed."
Dean also said that the AGCC has a lesson to learn from the incident, such as establishing a "proper direct relationship" with its licensees and not resort to intermediaries such as attorneys for information about the company.
We have more on this story at PokerNews.com.
SportingBet Eyes U.S. Market Re-entry
On Tuesday, online gaming company Sportingbet announced that it is considering reentering the U.S. market after making the third and final payment of $6 million to the office of the U.S. Attorney for the Southern District of New York (SDNY) in accordance with its nonprosecution agreement.
On Sept. 21, 2010, Sportingbet signed a $33 million nonprosecution agreement with the Department of Justice, thereby acknowledging and accepting details related to offering Internet gambling to U.S. customers from 1998 to 2006. In turn, the SDNY would not seek to prosecute Sportingbet or any of its subsidiaries.
"This final payment formally closes any risk which the company may have faced from its former activities in the U.S.," said Sportingbet Group CEO Andrew McIver. "Given that the U.S. market continues to show signs of regulating both by product, and by state in the near future, various opportunities exist to reenter the US market and we are reviewing these."
StockMarketWire has the story.
Chris Ferguson at the Premier League?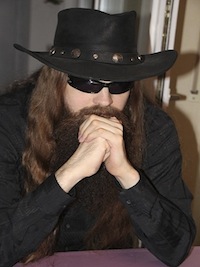 As if we needed any more reason to watch the upcoming PartyPoker Premier League V, Tony G blogged on Tuesday that a Chris "Jesus" Ferguson doppelganger is one of the qualifiers who will compete for a seat in the 16-player main event from April 4 through 10 in Vienna.
Obviously, Ferguson won't be competing in the qualifier himself, but it'll be entertaining to watch this unknown look-alike attempt to qualify for a seat to play with Tony G, Tom Dwan, Patrik Antonius, Phil Laak, Luke Schwartz, and others.
"Jesus cannot just change his name and expect to get away with it — he cannot switch his identity and sneak back into the poker world. The wolves led by me will be out in force to give him a 'warm' welcome," Tony said in his blog.
"One thing that reassures me is that Ferguson isn't qualified so surely it cannot be him? If it is him there is going to be big trouble."
Read more at Tony G's blog.
Bring the Russians On!
Political artist Nadia Khuzina has crafted another poker-themed portrait that we just had to bring to your attention this week. The painting captures our very own Tony G playing heads up against Russia's President Vladimir Putin (we all know how much Tony loves to berate Russians at the table). Khuzina painted her own portrait as the dealer, so we'll let her explain the story behind the piece.
"The hand itself is a recreation of a high-stakes heads-up hand my husband played against a well-known Russian with real ties to the FSB (KGB). In that hand, the person he was playing flipped the table and smashed a chair in anger at himself for bluffing. In this hand, Tony G has not got to that stage yet, but the cards he had have been thrown in anger."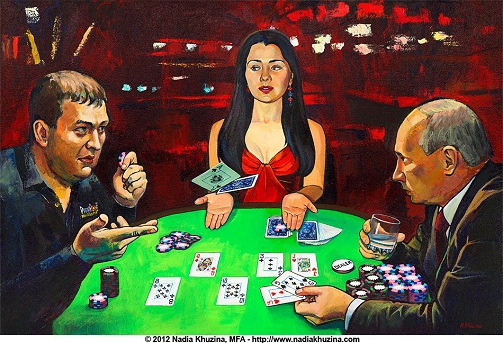 If you like this piece, more of Nadia's work can be found at nadiakhuzina.com.
April Fools Rehearsal
April 1 is just a few days away, so Sarah Grant practiced one of her pranks on some of the Team PokerStars Pros at the European Poker Tour Campione Main Event.
Follow PokerNews on Twitter for up-to-the-minute news.