My First: Humberto Brenes' First Trip to the World Series of Poker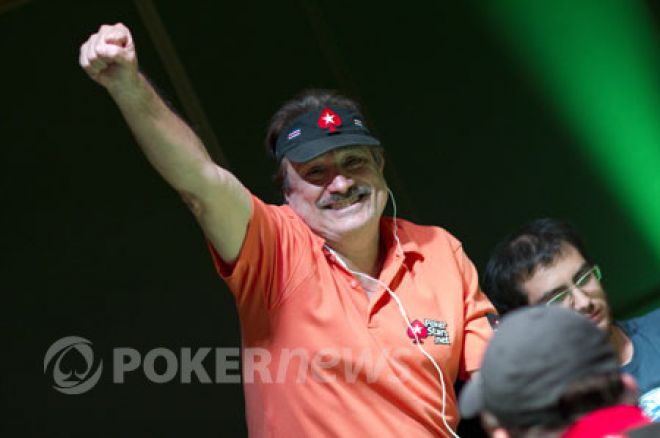 Thanks to television, a number of professional poker players have been turned into superstars. Most were what fans would consider "characters," all with personalities that endeared them to viewers. One such player was the boisterous Humberto Brenes, also known as "The Shark."
Brenes, a successful Costa Rican businessman, became one of the first players from Latin America to find success in poker. Today, he is a Team PokerStars Pro, and while he has a certain level of celebrity in the United States, he is a rock star in Latin America both on and off the felt. So where does Brenes' poker story begin? The same place where all players chase their poker dreams — at the World Series of Poker.
"The first time I went to the WSOP was in 1987 with a bunch of friends," Brenes told PokerNews. "It was very nice because I was learning hold'em that year. I ended up 14th in the Main Event when Johnny Chan ended up winning it. The next year, I ended up fourth, and Johnny Chan also won that one."
1988 WSOP Main Event Final Table

| Place | Player | Prize |
| --- | --- | --- |
| 1st | Johnny Chan | $700,000 |
| 2nd | Erik Seidel | $280,000 |
| 3rd | Ronald Graham | $140,000 |
| 4th | Humberto Brenes | $77,000 |
| 5th | TJ Cloutier | $63,000 |
| 6th | Jim Bechtel | $49,000 |
| 7th | Quinton Nixon | $42,000 |
| 8th | Mike Cox | $28,000 |
| 9th | Jesse Alto | $21,000 |
Today, Brenes has 62 WSOP cashes totaling $2,193,209, including two gold bracelets, and it all started with that 14th-place finish in 1987 for $12,500. Brenes quickly dispelled any notion that his first year was nerve-racking. "For me it was not intimidating at all," he said with a smile. "I looked forward to playing with the best players because I wanted to play with the good ones. Someone told me there was a satellite with Johnny Chan, Doyle Brunson and Stu Ungar. I went and played with them. It was not intimidating. I went looking for that."
Even if he was confident in his poker game, wouldn't the language barrier overwhelm the Costa Rican, who didn't speak English? "It was difficult the first 15 days, but after that, it wasn't difficult at all," Brenes admitted. "My friends told me I was crazy because I didn't know any English. I did a good job, and I think it shows that any Latin player can do it."
Brenes may not know the language well, but over the last 25 years he let his play do the talking. In fact, just six years after making his first trip to Las Vegas, he captured two gold bracelets and established himself as a true contender. It happened in 1993 when Brenes won back-to-back events: Event #16: $2,500 Pot Limit Omaha and Event #17: $2,500 Limit Hold'em.
In Event #16, Brenes captured the $128,000 first-place prize after navigating a 128-player field and defeating a final table that included An Tran, Donnacha O'Dea, Berry Johnston and Jay Heimowitz. The very next day, Brenes conquered a 149-player field for $149,000, beating out Tom Cady and John Bonetti who finished in second and third place respectively.
Since then, Brenes has come close to adding a third bracelet on numerous occasions including 16 final-table appearances. Despite the wins and final tables, Brenes's biggest WSOP cash came in the 2006 Main Event where he finished in 36th place for $329,865. By then, the game had changed dramatically from 1987 and Brenes found fame came with fortune.
"The amount of people after Chris Moneymaker won is amazing, it's impressive," Brenes said when asked of the biggest change in the game. "I always played with my own money up until 2006 when I became sponsored. I have missed around two or three WSOPs over the years, but since 2006 when I started working for PokerStars, I haven't missed one. Most of the time, I only played the last 10 days back then, but this summer, I'm going to stay two months in Vegas, which is what I've done every year since 2006."
Here's a flashback to the 2006 WSOP featuring Brenes's entertaining antics in a hand against Prahlad Friedman:
If you love poker, be sure to follow us on Twitter and like us on Facebook for all the latest updates in the poker world.