The WSOP on ESPN: Grudge-Match Week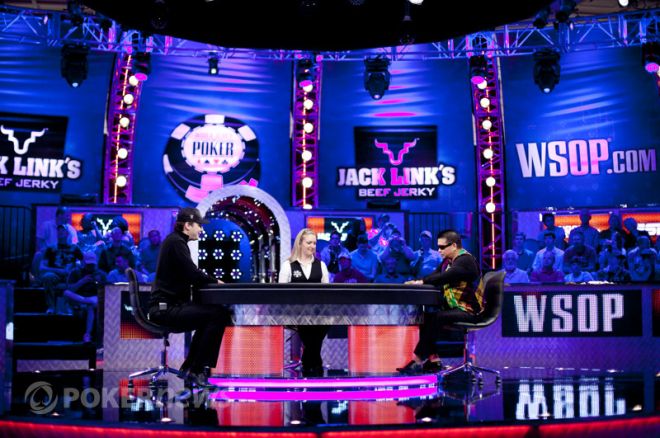 With the 2011 World Series of Poker barely in the books, minus the November Nine of course, poker fans were just able to catch a breath before being treated to the first edited WSOP episodes on ESPN. Every Tuesday between now and Nov. 8, ESPN will be airing new episodes of the 2011 WSOP including the $25,000 Heads-Up Event, $50,000 Poker Player's Championship, and $10,000 Main Event. Before those will air, however, there was the matter of a couple of grudge matches that needed to be settled once and for all.
Tuesday's broadcast featured two historic rematches from WSOP history. The first saw Phil Hellmuth take on two-time champ Johnny Chan in a rematch of the 1989 Main Event; while the second revisited the infamous Chris Moneymaker vs. Sammy Farha match from the 2003 Main Event, the very heads-up battle credited with sparking the poker boom.
Let's Get It On: Phil Hellmuth and Johnny Chan both came out to a round of applause and took their seats at the brand new ESPN set. Starting with 890,000 chips each, exactly half of the chips in play in the 1989 Main Event, Chan came out swinging with a raise to 30,000 (blinds started at 5,000/10,000 with a 1,000 ante) holding
. Hellmuth donned his patented shades, struck a pose, and then raised to 85,000 with
.
"This could be one hand, man," Hellmuth said after Chan made the call.
"Hey, it happened before," the Orient Express chuckled before the flop came down
. Hellmuth checked, Chan fired out 100,000, and the Poker Brat folded. First blood to Chan.
Poker Tells: In a new segment called "Poker Tells," former FBI agent and nonverbal expert, Joe Navarro, analyzes selected hands from the broadcast. In the inaugural edition, Navarro examined the hands of Hellmuth and Chan, as in the five-fingered variety of hands. "In poker, when we look at the hands, they really can define what you have, whether you're marginal, weak, or strong," Navarro explained.
Jack Link's Beef Jerky Wild Card Hand: Johnny Chan seemed to have complete control of the match, taking down pot after pot, eventually reducing Hellmuth to nearly 200,000. In what turned out to be the Jack Link's Beef Jerky Wild Card Hand, Phil Hellmuth moved all-in with unknown cards for his last 208,000. ESPN added a twist by providing four multiple-choice hands for viewers to choose from: (1)
, (2)
, (3)
and (4)
.
Chan woke up with
and was out to the test. He thought long and hard, muttering various scenarios, before sliding his cards to the muck. Can you guess Hellmuth's hand? If you said "2," you're correct.
Hellmuth Surges Back: With the blinds at 10,000/20,000 and a 3,000 ante, Phil Hellmuth was down to 73,000 and limped holding
. Chan responded by moving all-in with
and Hellmuth reluctantly made the call. Chan was a 65 percent favorite, which improved to 77 percent after the
flop. Hellmuth rose from his chair and prepared for what seemed like the inevitable, but the
turn thrust him into the lead. The
river changed nothing and Hellmuth doubled to 146,000.
In the next hand, Hellmuth limped with
and Chan checked his option holding
. The
flop hit both players, giving Chan two pair and his rival a straight-flush draw, so it was no surprise when all the chips got into the pot. It was essentially a coin flip, and the dealer burned and turned the
, giving Hellmuth a flush and leaving Chan drawing to a four-outer. The
river was not what Chan was looking for and Hellmuth doubled to 318,000.
A short time later, Hellmuth hit another flush to double for a third time, bringing him to 590,000. "You're a special player. Extremely special player, Phil," Chan lamented after the double. In the next hand, Hellmuth limped, Chan raised to 140,000, Hellmuth moved all-in, and Chan made the call.
Showdown
Hellmuth:

Chan:
With 1,180,000 in the pot, the chip lead was at stake. The board ran out
and suddenly Hellmuth went from four big blinds to the big stack.
Chan's Turn: After returning from a commercial break, Johnny Chan limped with
and Phil Hellmuth checked his option holding
. The
flop was decent to both players, and Hellmuth check-called a bet of 50,000. Then he checked in the dark as the two were headed to the turn, which brought the
. Chan quickly bet 250,000, only to have Hellmuth give a brief speech and then move all-in. Chan didn't seem excited, but made the call nonetheless.
It looked as if history was going to repeat itself and Hellmuth would defeat Chan, but the
river delivered gave Chan a wheel, and he reclaimed a 2-1 chip lead. Hellmuth's face said it all.
After the aforementioned double, momentum was back in Johnny Chan's corner and he chipped Phil Hellmuth down to 125,000. In the last hand of the match, Hellmuth limped with
, Chan moved all-in without looking at his cards, and Hellmuth snap-called. Chan flipped over
and it was off to the races. Unfortunately for the 1989 World Champion, the board ran out
and Chan found redemption, which was 22 years in the making, by taking down the inaugural WSOP Grudge Match.
Farha vs. Moneymaker: It has been eight years since the infamous bluff Chris Moneymaker ran on Sam Farha that led to his victory in the 2003 WSOP. Now, both men were center stage to duke it out, with Farha no doubt having revenge on his mind. While the previous Grudge Match saw the players start with the same amount of chips, this one was a bit different. Moneymaker and Farha were playing the best of three matches. In the first match, the chips distributed as they were when heads-up play began between the two in 2003 (5.49 million for Moneymaker to Farha's 2.9 million), in the second, those counts were reversed, and in the third (if needed), the stacks would start even-steven.
First Hand: "Oh look at this here," Sammy Farha said after looking down at pocket kings and raising to 200,000. Unfortunately for Farha, Moneymaker looked down at
and simply folded.
"This is Ridiculous": Chris Moneymaker raised to 125,000 with
and received a call from Sam Farha who was holding
. Farha checked the
flop. While Moneymaker's fours were currently in the lead, Farha's overs and open-ended straight draw made him a 53 percent favorite to win the hand. Obviously this was unbeknown to Moneymaker, who bet 150,000. Farha woke up with a check-raise to 400,000. Moneymaker called, and the
spiked on the river.
Farha hit his straight and immediately fired out another 400,000. Again Moneymaker called, and was rewarded when the
appeared on the river, improving him to a full house. Both players checked and Moneymaker rolled over the winner. "This is ridiculous," Farha said with a hint of frustration. "I had one more hand for ya . . . straight."
Match #1 to Moneymaker: In the last hand of the first match, Chris Moneymaker raised to 225,000 on the button, Farha moved all in for 1.3 million, and Moneymaker snap-called.
Showdown
Moneymaker:

Farha:
"I feel an eight coming, wanna bet on it?" Farha joked before the flop, even though he was in a dominating position. The
flop wasn't anything special, but Farha's prediction came true when the
was put out on the turn. "Mr. Cool" just smiled and said: "You're supposed to win every match the way your luck is." The
on the river changed nothing and it was 1-0 Moneymaker.
Poor Sammy: After the stacks were reversed and Match #2 was under way, Sam Farha limped on the button with
only to have Chris Moneymaker raise to 400,000 with
. Farha made the call and the dynamic duo watched the flop come down
. Moneymaker continuation bet 400,000, Farha instantly moved all-in, and Moneymaker let out a big sigh before making the call.
"Ace-jack you call, that is a helluva call," Farha said, even though he was a 52 percent favorite. The
turn was kind to Moneymaker, pairing his jack and making him an 82 percent favorite. Farha just stared as the
blanked on the river. With that, Moneymaker took the chip lead.
Farha Takes Match #2: Sammy Farha kept his composure and managed to wrest back the chip lead. At that point, Chris Moneymaker raised to 335,000 with
, Farha called with
and then checked in the dark.
The
appealed to both players and Moneymaker bet 375,000. Farha announced that he was all-in and Moneymaker called off for 2.735 million, discovering that he held a big lead. The
turn was uninspiring, but the
river gave Farha the win. "Justice happened finally, right," Farha beamed to his fans in the stand as he evened it up at 1-1.
Match #3 Summary & Conclusion: Sammy Farha pulled out to an early lead in Match #3, jumping ahead nearly 2 million, but soon found himself on the raw end of a bad beat. It began when Chris Moneymaker raised to 140,000 from the button holding
, Farha called with
, and the flop came down
. Both players had flopped two pair, and you could tell there was going to be some fireworks.
Farha had checked dark, prompting Moneymaker to bet 150,000. A check-raise to 400,000 ensued, followed by a three-bet to 750,000. Farha responded by moving all-in and Moneymaker called off for 3.045 million. The latter was drawing to a deuce, and it seemed Farha would exact his long-overdue revenge. The
turn changed nothing, and Farha uttered, "Insurance," right before the
peeled off on the river. "I said insurance, right?" Farha joked, taking the bad beat in stride.
Farha had some big hands throughout all the matches, but it seemed that lady luck held a grudge of her own. Not long after, Moneymaker raised to 200,000, Farha moved all-in for 1.47 million, and Moneymaker called.
Showdown
Moneymaker:

Farha:
Moneymaker was in great shape to take down the match, which is exactly what he did when the board ran out
. Farha shook hands with his opponent as Moneymaker proved 2003 was no fluke. "Heads up it can go either way, and the breaks went my way today," Moneymaker explained to hostess Kara Scott after his victory.
Congratulations to Johnny Chan and Chris Moneymaker on winning their respective grudge matches. The 2011 World Series of Poker will continue next Tuesday on ESPN with the $25,000 Heads-Up Event, so be sure to check your local listings.
Follow us on Twitter and like us on Facebook.