A Closer Look at the WSOP's Inaugural Rematches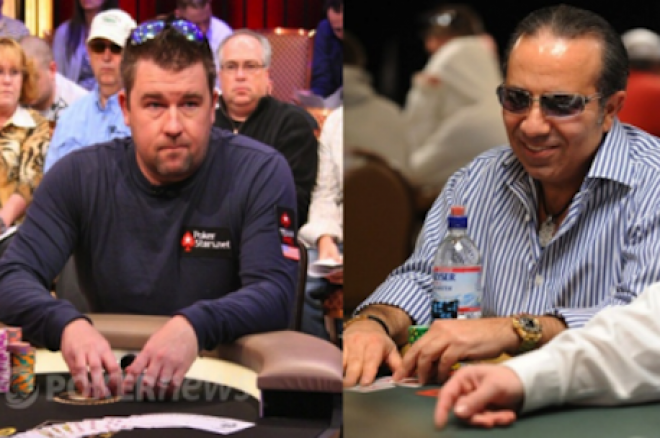 In early April, PokerNews reported that this year's World Series of Poker was instituting inaugural Main Event Rematches that will feature three of poker's most famous heads-up battles. Two matches have already been announced, including a rematch of the 1989 Main Event when Phil Hellmuth put a halt to Johnny Chan's attempt at a three-peat. In addition, Sammy Farha will attempt to defeat 2003 World Champion Chris Moneymaker — a feat that could have altered poker history had he done so in the original match.
"Winning the WSOP Main Event was a life-altering moment," Moneymaker said. "Even though I'm agreeing to run it again against Sammy, I have been assured they can't take away my title if my bluffs don't work as well this time."
The Moneymaker vs. Farha matchup will feature a best two-out-of-three format with the first match using the same starting stacks the players had when they entered heads-up play back in 2003 (Moneymaker: 5,490,000; Farha: 2,900,000). The second match will reverse the stacks, and the third match, if required, will start players with even stacks. The other scheduled match, that between Hellmuth and Chan, will be a single match with even starting stacks.
Fan's Choice
The third and final match has yet to be decided; poker fans will soon cast votes for a series of notable heads-up battles. Beginning on May 2, 2011, fans can visit the WSOP's Official Facebook Fan Page and cast their vote for one of four matches. The pairing with the most votes will be invited to participate in Matchup #3, which will be a single match with even starting stacks. Here is a look at the four matches fans can vote for, and why they're considered among the best WSOP Main Event heads-up matches of all time.
1988 WSOP Main Event: Johnny Chan vs. Erik Seidel
In a match that was immortalized in the poker film Rounders, the reigning World Champ flopped a straight with
on a flop of
. He coyly slow played, giving then-newcomer Erik Seidel the opportunity to hang himself with his
. That is exactly what Seidel did as he bet the
turn and then moved all in on the
river. Chan made the easy call — and the rest is history.
Given that no one has had a hotter 2011 than Seidel, it might be interesting to see if he could defeat the man that stood between him and the Main Event bracelet.
2004 WSOP Main Event: Greg Raymer vs. David Williams
Dan Harrington's back-to-back final table runs in 2003 and 2004, while certainly an impressive accomplishment in and of itself, often overshadows one of the best heads-up battles in modern WSOP history between Greg "Fossilman" Raymer and David Williams. While Raymer used his big stack to bully his opponents throughout the Final Table, Williams played a more steady game and positioned himself to compete for the title. Unfortunately, the day belonged to "Fossilman."
In their final hand, Williams raised to 300,000 preflop with
and received a call from the
of Raymer. The
flop saw Raymer check-raise Williams' 500,000 bet to 1.6 million, which received a quick call. Raymer then fired 2 million when the
hit the turn, and again Williams called. When the
spiked on the river, Raymer moved all-in and Williams shrugged before making the call. Game over.
Both Raymer and Williams have gone on to considerable poker success. Both their games have certainly progressed since 2004, so there's a strong likelihood a rematch between the pair could be even more exciting than the original one was.
2006 WSOP Main Event: Jamie Gold vs. Paul Wasicka
This match could be one of the best, but only if the players are allowed to revert back to the table-talk prevalent at the 2006 Main Event Final Table and ignore the "Jamie Gold Rule." We'll let the following video featuring Jamie Gold and Paul Wasicka's final hand do our talking on why this would be a highly entertaining rematch.
2010 WSOP Main Event: Jonathan Duhamel vs. John Racener
Jonathan Duhamel was a huge chip leader when the final table of the 2010 WSOP reconvened last November. Nonetheless, one of the favorites at that table, in addition to Michael Mizrachi of course, was John Racener. While Racener managed to grind his way to heads-up play, he never really found himself with a decent shot at the title. What if he didn't have to overcome a monstrous chip disadvantage? Did Racener have what it took to defeat the young Canadian? We may never know - unless this is the winning matchup.
After you've cast your vote beginning on May 2, be sure to tune into ESPN on Tuesday, July 26 for two hours of back-to-back episodes highlighting all three rematches.
Speaking of Facebook, be sure to like us while you're there. Also, don't forget to follow us on Twitter.