The Nightly Turbo: Sam Trickett Signs With ISPT, Illinois Vetoes Gambling Bill, & More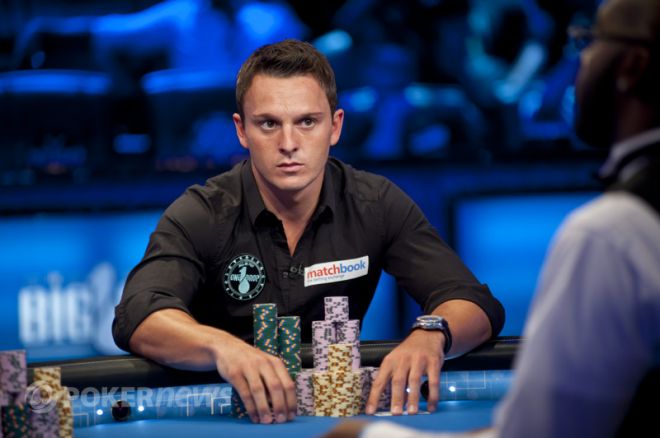 Were you doubting whether the International Stadiums Poker Tour (ISPT) would ever get off the ground? Well, the tour continues to add firepower before its inaugural event. We'll cover that story, plus the latest gambling efforts in Illinois, in this edition of the Nightly Turbo.
In Case You Missed It
Only 18 players advanced to Day 4 of the World Poker Tour Legens of Poker Main Event on Monday. Find out who was still in contention in our daily WPT recap.
Last week, a federal judge confirmed what poker players have known for ages: poker is a game of skill. Rich Ryan touches on that topic and more in his latest Five Thoughts piece.
The $2,1000 buy-in River Poker Series Main Event is kicking off next week with a $2.5 million guarantee. Find out everything you need to know in the story here at PokerNews.com.
Have you seen MMA legend Georges St-Pierre's 888poker commercial? If not, you can find it in The Muck.
Trickett Endorses ISPT
High-stakes poker pro Sam Trickett is the newest ambassador for the International Stadiums Poker Tour (ISPT) ahead of its inaugural tournament at Wembley Stadium in London next May.
Trickett, who is the U.K.'s all-time money leader with more than $16.4 million in live tournament winnings, joins Michael Mizrachi as an endorser of the Europe-based poker tour. The two men are considered among the best in the game today and will certainly add credibility to a tour that has been highly debated since it launched last fall.
Trickett announced his partnership with the ISPT via Twitter on Tuesday.
[TWITTER=""] img=http://a0.twimg.com/profile_images/2369459812/image_normal.jpg nick=Samtrickett1 name=Sam Trickett date=Tue Aug 28 11:19:43 +0000 2012 text=I just want to announce that I will be an @ispt_poker official ambassador. Will be one of the Biggest tournaments ever held May 31, 2013 [/TWITTER]
The first ISPT event is scheduled to kick off on May 31, 2013. Organizers are expecting the tournament to begin with 30,000 players in the stands of Wembley Stadium playing an online tournament from their seat. From there, the top 3,000 players will advance to the live tournament, which will be played right on the Wembley Stadium field. The event has a €20,000,000 guaranteed prize pool and will be broadcast on television via six channels.
"As a poker player, I have to be associated with such an enormous event," Trickett told Poker Channel Europe on Tuesday. "Being part of this tournament means being part of the history of poker."
Read more at UK.PokerNews.com.
Illinois Rejects Gambling ... For Now
An Illinois bill that would have expanded gambling in the state was vetoed by Gov. Pat Quinn on Tuesday. The measure would have increased the number of casinos in Illinois from 10 to 15, including a first casino in Chicago.
Quinn said the bill lacked sufficient regulatory oversight and urged legislators to work with him to improve its defects.
"Illinois should never settle for a gaming bill that includes loopholes for mobsters," Quinn said in a statement announcing his decision.
Quinn has been a supporter of gambling and bringing more casinos into the state but is a strong proponent of strict ethical standards. He argued Tuesday that, under the language of the bill, the Illinois Gaming Board wouldn't have the same regulatory authority over Chicago's city-owned casino that it holds over other casinos in the state.
"It's one thing if you had to make some technical changes here and there," Quinn said Tuesday. "This bill just falls way short of what the people of Illinois need when it comes to ethics in government."
Reuters has more.
Game Theory
We've seen a few poker-themed reality shows hit the production phase in recent weeks, but a new dramatic poker series is also generating some buzz on the Internet. Game Theory, written and directed by Aidan Nakhai, follows the life of a rounder after the federal crackdown of online poker. The main character, Omar, had his entire bankroll frozen online and is forced to grind live cash games to make ends meet.
Here's a look at the trailer:
This one might hit home with several grinders in the U.S. Get more information on the series at gametherotytv.com.
WPT Goes Blue
The World Poker Tour has added Blue Shark Optics to its list of sponsors for the tour's 11th season.
Blue Shark Optics will be featured as the Official Poker Eyewear of the World Poker Tour on each hour-long WPT broadcast on FSN beginning early next year. As a name sponsor, Blue Shark Optics will also be on location at select WPT stops in the United States and Europe throughout Season XI.
The Florida-based company manufactures eyewear designed specifically for poker and even designs sunglasses specifically for poker players. Chris Moneymaker, Hoyt Corkins, Jonathan Little and Humberto Brenes are among the players who endorse the company and its products.
"Blue Shark Optics has built its reputation by creating high-quality sunglasses that poker players like to wear and by being a company that stands behind its products," said WPT President Adam Pliska. "We are always pleased to associate ourselves with other respected brands, and are thrilled to have Blue Shark Optics join us for the upcoming season."
For more on the deal, visit the World Poker Tour Blog.
WSOP on ESPN
ESPN's coverage of the World Series of Poker continues Tuesday night with Day 4 of the Main Event. The broadcast begins at will 8 p.m. ET with two new hours of action. Tuesday's show will highlight the excitement surrounding the money bubble, as well as poker pros Vanessa Selbst, Liv Boeree, Daniel Negreanu, and Antonio Esfandiari. There will also be a tribute to Ryan Young, a poker player who passed away last month.
If you happened to miss any of the action during our Day 4 coverage last month (spoiler), here's a teaser of tonight's broadcast:
Follow PokerNews on Twitter for up-to-the-minute news.