The Nightly Turbo: Drama at Partouche, Dems Silent on Online Poker & More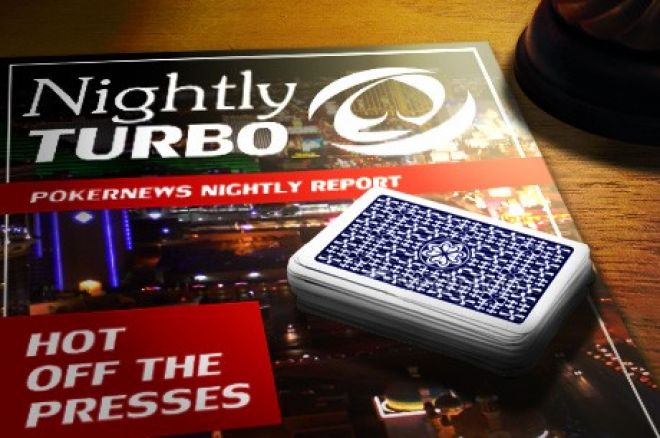 Has the Partouche Poker Tour reneged on €5,000,000 guarantee? That story and more in tonight's edition of the Nightly Turbo.
In Case You Missed It
PokerNews is proud to inform you that it will be on hand to live-report two upcoming events: the WPT Grand Prix de Paris and WPT Malta. Find out all the details here.
The PokerNews Crew is back to break down all the latest stories and to talk with Scott Long about the recent Ante Up Magazine cruise PokerNews' Chad Holloway went on. Listen here, and don't forget to subscribe on iTunes.
Join Kristy Arnett in a free fantasy football game at DraftDay! PokerNews has teamed up with DraftDay this week to bring you an exclusive FREE Week-1 fantasy football contest that awards $1,000 in prizes. Only takes a few minutes to sign up.
Want to know what it's like to be a PokerNews Blogger? Chad Holloway tells you about his trip to Barcelona for his first European Poker Tour in Life on the Road: PokerStars European Poker Tour Barcelona.
Dan Smith is on top of the Global Poker Index Player of the Year race. Find out how he got there in our GPI Player of the Year analysis.
Has Partouche Reneged on €5,000,000 Guarantee?
The Twitterverse exploded on Wednesday with news that the Partouche Poker Tour (PPT) Main Event would offer a €4.3 million prize pool, not the previously advertised €5 million — a fact that did not sit too well with players.
Wow. Partouche is saying the main event is not a 5mil guarantee now!?!

— Tristan Wade (@TristanCre8ive)
I feel so bad for the Partouche Head of Marketing who will soon be blamed for "proofreading errors" over ads offering a €5mm gty #ManUp

— Cliff Josephy (@JohnnyBaxPoker)
Everyone at Partouche expected a 5 mil guaranteed prize pool. Staff is saying it was never guaranteed. I found proof: http://t.co/heDB7Vz7

— Justin Bonomo (@JustinBonomo)
iGamingFrance contacted Maxime Masquelier, Head of Partouche Poker Tour, who said: "For a buy-in of €8,500 I think we can be proud of the final figure. At no time did we say that €5m was secured when it is guaranteed in writing."
A thread on TwoPlusTwo was started and offered various pieces of evidence contradicting Masquelier's assertion that nothing was in writing. One such piece of evidence was a cache on Google, which clearly stated: "The Partouche Poker Tour and €5 million guaranteed!"
Likewise, numerous banners and advertisements were shown alongside updated versions that had removed any mention of a €5 million guarantee.

Rumors then circulated that the prize pool was not guaranteed but merely a marketing gimmick on the part of Partouche.
One of the head Partouche people told me "this was not a guarentee but a marketing trick"

— Peter Jetten (@PeterJetten)
One thing is for sure, with the Partouche Main Event still taking place, the drama and ramifications of this story is far from over.
For more on this situation, visit iGamingFrance.
Partouche Main Event on to Day 2; Dwan Plays One Hand
The 2012 Partouche Poker Tour Main Event continued at the Palm Beach Casino in Cannes on Wednesday with Day 2 action. The €8,500 event drew 489 players over two starting flights, but by the end of the night, the field had been whittled to approximately 122 players.
Some of those who fell on Day 2 were Jason Mercier, Todd Terry, Robert Mizrachi, Juha Helppi, Vanessa Selbst, Patrik Antonius, Pius Heinz, and Taylor Paur, just to name a few. Two others who fell were the defending champ, Sam Trickett, and Tom "durrrr" Dwan. The latter opted to buy in just prior to the start of Day 2 when registration closed. It was not money well spent.
Just showed up day 2 of @partouchepoker main, 1st hand I had kk v aa and I'm out. Fun trip lol

— Tom Dwan (@TomDwan)
Im out! Not my day today.Cold decked 3 times,shame because I had a really soft table! Next stop ...my sofa for 2 weeks

— Sam Trickett (@Samtrickett1)
With that said, approximately 122 players survived the day including Davidi Kitai, Philipp Gruissem, Andrew Lichtenberger, Justin Bonomo, Mohsin Charania, Michael Mizrachi, Fabrice Soulier, Tristan Wade and Tobias Reinkemeier. Here's a look at the top 10 chip counts headed into Day 3:
| Place | Player | Chips |
| --- | --- | --- |
| 1 | Paul Tedeschi | 384,200 |
| 2 | Antoine Saout | 374,700 |
| 3 | Simon Ravnsbaek | 370,800 |
| 4 | Aaron Lim | 348,100 |
| 5 | David Williams | 321,200 |
| 6 | Kyle Julius | 303,600 |
| 7 | Karem Laouini | 300,000 |
| 8 | Maxwell Greenwood | 280,100 |
| 9 | Gaston Onana | 271,000 |
| 10 | Harry Loria | 266,900 |
Check back for daily updates on the Partouche Poker Tour Main Event right here in the Nightly Turbo.
Democratic National Platform Does Not Mention Online Poker
The Democratic National Convention is happening now, and as a part of that, Democrats have released Moving America Forward: 2012 Democratic National Platform. No where in the platform's 39 pages does it so much as mention the words "poker" and "gambling." As the Rich Muny, vice president of player relations for the Poker Players Alliance, tweeted:
BREAKING: '12 Democratic Platform silent on online #poker. The platform in full: http://t.co/zysRs0g5

— Rich Muny (@RichMuny)
The Democratic National Platform came about a week after the GOP platform included a clause seeking to prohibit Internet poker for the fourth consecutive presidential election. On page 32 of the GOP platform, under a section titled "Making the Internet Family-Friendly," the text reads: "Millions of Americans suffer from problem or pathological gambling that can destroy families. We support the prohibition of gambling over the Internet and call for reversal of the Justice Department's decision distorting the formerly accepted meaning of the Wire Act that could open the door to Internet betting."
"We were hoping they'd just remain silent on it this year," Muny said of the GOP's platform. "We thought there was a decent chance they would just let it go and not speak on the issue at all. I hadn't heard it mentioned at the convention. But it's very difficult to get something removed when it's on the previous platform."
For more on the GOP platform and clause regarding the prohibition of Internet poker, have a look at Matthew Kredell's recent analysis.
World Poker Tour and SKS365 Group Join Forces for Season XI
The World Poker Tour has added a new sponsor for Season XI — SKS365 Group's PlanetWin365 will be the title sponsor of WPT National Slovenia, a €1,650 re-entry event, scheduled at Casino Perla in Nova Gorica from October 19-22, 2012, and then again at the WPT Prague Poker Festival from Dec. 7 through 8 for a €440 side event.
"In recent years, poker has become more and more of a real sport and World Poker Tour is known by fans and followers of poker as the best [in the business]," said Paolo Carlo Tavarelli, CEO of SKS365Group. "For PlanetWin365, sponsoring these events means to be at the top of the game in the world of poker. We consider WPT a first-level partner, famous, strong, and compatible with our brands' targets. For this reason, we are sure that our collaboration with WPT on these four events will bring us full and mutual benefits."
"PlanetWin365 is one of the best known and most trusted companies in online sports betting," said WPT CEO Steve Heller. "We are excited to have them join us as a sponsor for this current season of World Poker Tour events, and look forward to a long and fruitful relationship with them moving forward."
Founded in 2009, the SKS365 Group aims to promote online gaming services as is headlines by PlanetWin365, "not only a simple operator but a real revolution, a new way to intend gaming both from the operator and the costumer point of view to address the two sides of the same coin. The gaming experience, more wide and varied than ever before, constantly enriches with innovative, unique and always evolving contents."
Learn more on the WPT/SKS365 Group relationship at sks365.com.
Weekly Online Poker Traffic Update
Online poker is on the rise according to PokerScout.com. Traffic rose 0.8 percent last week, which meant a 6.5 percent rise over the past three weeks. With that said, PokerStars fell 3 percent this week after the conclusion of its 85th billionth hand promotion — though it's worth noting the traffic is still up 10 percent from where it was before the promotion.
The biggest mover of the week was the Microgaming Network, which saw a robust 33 percent gain. The exact reason for the large increase is unknown, but a new MicroGaming client introduced at the end of August offers one explanation.
According to PokerScout.com, here are the biggest movers in the Top 20:
Top Three
Microgaming Network's 33 percent traffic increase vaulted the network from 11th place to eighth, swapping spots with Revolution Gaming.
PokerStars.es moved up from 10th to ninth, trading places with sister site PokerStars.fr.
PeoplesNetwork.it climbed from 20th to 18th.
PartyPoker.fr lost one spot, landing in 19th.
Everest Poker rejoined the top 20 in 20th place, knocking International.it out of the top 20.
For more information on the movers and shakers, be sure to check out PokerScout.com's Weekly Online Poker Traffic Update.
Follow PokerNews on Twitter for up-to-the-minute news.
Executive Editor US, PokerNews Podcast co-host & 2013 WSOP Bracelet Winner.